Anthony Joshua's next opponent will not be Tyson Fury, according to his promoter Eddie Hearn.
Joshua beat Wladimir Klitschko in front on 90,000 people at Wembley on Saturday night, stopping him in the 11th round, despite being knocked down in the sixth.
After winning the bout, and adding the WBA and IBO straps to his IBF belt, the 27-year-old immediately called out Fury in the middle of the ring.
Who next for Anthony Joshua?
Who next for Anthony Joshua?
1/6 Who next?

Joshua sensationally defeated Wladimir Klitschko - so who's next?

Getty

2/6 Deontay Wilder

A fight between Joshua and America's WBC heavyweight champion Wilder, 31, would likely prove the richest in the heavyweight division. The combination of two charismatic, explosive punchers would appeal both in the UK and the US, but may have such commercial potential that they would choose to delay until next summer. Wilder was ringside at Wembley, but has also been linked to fighting Tony Bellew.

Getty

3/6 Joseph Parker

New Zealand's WBO champion Parker carries less threat and appeal than Wilder but also represents less of a risk. The 25-year-old had been scheduled to fight Tyson Fury's cousin Hughie until injury ruled the challenger out, and is one of only two fighters against which a unification match-up could be made.

Getty

4/6 Wladimir Klitschko

The 41-year-old has already revealed he has a rematch clause he can take advantage of, and that only another showdown with Joshua is capable of convincing him to fight on. Joshua has also already said he would be willing to fight the Ukrainian again, but beyond financial gain there seems little benefit for the champion. Having already beaten him so entertainingly, Klitschko represents a high-risk, low-reward opponent.

Getty

5/6 Tyson Fury

Immediately after his defeat of Klitschko, Joshua called out the fighter who is quickly becoming his biggest rival. The 28-year-old Fury unsurprisingly responded on Twitter, writing "challenge accepted". Both seem confident of victory and willing to fight each other, both have beaten Klitschko and both represent the other's most intriguing opponent within the UK. Fury's biggest challenge could yet come in regaining his boxing licence amid his struggles with depression.

Getty

6/6 Tony Bellew

The former WBC cruiserweight champion's unexpected defeat of David Haye has given him far more appeal in the heavyweight division than any would have predicted. He seems incapable of providing Joshua with much of a test, but the money involved in fighting the champion will become such that any potential offers will be tempting. A match-up between the two is also straightforward to make, given they are both promoted by Matchroom. The biggest question may be whether Matchroom would rather use the 34-year-old Liverpudlian to further build Wilder's reputation before the American eventually fights Joshua.

Getty
He said in the immediate aftermath: "I came out and I won, I didn't go into the slugfest, I came back and fought my heart out. (Tyson) Fury where you at, baby?
"I love fighting. Tyson Fury, I know he's been talking, I want to give 90,000 a chance, I just want to fight."
Fury is currently in Marbella trying to shed the pounds ahead of a potential comeback, but still has his boxing licence suspended by the British Boxing Board of Control (BBBC) and is the subject of a doping hearing.
As a result, while not ruling Fury out as an opponent in the future, Hearn said he will not be Joshua's next challenge.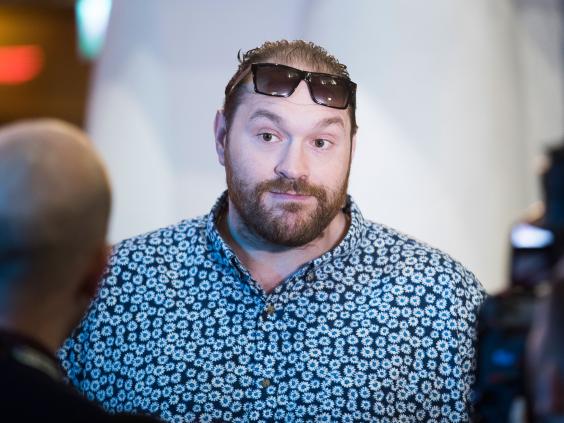 "Believe me when I say that there is nothing that I or AJ would want more than to see Tyson back in the ring, but it won't be next – Tyson just won't be ready," Hearn said, writing in his Daily Mail column.
"Physically he is not at the races and he has a lot to resolve in terms of his doping hearing and getting his licence back. Those have to be sorted before we can make anything happen.
"If they do get sorted, then it is a huge option for us in the short to mid-term future. We all know that AJ would love that fight.
Anthony Joshua's career in pictures
Anthony Joshua's career in pictures
1/20 Anthony Joshua's career in pictures

After 19 professional fights, Anthony Joshua boasts an unblemished career record

Getty

2/20 Emanuele Leo, TKO (R1) 2:47

In his first fight since turning professional, 23-year-old Joshua floored Emanuele Leo in a vicious two minutes and 47 second rout.

Getty

3/20 Paul Butlin, TKO (2) 0:50

Joshua's needed only two rounds to see off Paul Butlin in his second professional fight when the referee called an end to the tie 50 seconds into the second round.

Getty

4/20 Hrvoje Kisicek, TKO (2) 1:38

It was yet another second-round stoppage victory for Joshua, knocking out veteran Hrvoje Kisicek after a fiery flurry of punches on the ropes.

Getty

5/20 Dorian Darch, TKO (2) 0:51

Joshua demolished fellow Brit, Dorian Darch, landing multiple crisp blows in the opening minutes and leaving him the referee no choice but to put an end to the fight.

Getty

6/20 Hector Avila, (KO) 1 2:14

Joshua needed a mere 134 seconds to see off the challenge of Hector Avila in Glasgow and clock up his fifth win without defeat.

Getty

7/20 Matt Legg, KO (1) 1:23

Matt Legg was the next victim of Joshua's phenomenal run. A venomous uppercut to the chin floored Legg in only 83 seconds.

Getty

8/20 Matt Skelton, TKO (2) 2:33

Needing less than six minutes, Joshua delivered his trademark blow to 47-year-old veteran Matt Skelton taking his tally to seven on the trot.

Getty

9/20 Konstantin Airich, TKO (3) 1:16

Konstantin Airich became the next victim of Joshua's brutal run of fights. A third round TKO ended any chance of Airich spoiling the party.

Getty

10/20 Denis Bakhtov, TKO (2) 1:00

Joshua claimed the WBC International heavyweight title by destroying Denis Bakhtov in within two rounds showing he is one of the most exciting prospects in world boxing.

Getty

11/20 Michael Sprott, TKO (1) 1:26

Joshua needed less than 90 seconds to blast out veteran Michael Sprott and record his 10th successive knockout.

Getty

12/20 Jason Gavern, KO (3) 1:21

On this return to boxing, Joshua demolished American Jason Gavern in three rounds, flooring him four times in the process.

Getty

13/20 Raphael Zumbano Love, TKO (2) 1:21

Another second round knockout brought Joshua's up to 12-0 as he flattened Brazilian Raphael Zumbano Love.

Getty

14/20 Kevin Johnson, TKO (2) 1:22

American 36-fight veteran Kevin Johnson proved to be no match for Joshua who needed only 2 rounds to walk away with another knock out

Getty

15/20 Gary Cornish, TKO (1) 1:37

Joshua stopped Gary Cornish in 90 seconds to win the Commonwealth heavyweight title to the delight of The O2.

Getty

16/20 Dillian Whyte, KO (7) 1:27

Joshua battled to beat Dillian Whyte but eventually prevailed with a seventh round knockout, becoming the British heavyweight champion.

Getty

17/20 Charles Martin, KO (2) 1:32

Charles Martin hit the canvas twice as Joshua cruises through to claim the IBF world heavyweight title.

Getty

18/20 Dominic Breazeale, TKO (7) 1:01

Joshua defended his IBF world title in a seventh round stoppage win over Dominic Breazeale to continue his unstoppable run to the top.

Getty

19/20 Éric Molina, TKO (3) 2:02

And then it was 18! Joshua confirmed his tie with Wladimir Klitschko after thumping Éric Molina in three rounds, completing the defence of his IBF heavyweight title.

AFP/Getty

20/20 Wladimir Klitschko, TKO (11)

Faced by one the greatest heavyweight boxers of all-time Joshua produced an all-time performance, climbing off the mat after being knocked down in the sixth to power back and stop Klitschko with a violent barrage in the 11th round to earn the finest win of his young career

Getty
"As it stands, I think the best chance of a Fury fight is April 2018, at Wembley. That depends on a successful defence in October or November and everything falling into place for Fury. If it does, that will be another incredible night for an incredible fighter."
Instead Joshua is likely to look for a fight with either the WBO champion Joseph Parker, or the WBC's champion Deontay Wilder.
He also needs to defend his IBF title against the mandatory challenger Kubrat Pulev in order to avoid being stripped of the belt like Fury was, while a rematch with Klitschko is another possibility. 
Reuse content