Anthony Joshua pocketed £15m for his win over Wladimir Klitschko and could be in line for even more if the pair step into the ring for a rematch.
The Brit produced a stunning performance to climb off the canvas and stop the legendary Ukrainian in the 11th round to claim the biggest victory of his young career.
The payday was by far the biggest of the 2012 Olympic champion's career thus far as he cemented his place at the very top of the sport.
Who next for Anthony Joshua?
Who next for Anthony Joshua?
1/6 Who next?

Joshua sensationally defeated Wladimir Klitschko - so who's next?

Getty

2/6 Deontay Wilder

A fight between Joshua and America's WBC heavyweight champion Wilder, 31, would likely prove the richest in the heavyweight division. The combination of two charismatic, explosive punchers would appeal both in the UK and the US, but may have such commercial potential that they would choose to delay until next summer. Wilder was ringside at Wembley, but has also been linked to fighting Tony Bellew.

Getty

3/6 Joseph Parker

New Zealand's WBO champion Parker carries less threat and appeal than Wilder but also represents less of a risk. The 25-year-old had been scheduled to fight Tyson Fury's cousin Hughie until injury ruled the challenger out, and is one of only two fighters against which a unification match-up could be made.

Getty

4/6 Wladimir Klitschko

The 41-year-old has already revealed he has a rematch clause he can take advantage of, and that only another showdown with Joshua is capable of convincing him to fight on. Joshua has also already said he would be willing to fight the Ukrainian again, but beyond financial gain there seems little benefit for the champion. Having already beaten him so entertainingly, Klitschko represents a high-risk, low-reward opponent.

Getty

5/6 Tyson Fury

Immediately after his defeat of Klitschko, Joshua called out the fighter who is quickly becoming his biggest rival. The 28-year-old Fury unsurprisingly responded on Twitter, writing "challenge accepted". Both seem confident of victory and willing to fight each other, both have beaten Klitschko and both represent the other's most intriguing opponent within the UK. Fury's biggest challenge could yet come in regaining his boxing licence amid his struggles with depression.

Getty

6/6 Tony Bellew

The former WBC cruiserweight champion's unexpected defeat of David Haye has given him far more appeal in the heavyweight division than any would have predicted. He seems incapable of providing Joshua with much of a test, but the money involved in fighting the champion will become such that any potential offers will be tempting. A match-up between the two is also straightforward to make, given they are both promoted by Matchroom. The biggest question may be whether Matchroom would rather use the 34-year-old Liverpudlian to further build Wilder's reputation before the American eventually fights Joshua.

Getty
Joshua has a number of options available to him now with WBC champion Deontay Wilder and New Zealander Joseph Parker possibly on the horizon while a rematch with Klitschko, potentially in the US, could also be on the cards.
Joshua, who now boasts a perfect 19-0 record, says he will cherish the win over Klitschko but insists it still doesn't top winning gold in London.
"The memories, the experiences last forever, and when it's all said and done these things (the belts) slowly disappear," Joshua added. "The experience I've gained is more important than the belts.
"Sugar Ray Leonard: all the skill, ability he had, said there are times when you have to show character and go to the trenches. Without that you'll never go on and do great things in the sport.
"I never want to be in those type of fights, but if I have to be I don't want to crumble."
Asked if it topped winning Olympic gold, he said: "No. It is what it is: there's one winner and one loser.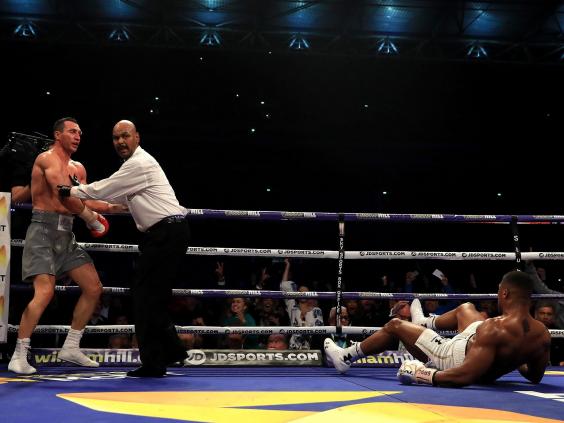 "I'm a champion outside the ring, first and foremost. The fighting is fun. I don't box just for the belt, for the money, and I just enjoy it, the discipline.
"How am I feeling at the minute? Like I did before I won this fight. I'm happy, if anything, that it was a great fight, because there was a lot of hype, a lot of attention around the fight, and I'm glad it lived up to expectations; that's it.
"I'm going to pop round to my family's house. I want to catch up with family and go back to normal living.
"(I learnt) that I can knock out anyone. If I can keep on improving on the things I do well, I can definitely knock out any opponent.
"To get knocked down, hurt someone, get hurt, take someone out in the championship rounds where I've never been before, it's testament to what training's about."
Reuse content