Bernard Hopkins is a genius at making the seemingly impossible happen inside and outside the boxing ring in a life that remains unique in a sport that deeply loves its messy drama.
Hopkins was 50 last month, he lost his world titles last November and has emerged from the warm cocoon of the Christmas break determined to make some history as a fighter or make a difference this year as a promoter.
"I will not prostitute myself and fight just to fight," Hopkins said. "Whether I have one, two or whatever, or none – a new fight would have to be against somebody that makes people say: 'Bernard is crazy, that guy's a killer.'"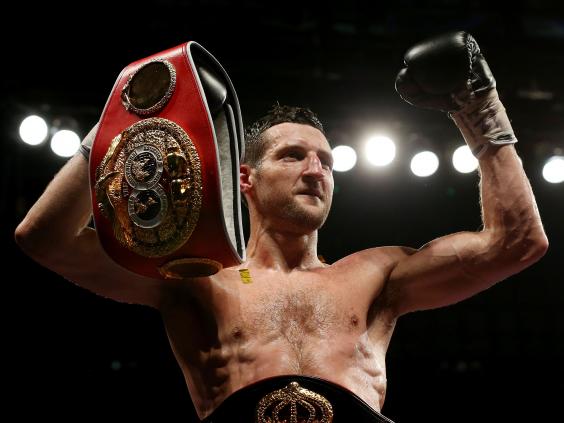 Hopkins illuminated the rumours linking him with Carl Froch, the world champion from Nottingham, who is fast running out of reasons to continue fighting. He said: "I jumped over the super-middleweight division to go from middleweight to light-heavyweight – now, working back, but not backwards, I would be picking up a bit of history in a Froch fight. I'm all ears, but I don't want to waste my time."  
However, it now seems likely to me that Hopkins will adjust his promoter's hat, which he has worn at convenient times for about a decade, and start creating a legacy on the fat side of the ropes, where he has been an uneasy presence because of his continued ring exploits. Hopkins has been fighting for world titles since 1993, losing just six of his 35 championship fights.
When I pushed Hopkins on what he really wanted to do this year he finally gave me an answer that sounded like the old Hopkins, which is a mix of bold, crazy and determined: "I'd like to see unification in every division that means something. Can you imagine that? We can get the ball rolling now."
At present all four main sanctioning bodies have a champion in all 17 of the modern's sport's divisions. The champions are often kept apart by geography, but mostly the politics of a business dominated by personal agendas, deals and long-term hatred keep boxers away from each other; Hopkins has his dream and it makes sense.
"The sanctioning bodies could mandate that their champions fight each other in each of the meaningful divisions," said Hopkins. "There would then be a unified and undisputed champion in each division.
"I don't consider myself the smartest person in the world. In boxing there are a lot of people with licences to be lawyers and college-educated people, but nobody has figured this out? I'm being sarcastic; I'd like to show the people sucking the blood out of boxing what needs to be done.
"How am I so smart, and they so dumb? I tell you now, if I don't throw a punch again, this will keep me active – my fight is to bring boxing back."
Incidentally, six different TV channels will screen live boxing in Britain during the next four weeks, but sadly that decreases the chances of big domestic fights happening – rival promoters and comfortable fighters seldom mix.
There are also regular talks taking place between the sanctioning bodies and the men in charge. The WBC recently held talks with the WBA about gloves, safety and other issues. All four sanctioning bodies are united against the potentially damaging arrival on the professional scene of the APB, a subsidiary of the organisation that runs boxing at the Olympics and was once known as "amateur" boxing. There is an ugly battle simmering for control of a rich sport that is a fertile arena for conflict, legal issues and indignation. 
"As boxers we know the risk, we make the sacrifices and we do all that to entertain," added Hopkins. "I believe I can make a difference now. The unification fights have to happen."
Hopkins has to first convince the 100 or so men who hold versions of world titles that fighting each other is better than being protected, hidden behind a hometown crowd and fed loser after loser. Hopkins could just be the man for that tricky job.
Reuse content