This Saturday night is one of the busiest boxing events of the year, but many are questioning whether it is one of the best, as Sky Boxing offers its second Pay-Pay-View event of 2014, while on BoxNation, one of the greatest fighters in living memory competes against an unheralded American with a fascinating backstory.
For the majority of sports consumers in Britain, being able to watch the most important moments in their chosen fandom is a straightforward situation. They subscribe to a sports channel, where for a monthly fee they are treated to everything they need to watch. Football fans can watch the Premier League and Champions League, cricket fans have access to every test match on the calendar, while Formula One fanatics have access to a whole channel dedicated to cars racing round a track.
Boxing connoisseurs however do not have it so easy. While the concept of Pay-Per-View television is nowhere near as prevalent over here as it is in America, there are still certain boxing cards in which the viewing public are forced to hand over money on top of the already hefty fee they pay for sports channels.
Sometimes a PPV just works - Ricky Hatton vs Floyd Mayweather and Carl Froch vs George Groves both caught the public's imagination, and indeed all of those PPVs displayed meaningful and well crafted main events.
But then sometimes, you get Amir Khan vs Dimitry Salita, or David Haye vs Audley Harrison, and the entire show seems like a money grabbing opportunity.
What of Tony Bellew vs Nathan Cleverly fighting on PPV then? Three years ago, both men fought each other on the then fledgling BoxNation channel, with two undefeated records on the line, and a world title up for grabs. The cost? £10 for a monthly subscription to the channel. Now, for £16.95, we have two boxers fighting at a higher weight class, with no titles here or on the horizon, and both just two fights removed from devastating knockout defeats.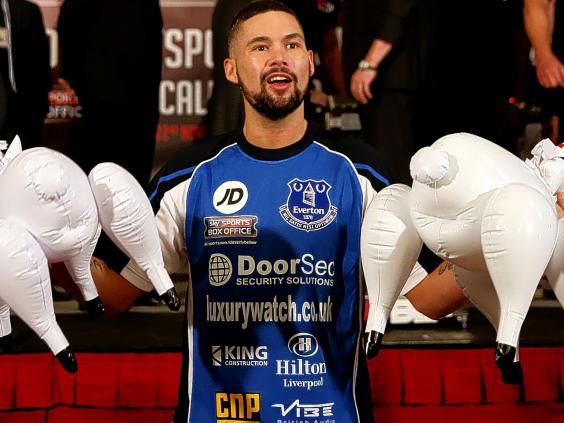 An undercard of excellence was promised, but instead has delivered eight fights where if you were to put a ten pound accumulator bet including each favourite to win, you would earn just £3.75 and your stake back, a return that wouldn't even enable you to make back the cost of paying for the PPV in the first place.
From the perspective of value for money, this card certainly doesn't offer that, but the consistent hype of the main event has piqued the interest of many, and it isn't hard to see why. In boxing, as in all sports, characters matter, and Bellew (22-2-1) has certainly created a Marmite persona over the past few months, while Cleverly (28-1) has seemed more relaxed in the build-up.
The fight is full of questions, with nobody really sure the answers just yet. This will be the third fight at Cruiserweight for both men, and the 200lb opposition of both men has been fairly substandard so far. Who truly is the more natural man at the weight? Has Nathan Cleverly fully exercised the demons of his savage knockout defeat to Sergey Kovalev last year, and does Bellew truly believe he belongs at the world-class level after his lacklustre performance against Adonis Stevenson?
Cleverly has offered his opinion that Bellew will 'crumble' in the ring, while the brash Liverpudlian Bellew has consistently maintained that his Welsh rival is set for a 'devastating' defeat. The first fight between the two was a fairly cagey affair, with Cleverly winning a majority decision, and the rivalry has grown ever more since that night in Liverpool.
Great boxing rivalries
Great boxing rivalries
1/10 Muhammad Ali vs Joe Frazier – 1971, 1974 & 1975

Possibly one of the greatest rivalries of all time, not just in boxing but in any sport. These two titans met three times, with Ali taking home the spoils 2-1. The first was known as the 'Fight of the Century' in which two undisputed title holders came together, it ended with Frazier winning after 15 rounds via unanimous decision. The final fight was dubbed 'Thrilla in Manilla', where Ali retained all three of his heavyweight titles.

GETTY IMAGES

2/10 Joe Louis vs Max Schmeling – 1936 & 1938

Among two of boxing's most historical fights. With Schmeling's origins of Nazi Germany, these two represented something a little more than just two heavyweight boxers at their peak coming together. Louis was undefeated coming into the first fight while Schmeling already had 60 fights under his belt. The German won it with a 12th round knockout. By the time the pair met again, Louis had won the world Heavyweight title. It only took him one round to knock out Schmeling. Louis' performances gained him national recognition and became one of America's first African American heroes.

GETTY IMAGES

3/10 Micky Ward v Arturo Gatti – 2002, 2002 & 2003

The first time these two met proved to be The Ring Magazine's 'Fight of the Year'. A famous left hook body shot in the ninth brought Gatti to his knees and proved the deciding factor in the judges' decision. A rematch was agreed immediately with Gatti knocking Ward down in third, however the American managed to finish the fight before losing by decision. The final fight also won The Ring Magazine's fight of the year, Ward knocked down Gatti in the sixth, but before the referee could count to ten, the bell sounded. Gatti was able to come back and win via unanimous decision.

GETTY IMAGES

4/10 Nigel Benn v Chris Eubank – 1990 & 1993

In what was initially a fierce domestic rivalry, became one of world interest between these two British greats. Eubank was originally the challenger and began shouting out for Benn after only 10 fights. After winning his WBO middleweight title, Benn agreed to face Eubank. With each fighter saying they were going to knock the other one out, it was the challenger that actually did. With a technical knockout in the ninth round. The re-match was watched by half a billion people worldwide, with both defending titles it was so even, it ended in a draw.

GETTY IMAGES

5/10 Gene Tunney v Jack Dempsey – 1926 & 1927

Fighting twice, these bouts have gone down as two of the most famous in boxing history. Tunney won the first over 10 rounds via unanimous decision. The second is why these two were forever known in boxing history. In the seventh round Dempsey threw a flurry of punches to knock Tunney down for the first time in his career. The referee couldn't count until Dempsey had reached a neutral corner. He didn't oblige, buying Tunney valuable time. Tunney managed to rise at a time many say was over ten seconds. This is why the fight is known as the Long Count. Tunney went on to knock down Dempsey in the eighth and win by unanimous decision.

6/10 Manny Pacquiao v Juan Manuel Marquez – 2004, 2008, 2011 & 2012

One of the greatest modern day rivalries which will go on to be imprinted in boxing's history. Having fought four times to this day, Pacquiao has won two, Marquez one and the other being a draw. Marquez winning the most recent with a sixth round knockout, handing the Pac-Man back to back defeats. The Ring Magazine awarded it not only 'Fight of the Year' but also 'Knockout of the Year'.

7/10 Ken Norton v Muhammad Ali - 1973, 1973 & 1976

Ali's second defeat came to the man known as 'The Black Hercules'. In what was their first fight, Ali was the 5-1 favourite and had won 10 fights since his first lost to Frazier. Norton broke Ali's jaw in the fight, despite The Greatest carrying on, he lost on a split decision. Six months later, Ali avenged Norton winning also on a split decision and re-gaining his NABF Heavyweight title. The third and final fight was some three years later after Rumble in the Jungle, Ali won via unanimous decision.

8/10 Marco Antonio Barrera v Erik Morales - 2000, 2002 & 2004

Involving two of more modern days most famous Mexican boxers, the Barrera v Morales trilogy is a famous one, spanning over three different classes. Their first fight was in the super-bantamweight division with both holding titles. Morales won the first on a close split decision. Deciding to move up classes, Morales went to Featherweight, where again he met Barrera for a title match. This time Barrera won, in what was Morales' first ever career defeat. The third and final time they met was in the Super-Featherweight division, where again Morales lost and with it his WBC title.

GETTY IMAGES

9/10 Riddick Bowe v Evander Holyfield - 1992, 1993 & 1995

These two Heavyweight giants came together three times in a famous blockbuster conquest. In the first fight, Holyfield walked in with Lineal, WBC, WBA & IBF Heavyweight titles having beaten Buster Douglas and George Foreman. Bowe had never tasted defeat and to everyone's surprise, won via unanimous decision. The re-match went the distance with Holyfield winning on a split decision. This was Bowe's first and only career defeat. The third, unlike the other two, was ended after eight rounds when Bowe knocked out Holyfield.

GETTY IMAGES

10/10 Sugar Ray Leonard v Thomas Hearns – 1981 & 1989

These two first met in a heavyweight clash with both boxers' welterweight titles on the line. Ray Leonard known for his boxing skill, and Hearns for his vicious punching. The epic battle lasted 14 rounds before Leonard unleashed a series of punches, forcing the ref to stop the fight. The re-match, known as 'The War', had both fighters again holding titles, this time in the super-middleweight class. After 12 rounds of back and forth punishment, the fight was scored as a judge's draw. The two never fought again with Hearns moving to light-heavyweight.

GETTY IMAGES
The bookies can't separate the two, with both hovering around the 10/11 margin, while the draw could tempt some punters at at 22/1. One thing is for sure, if the fight was on regular Sky Sports, the anticipation amongst both pugilistic patrons and casual fans alike would be much greater.
An undercard that features the likes of Scott Quigg, James DeGale, George Groves and Anthony Joshua would usually indicate some exciting action, but all bar DeGale are in very average bouts.
Quigg defends his WBA super bantamweight title against Japan's Hidenori Otake, Groves faces America's Denis Douglin, Joshua is in a mis-match against Michael Sprott, while DeGale faces former world title challenger Marco Antonio Periban.
Elsewhere, Jamie McDonnell faces late replacement Javier Chacon for the WBA Bantamweight title, Callum Smith is against Nikola Sjekloca, and Bradley Saunders makes his debut for Matchroom.
Pacquiao vs Algieri, Saturday night 2.00am, BoxNation
Macao, China is the host for Manny Pacquiao's 64th professional fight, and the Filipino icon puts his WBO welterweight title on the line against New York's undefeated 20-0 Chris Algieri, who came from nowhere to sensationally defeat Ruslan Provodnikov back in June, despite being knocked down twice in round one.
Algieri is a former world class kickboxer, has a bachelor's degree in healthcare science from Stony Brook University and a master's from the New York Institute of Technology, and has aspirations to go to medical school after his boxing career finishes. He will hope that the end of his time in the ring is not nigh, despite the daunting task of facing Manny Pacquiao, who has lost just two bouts in the past nine years.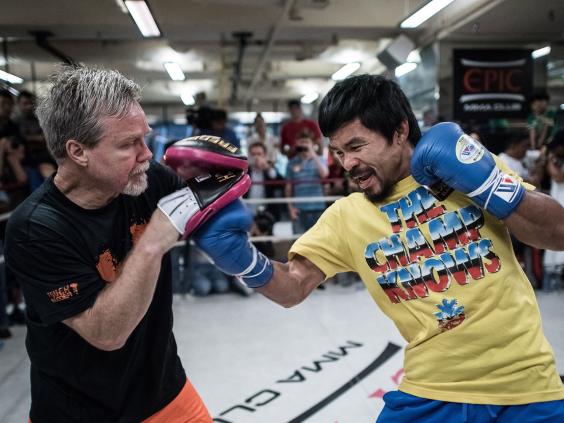 Pacquiao has not won by knockout since he stopped Miguel Cotto in 2009, but he has looked near to his best recently with wins against Timothy Bradley and Brandon Rios over the past 12 months. The 56-5-2 star has been hyping up a proposed clash with Floyd Mayweather following this contest, but he will have to be wary against the taller American, who despite stepping up a weight class, is coming off a career best performance, offers a classic boxing style, and a tremendous will to win.
Neither man would have expected this fight to happen a year ago, but the bookies seem fairly certain of the end result, with Pacquiao ⅛, and Algieri a massive 7/1. Those looking for a small bit of value might fancy the Filipino at 8/11 to stop the American with many insiders tipping that Pacquiao to want the finish the fight early and emphatically.
The undercard features 2-1 WBO featherweight champion (yes you read that record right) and two-time Olympic gold medalist Vasyl Lomachenko who defends his title against 52-1 Chonlatarn Piriyapinyo, while another two-time Olympic Champion and local hero Zou Shiming looks for his sixth win as a professional.
25-0 WBA light welterweight champion Jessie Vargas also defends his championship, and undefeated record against Mexico's tough 31-3-1 Antonio DeMarco.
In non televised action this weekend, British heavyweight Dillian Whyte returns from a two-year drugs ban on Friday night with hopes for a 2015 clash vs Anthony Joshua who he famously beat in the amateur ranks, and there are also cards taking place in Belfast, Birmingham and Blackburn.
Reuse content