Michael Buffer rumbling in Belfast. ITV back in the game. It must be big. IBF super-bantamweight champion Carl Frampton is the little big man making all the noise, drawing a crowd to mainstream  British broadcasting as well as the Odyssey Arena.
Suddenly, boxing is beautiful again. In May the biggest pot in the history of prizefighting is to be shared by Floyd Mayweather Jnr, who banks $90m (£58m), and Manny Pacquiao, who must make do with $50m (£32m). Frampton is not there yet, and ITV does not pay that kind of dollar, but the Belfast phenomenon is beginning to acquire serious ballast.
The defence of his IBF super-bantamweight title against Chris Avalos has persuaded ITV to return to the sport with its first live broadcast on its flagship platform in more than five years. Last week Channel 5 drew an audience of one million for Martin Murray's challenge to the Kazakh threshing machine Gennady Golovkin, a figure broadly similar to the numbers tuning into the BBC's coverage of golf's Open Championship.
Optimistic forecasts see that doubling tonight, helping to build Frampton's profile outside his native Belfast, where he routinely biffs Rory McIlroy down the news agenda. Frampton is the face of upwardly mobile Belfast, an ordinary lad with a special talent and a ferocious work ethic. His rewards are the result of hard graft and commitment, the kind of attributes valued highly in a city leaving its past behind at an ever-increasing pace.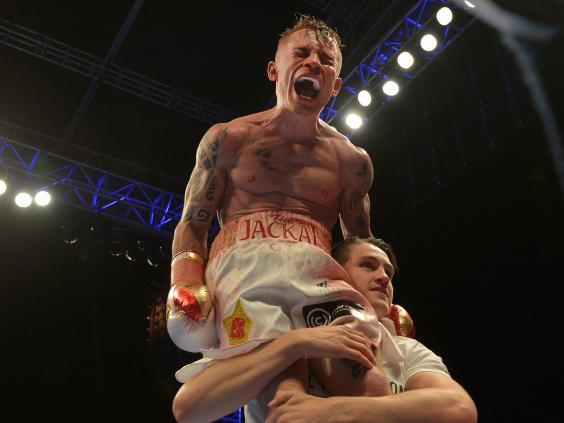 The noise emanating from the ballroom buckled the walls of the Europa Hotel when the champion took to the scales at yesterday's weigh-in. The love of Frampton coalesced around  wider attachments to community and to the region. The shouts and screams were a  celebration of their shared culture and identity, letting Avalos know what to expect when he steps into the ring tonight.
For an hour before the boxers appeared the space was rammed. Avalos walked bristling into the testosterone zone.  Inviting prizefighters to go nose to nose at the end of what is effectively a period of controlled fasting carries incendiary risks. 
Avalos had to leave his underpants behind to come in under the 8st 10lb limit, a detail much appreciated by the packed house and requiring of the satin-tonsilled Buffer recourse to well-grooved repartee. But even he was stumped when,  following an oscular incursion into Avalos's personal space by the champion, the place went berserk.
Avalos shoved Frampton back, Avalos's father landed a right hand on the shoulder of Blain McGuigan, son of promoter Barry, who later admitted coming close to a comeback in that moment, and finally Avalos's mother launched gum at her son's opponent that came to rest on the shoulder of Frampton's minder.
Panto this was not. With his primal instincts engaged, Frampton drew back an arm ready to unload before being smothered by his security detail. It could be the best tackle made all weekend.  Avalos continued to goad, seeing this as an opportunity to mark out territory on hostile turf. 
The challenger is old school, a tough kid from  the margins, in this instance Lancaster, located in the California hinterland north of Los Angeles. As Avalos puts it, the choice was either ring or gang warfare. He was choosing a violent future no matter which box he ticked and looks reassuringly fit for purpose. 
"I say two or three words and you hear crickets in the background. He says anything and the whole crowd goes crazy," Avalos said. "I'm not worried. I've grown up around people doing no good. Boxing was an escape. That's why I stuck to it, otherwise I would have ended up in jail. I got into boxing at the same time as a close friend of mine. Unfortunately he went the wrong way and got into gangs.
"I wasn't that deep into it [gang culture]. Boxing pulled me away from all of that. Lancaster is a small place. There is nothing to do out there other than get into trouble, it seems like. If you find a positive you have to stick to it. This is a big opportunity for me. I know that. I want to be world champion. That is why Frampton is in trouble."
Spoken like a true contender. Few come to the ring contemplating defeat. He is right about one thing, Frampton represents a career jackpot for a fighter has worked himself back into contention following two split-decision defeats four years ago.  He would be lucky to reach five figures in routine engagements around the California and Nevada casino scene.  Not here. 
Frampton is already the highest earning super-bantam in boxing. He is effectively underwritten by sponsor CWM FX, a big foreign exchange player in the City who have added McGuigan's promotional organisation Cyclone to a sporting portfolio that includes Chelsea Football Club, Wigan Warriors and MotoGP.
For Frampton this is about looking good under the spotlight. The ITV deal is for one fight only, a trade that gives him the visibility and profile he needs and the broadcaster a high-octane property to round off the entertainment on Saturday night. If it goes as both parties hope, there is a negotiation to be had.
McGuigan, in whose bootstraps Frampton is treading 30 years after he filled 19 million screens against Eusebio Pedroza, summed up the importance of the night: "This is huge for Frampton. Every fight is important but it is how he looks in the spotlight. Winning is one thing, winning under pressure is another."
Reuse content