Thirty-odd years after the Clones Cyclone first swept through Northern Ireland, another dynamic Ulsterman with lightning-fast fists has been brewing up a perfect storm. 
When Barry McGuigan's prodigy, Carl "The Jackal" Frampton, engages in a super-bantamweight blockbuster with fellow unbeaten world champion Scott Quigg, in Manchester on Saturday it will be the culmination of a long-awaited confrontation that has been almost as long in its gestation period as Mayweather v Pacquiao. 
But there is little doubt it will be an infinitely better fight, one well worth waiting for, with 20,000 fans packing the Manchester Arena, half of them having crossed the Irish Sea to support their man.
Frampton ventures into Quigg's backyard – well, almost, as the Lancastrian hails from just down the road in Bury – to throw his IBF world title belt into the ring alongside the WBA belt that belongs to Quigg (below), the winner taking both home.
Win or lose that alphabet battle, Frampton will have more letters after his name when he collects his MBE from Buckingham Palace next month. McGuigan was awarded the honour some years ago and, similarly, it has been awarded as much for his contribution to community relations in Northern Ireland as his sporing achievements.
McGuigan's own career, which took him to the world featherweight title and acknowledgement as one of the sport's most articulate ambassadors, is mirrored in many ways by the equally loquacious 28-year-old Frampton, whom he has skilfully nurtured through 21 professional contests with the assistance of his son Shane, at 26 one of the youngest trainers in the business but sufficiently respected to have acquired David Haye and George Groves as new clients at his Battersea gym. 
Mentor and fighter have lived through the vicissitudes of the Troubles. Frampton, a Protestant, is married to a Catholic girl, Christine, whereas McGuigan, born a Catholic, has been wed to Protestant Sandra for 33 years. 
"Carl's a very bright, articulate and intelligent kid who knows what he has to do,"says McGuigan. "He's a ballsy bastard. He comes from a hardened loyalist area and his wife from an equally hardened Republican area. There have been many horrible things said to them but they've had the equanimity to rise above it. Christine is a beautiful girl, really sensible, clever, bright with a degree in criminology. This is the next generation."
Frampton grew up in the fiercely loyalist territory of Tiger's Bay, just a block away from the Republican neighbourhood of New Lodge, where the popular refrain had been, "leave the fighting to McGuigan".
Frampton recalls: "There were constant clashes. At the bottom of the street I'd see petrol bombs thrown at police Land Rovers and guys getting shot. People died. I saw one my friends, Glen Branagh, who was 16, killed in a pipe-bomb  incident." Frampton was 14 at the time. 
"Obviously it was worse in Barry's day. But I grew up on the back end of it and it wasn't nice. I come from a family who never really cared about  divisions. I was brought up to believe that we are all the same really and that's it. 
"I'm not trying to say I'm some sort of living Gandhi figure or anything like that, I just don't really give a fiddlers who you are or where you came from. 
"Boxing brings people together in Ireland. Protestants and Catholics, the north and south, everyone. Without being big-headed I feel I am doing that a little bit. I feel humbled I'm supported by both sides of the community, as Barry was."
Early last week he was tucked up in bed nursing a cold, which caused him to miss a couple of days training. It was, he insisted, just a bit of a sniffle "but I didn't want risk  it turning into something  bigger before for such a  humungous fight".
It is certainly not one to be sneezed at. Two gritty gunslingers in gloves who can box and punch in an all-British duel that that could be decided as much in the corners as the clinches, depending on the game plan of the trainers; McGuigan and Quigg's vastly experienced Joe Gallagher, who was recently voted trainer of the year by Ring Magazine and has three world champions in his stable.
"This will be a battle of wits and well as fists," says Frampton. "I can box off the back foot, I have a better boxing brain, and a better punch selection. I'll box his bollocks off then knock him out."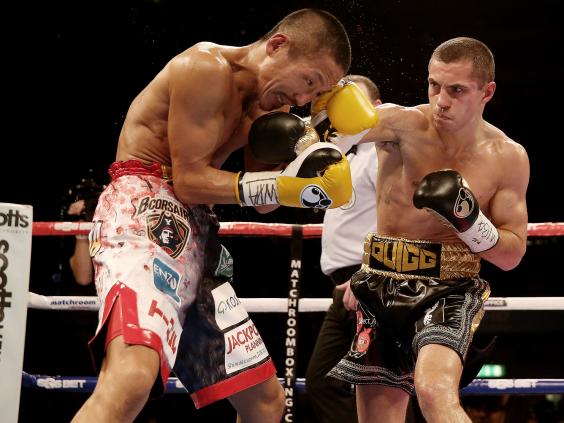 Maybe. But he looked rather  unsteady on his feet in his last fight with little-known Alejandro Gonzalez Jnr in El Paso, Texas, when he was knocked down twice in the opening round, though he recovered to take a unanimous points decision. There are rumours that he has been having weight problems.
While Frampton is blessed with the McGuigan blarney, the 27-year-old Quigg is a well-rounded fighter of fewer words who prefers to let his fists and unblemished 33-fight record do the talking.
"They are calling it a 50-50 fight, but I don't believe that," he says. "The way I've improved, my performances of late have showed that I've got the edge. I rate him as a very good fighter, but I believe I beat him in every department. My best beats his best."
Back in Belfast they will be planning to celebrate an illustrious night of the Jackal, but Frampton could catch another cold on Saturday, with Quigg buckling both belts around his waist after a close but pulsating points victory.
Frampton v Quigg is live on Sky Sports Box Office on Saturday. Visit skysports.com/framptonquigg
Reuse content