Carl Frampton had an easy night in the hardest fight of his life when he simply knew too much about the boxing business for Scott Quigg in a strange world title fight at a capacity Manchester Arena on Saturday.
Frampton added Quigg's WBA super-bantamweight title to the IBF version he has held since 2014, but the belts, so we were endlessly told, were mere decoration for the battle of pride and wit that was promised once the bell sounded. Frampton in the end was just too smart for Quigg, whose bravery was never questioned and who picked up a broken jaw in round four; a combination of an open guard, Frampton's precision and Quigg's belief that the Belfast man could not hurt him. "I knew it would be boring," teased Frampton as he stood smiling with Barry McGuigan, his manager. 
To box eight rounds with a broken jaw – which is not a lazy claim for a sore jaw, as the awful X-rays yesterday morning proved – took guts, but to fight the first seven rounds in a daze is inexcusable for a boxer reputedly clearing in excess of two million quid. The  post-fight search for flattery to disguise the lamentable performance must not exchange the shattered jaw for the dreadful battle plan.
There was always a danger one of the tiny fighters would freeze once the passionate reception that engulfed their walk to the ring brought home the enormity of the occasion. It is on nights like this, and in venues like this, that a fighter's bravery, skill, heart and desire can be reduced to irrelevancies and the lonely walk can leave a boxer drained.
Frampton looked on edge and Quigg calm – fat-faced and relaxed – as the pair paced the canvas exchanging nods with the hushed members of their teams; Michael Buffer, the suave voice of boxing fresh in from Hollywood, awaited his cue to speak and there was at that pivotal moment no clue, no reason to suspect that everybody in the Quigg business was about to snooze for 21 minutes of boxing. 
Why did nobody at ringside in the Quigg game get up after three apathetic rounds and go to the corner to scream for change? Why did Quigg not realise he was not doing any work? Why did Joe Gallagher, his trainer, not read the riot act after three or four rounds of non-contact? 
Gallagher thought it was close after five rounds, which shows just how blind the most celebrated of boxing people can be. It was not close, it was a tactical massacre.
At the end, when McGuigan's joyous clan embraced in tears, the dejected duo of Gallagher and Eddie Hearn, Quigg's promoter, could barely raise their eyes from the floor.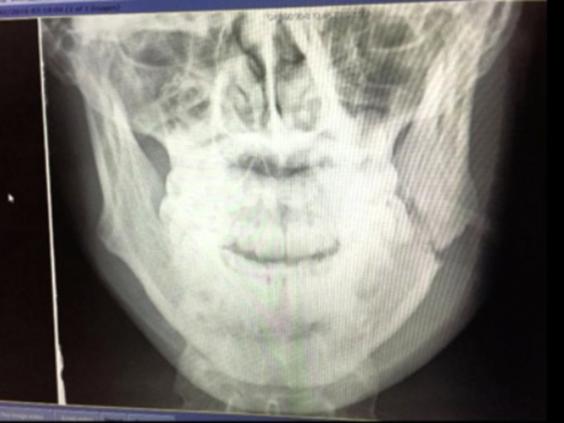 How did the pair not notice the calamity unfolding? It is mind-boggling. Did they all, as seems to be the case, really think that in round 11 Frampton would suddenly fall over from the slightest glancing blow? There was no urgency and for that inexcusable lapse everybody in the Quigg business needs to take a long hard look in the mirror this morning. The last eight rounds did not make Quigg's contribution to the fight memorable because of a broken jaw, but the first seven rounds did make it unforgivable. 
This was not a masterclass from Frampton, it was a bad performance from Quigg and his misjudgement was matched by the scoring of one official who insulted everybody by voting for him. He should never work again.
Quigg will have to get his head straight to work again at this level and Frampton is looking to move up 4lb to featherweight when he fights in America next.
Reuse content