David Haye has admitted that Tony Bellew has succeeded in getting under his skin ahead of Saturday's eagerly-anticipated fight.
Known for his reputation in succeeding in mind games, Haye conceded that the "annoying" Liverpudlian has left him rattled.
The 36-year-old heavyweight, who was speaking at a public workout on Wednesday night, will meet Bellew at London's O2 Arena in three two days time.
Haye was uncharacteristically angry at Monday's press conference, and said: "Tony Bellew has a knack for getting to people. Credit to him: most of the time I can laugh it off but he's a professional annoying human being.
"It will work against him, if he hadn't been so annoying I may not have trained so hard. I don't have time for people like that, I'd rather eradicate him from boxing. He won't fight again after this weekend."
At the start of the week, in Bellew's home city of Liverpool, Haye insulted sections of the crowd that turned out to see the fighters and insisted he heard racist insults being yelled.
The British Boxing Board of Control expressed its unhappiness at his behaviour, but Haye said: "I'm not apologising for anything.
"I've said and done stupid s*** in my time, I say what I say at the time. I'm sure if I had a time machine I would do things differently but at that time I was irritated and you do things in life and if you have regrets and apologise every time people won't take you seriously.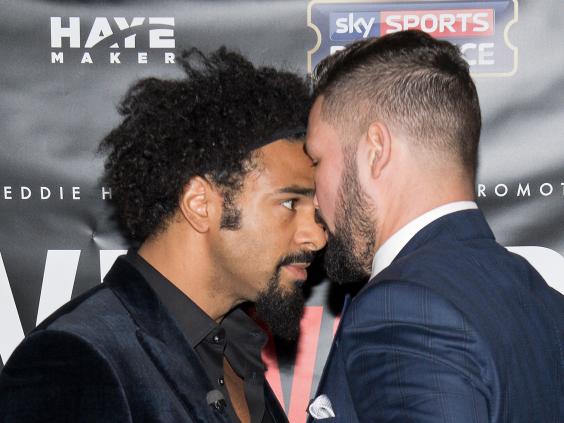 "Every single thing I said, at the time I said it I meant it. Looking back if I could rewind time, which you can't, I would do things differently but at the present time I said it, that's how i felt.
"Things change in life: people spend lives regretting things they've done, people they've married. You have to move forward and that's what I'm doing. I will eradicate everything I've said and it will be forgotten when Tony Bellew is stretched out unconscious on the canvas."
​Additional reporting by PA
Reuse content