Tony Bellew's trainer Dave Coldwell has revealed the insight his time working with David Haye has brought to their preparations for Saturday's fight.
After overseeing Bellew's rise to become the WBC cruiserweight champion, at London's 02 Arena he will for the first time be working against the 36-year-old Haye.
Coldwell, dismissed by him on Thursday as "a little rat coach", was the head of Hayemaker Boxing while the younger Haye was one of the world's leading fighters.
He oversaw the running of the business and promotions and helped organise sparring partners while contributing to matchmaking, training George Groves and assisting Haye's former trainer in analysing his fights.
Haye on Thursday warned Bellew, 34, to "enjoy his last days", a controversial type of threat Coldwell became familiar with while the former sought to promote his fights and engage in mind games.
However the 41-year-old believes his latest outbursts are the result of a modern-day "bitterness", and that his knowledge of him has allowed him to deflect flaws others may have overlooked.
"It's the old David Haye I knew, not the new David Haye, this bitter, negative man," Coldwell told Press Association. "I knew him when he seemed happy and at peace with himself.
"He's not as confident as you think. He has doubts, but (back then) had people with him who'd be honest; not 'yes men'.
"Now he's got people around him who haven't got the bottle to tell him what's what, because they don't want to lose their jobs. He's worth a lot of money; they're thinking about the (potential Anthony) Joshua fight, not this one.
"David Haye is a reflex fighter: the speed, head movement, everything. You're watching him on the pads with Shane (McGuigan): he ain't as fast as he thinks (any more)."
Britain's current boxing world champions
Britain's current boxing world champions
1/12 Anthony Joshua

IBF heavyweight

Getty

2/12 Tony Bellew

WBC cruiserweight

Getty

3/12 Nathan Cleverly

WBA light heavyweight

Getty

4/12 James DeGale

IBF super-middleweight

Getty

5/12 Billy-Joe Saunders

WBO middleweight

Getty

6/12 Kell Brook

IBF welterweight

Getty

7/12 Ricky Burns

WBA light welterweight

Getty

8/12 Terry Flanagan

WBO lightweight

Getty

9/12 Lee Selby

IBF featherweight

Getty

10/12 Jamie McDonnell

WBA bantamweight

Getty

11/12 Lee Haskins

IBF bantamweight

Getty

12/12 Khalid Yafai

WBA super flyweight

Getty
For all of his success with Adam Booth, Haye's comeback has been overseen by Shane McGuigan, and Coldwell believes that has contributed much to the decline he sees.
Haye on Monday at a press conference in Liverpool called sections of those present "f***ing retards", when he said he could hear racist insults being yelled and for which he insists he will not apologise.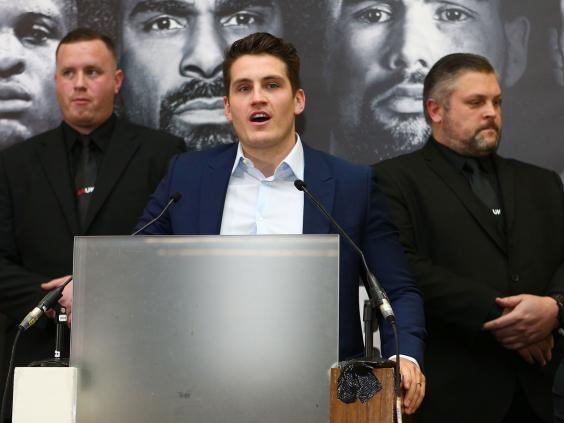 He had also previously threatened to leave Bellew in hospital, and on Thursday told him to: "Enjoy your last days. There's not going to be another day: this is the last day for you. That's it: it's over.
"I'm legally allowed to do as much damage as I can inflict for 36 minutes with 10-ounce gloves on.
"He's got under my skin, he's chased me for a year-and-a-half, really made things personal. I'll make sure he never, ever, ever does that again."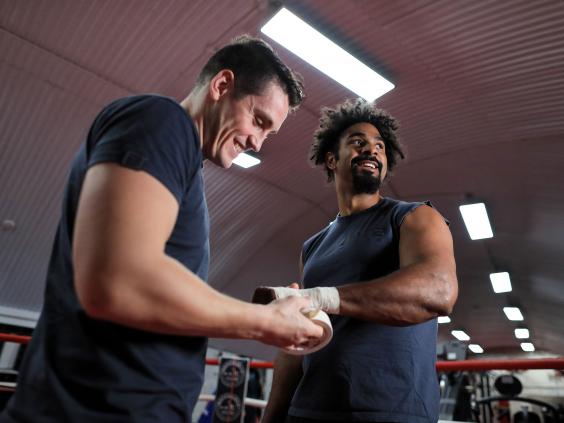 Coldwell is convinced that under Adam Booth, Haye would not only not have gone so far, but would also be a superior fighter.
"Technically, he was much better with Adam," he said. "He's not doing certain things now that he used to do.
"Fighters like Haye need somebody who can pull them in, control their emotions and ego. Naz (Naseem Hamed) had it with Brendan Ingle; Haye and (former trainer) Adam Booth were the same.
"I was never his mate, but we'd always got on. Maybe he thinks I'm that insecure that him calling me 'Penfold', I'm going to start crumbling and feel pressure. All that is is like school."
PA