Deontay Wilder gave America the headlines it wanted in Las Vegas, a first heavyweight to be crowned champion of the world since 2006, but has boxing hit the jackpot with a big man to savour?
The sport's blue riband division has been annexed so long by one Klitschko or another that interest in it has faded to zip outside the narrow college of fight lovers. How many of you can name the last American to hold a version of the world title?
The aficionado plucks Shannon Briggs from the vaults, but few casual observers with a love of a punch would spot "The Cannon" walking down the street if he came at them naked with only a glove to spare his modesty.
Boxing has been crying out for an authentic champion to emerge from its most important market. Floyd Mayweather Jnr spreads only so far, and his reach is diminishing with age. At 6ft 7in and 250lb Wilder certainly looks the part. And with a tongue as busy as any rapper's he is not short of a line to spin.
But this does not amount to authenticity. Not yet anyway. No opponent had lasted more than four rounds with Wilder in  32 bouts en route to the big show against WBC champion Bermane Stiverne. Audley Harrison was upright for a commendable  47 seconds before Wilder wound up that big right hand to fold him in two.
Though he wobbled, Stiverne, an ordinary champion even in these non-vintage days, Wilder could not put him away as myth suggested. That's okay, but you can't sell a legend on points wins when you invited the audience to witness knockout power.
Wilder is fortunate not to have any obvious correctives heading his way, beyond the obvious fists of Wladimir Klitschko. When Michael Grant walked this earth as the 21st-century warrior we had all been waiting for, he had to answer to Lennox Lewis in his 32nd fight.
Grant was a beast, too, standing 6ft 7in with an 86-inch reach. As a student he was a talented athlete, feted as a footballer and, like Wilder, converted to boxing late in the game. In his six years as a pro he had somehow managed to paper over the lack of amateur experience, though not without drama, and claimed some notable scalps, including Andrew Golota, David Izon and Obed Sullivan, all of whom had dreams of their own at one time.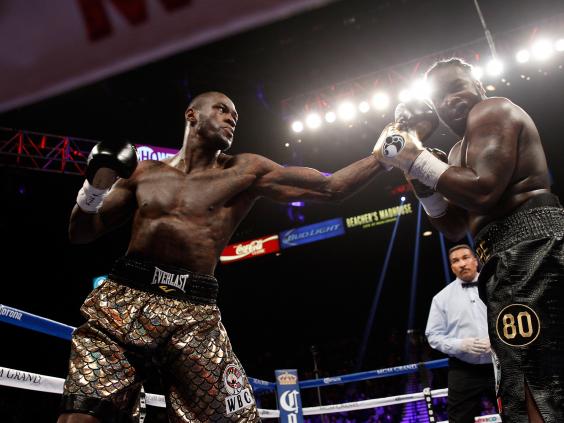 His reward in 2000 was a shot at two of the three belts held by the undisputed champion, Lewis, at that old temple of the sport, Madison Square Garden. It would have been three had the WBA, under pressure from Don King on behalf of his man John Ruiz, not refused to sanction  the bout.
As it turned out Grant was off his feet three times in the opening round before a fourth visit to the canvas in the second ensured the WBC and IBF belts would be going home with Lewis. Grant did not last a round in his next bout against Jameel McCline, who connected with the first punch he threw leaving Grant complaining of a broken ankle.
Broken dreams, more like. That might yet be the fate of Wilder, were he to jump straight into bed with Klitschko. His promoters, Golden Boy, will not be rushing into that. They might, however, consider Tyson Fury fair game, which would have the cash registers ringing this side of the Atlantic. Fury's name was one of the first out of the hat, with his trainer, Peter Fury, appearing ready to strap his nephew's hands now when discussing the bout on BBC  5 Live's Sportsweek yesterday.
Wilder drew a crowd of almost 9,000 to the MGM Grand, the first heavyweight title fight at boxing's modern mecca since  Mike Tyson took a lump out of  Evander Holyfield's ear 18 years ago. Both were at ringside in the early hours  yesterday connecting the threads to a bygone era.
Wilder is a good story, winning Olympic bronze in Beijing less than three years after taking up the sport at 19. So is Anthony Joshua, who did even better four years later, claiming gold at the London Games. 
Joshua walked into a gym in Finchley for the first time in 2007 aged just 18 setting in motion a parallel career that promises to rub up nicely alongside Wilder's at some point down the line. Wilder versus Fury and eventually versus Joshua. If nothing else the Bronze Bomber, as he likes to be known, has nudged the dial and has us talking heavyweights again.
Long may that conversation continue.
Reuse content