It is a long time since lunatic fighters like Randall "Tex" Cobb went in the ring and fought for the heavyweight title, adding a bit of spice to an often endless list of soft-bellied men who have come and gone in an anonymous blur.
In the Nineties, Mike Tyson was the sport's resident crazy guy, with convictions, anger issues and an entourage from the sport's filthiest corners. Tyson followed the men dubbed the Lost Generation, which is a polite way of saying that they were mostly admitted crack fiends, from the early Eighties. In the middle of all the talented but wasted fighters, true in every sense, there was Cobb.
In 1982, Cobb fought the majestic Larry Holmes for the WBC heavyweight title over 15 rounds inside the Astrodome in Houston. Holmes was unbeaten in 40 fights, one of the greatest prizefighters of any generation and cursed by history as the man who followed Muhammad Ali.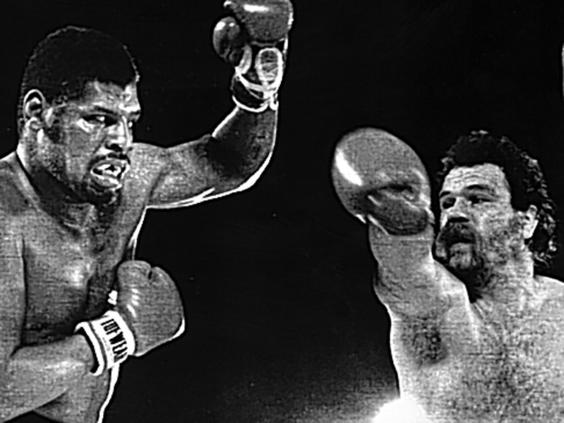 It was not a pleasant fight to watch but it offers a joyous reminder of just what fighting for the heavyweight title is really all about. It's not about an unknown, untested and heavily muscled boxer from one of the sport's backwaters getting his chance. No, it's about a bit of drama, a fight with a story, an underdog we can cheer for and a fight with endless levels of punishment. That is what fighting for the heavyweight title should be about.
Cobb knew the story, understood his role and delivered to sport's richest prize, as it was known, a foul mouth, the best chin in the history of boxing and comic timing that never, even if he was getting stitched or revived, left him. Cobb was and remains the man who will for ever carry the torch for all doomed fighters in lost causes. He sits with Chuck Wepner and we all know that Big Chuck inspired Rocky.
In the Holmes fight, the beating was so severe that a silence often greeted the thud of leather bouncing off Cobb's features. At one point Cobb, in a rare clinch, turns to the referee in round 13 and asks: "Hey, you're white, why don't you do something about this?" Cobb told reporters after the massacre that there would never be a rematch: "I don't think his hands could take it." Holmes still declares Cobb the hardest and bravest man he ever fought.
Cobb could, however, fight and traded punches with heavyweight world champions Ken Norton, Buster Douglas, Leon Spinks and Michael Dokes in addition to Holmes. He also beat Earnie Shavers one night in a fight that was so savage that the writer and one-time boxing hack Peter Dexter said it "ruined appetites all over Detroit". The pair traded punches in painful slow motion and moved like they were ankle-deep in treacle until its end in round eight. "If anybody hits harder than Shavers, I'd shoot him," said Cobb. Yet, at the end of each of his gruesome fights, Cobb would turn to the man that he had just fought and declare: "Now, let's go party!"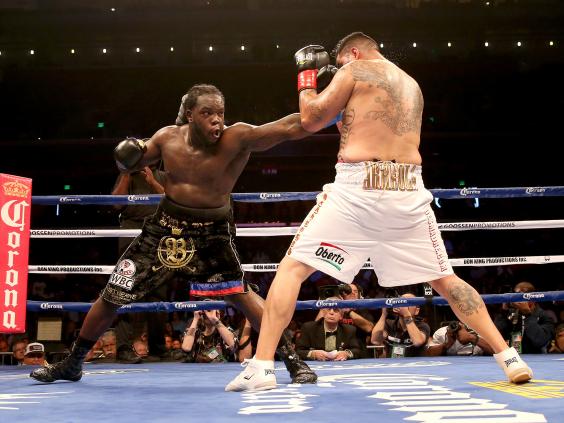 One of his victories does not appear on his official record and involved Dexter, his dear friend. It was a bar, a bad bar on a bad night, and out of the corner of his eye Cobb saw a group of 10 or more men walking through the tables. They had baseball bats and tyre irons. Cobb turned to Dexter and uttered the timeless: "I hope that's the softball team." It was not and Dexter was knocked unconscious, had his hip broken and woke up with Cobb standing over him threatening death to any of the few upright attackers if Dexter failed to open his eyes. Cobb picked Dexter up and they walked over the unconscious and went to hospital. It cost Cobb a world title fight with the WBA champion Mike Weaver because one of the men had broken his arm with a tyre iron.
His comments on Hollywood, where he has been making movies for 25 years, are equally honest: "Don't make anything noble out of what I do. What I do is hit people. I'm not promoting anything that is real or valuable."
On Saturday night, at the MGM in Las Vegas, the WBC heavyweight belt will be fought over in the sport's forgotten division when two relatively unknown dreamers, Bermane Stiverne and Deontay Wilder, meet for the title. They are not crazy, they are not damaged, but Wilder does have something other than a publicist and a nutritionist in his entourage and it is just possible that Cobb would approve. Wilder has also stopped or knocked out each of the 32 men that he has fought, including 10 of his first 12 victims in round one.
When Cobb met Dokes, who was unbeaten, dangerous and destined for the world title, he had some words of caution, saying: "This fight will be the nastiest thing you'll ever see. I've been sober for six weeks and that makes me vicious."
Cobb lost a majority decision. Dokes, who died a miserable death after years in prison and drug rehab followed his days as champion, went on to win the title the following year.