This week the $150m soap opera dominating boxing will finally end and all will be revealed as Floyd Mayweather picks his opponent for May – while the leftover fighters all scramble for the scraps.
In theory Mayweather will announce the man he has selected for his 2 May fight, scheduled, like his last 10 fights stretching back nine years, at the MGM in Las Vegas, and it seems that former opponent Miguel Cotto remains a heavy favourite over Bolton's Amir Khan. Mayweather beat Cotto in 2012 but since then the Puerto Rican has added the middleweight world title and if Mayweather gets the better of him again, it would mean that he has won world titles at six different weights.
Cotto and his people recently failed to agree a deal with Saul Alvarez, another Mayweather victim, for the prized 2 May date, and Alvarez, a Mexican matinee idol, looks like he will fight on that date against James Kirkland, an erratic but dangerous slugger.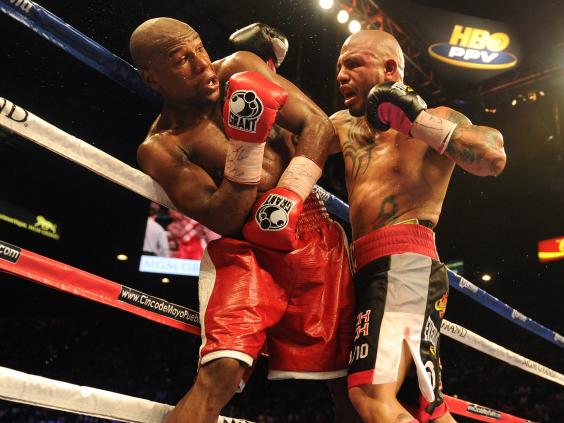 The Alvarez v Kirkland fight, so everybody involved with it insists, will go head to head with the Mayweather bout, probably in San Antonio, Texas. The two fights, assuming they happen on the same day, would throw the two main boxing financiers, Showtime and HBO, into another major confrontation, with Mayweather's pay-per-view on Showtime against Alvarez on regular HBO. It costs $80 (£53) to watch Mayweather on television in America and any potential split in the fans' loyalties could be costly.
The Alvarez and Kirkland fight cannot officially be announced yet because, in theory, the long-overdue contest between Mayweather, Showtime's main attraction, and Manny Pacquiao, HBO's banker, is still being discussed. It is a fight that would require the two rival television companies to work together for the first time since Lennox Lewis met Mike Tyson in 2002 in Memphis.
It has been heavily documented that Pacquiao has agreed to a split of the money, the venue, the date, the doping protocol and the type of gloves for the fight with Mayweather; the Filipino agreed terms over two weeks ago. So far, Mayweather has not said a word but this weekend, so his advisers have indicated, all will become known.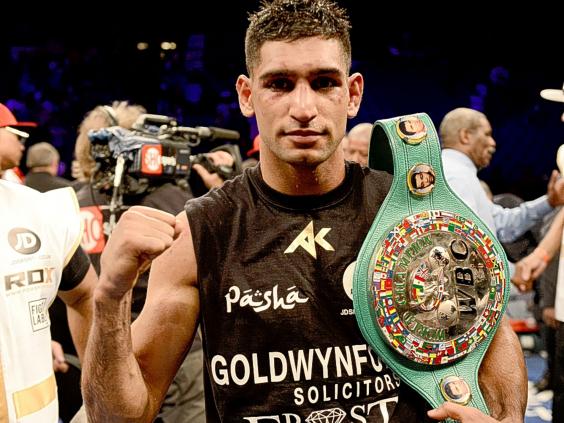 The complex situation is fast approaching various deadlines and it now looks like Pacquiao, assuming he is rejected by Mayweather, will fight at the end of May – and his opponent could be Khan.
A brief meeting in London last Friday tantalisingly threw the pair, who were once friends and sparring partners, together, but one and one in boxing seldom means two and fighters posing for pictures together, uttering muted consent, is actually insignificant.
Khan would love Mayweather or Pacquiao in his next fight – the pair deliver vast sums in revenue and Khan would not just be entering the ring as the latest sacrificial lamb. His other options include a duo of tested fighters in Juan Manuel Marquez and Tim Bradley, but sadly they would deliver about 20 per cent of the so-called lottery cash Mayweather brings to the table.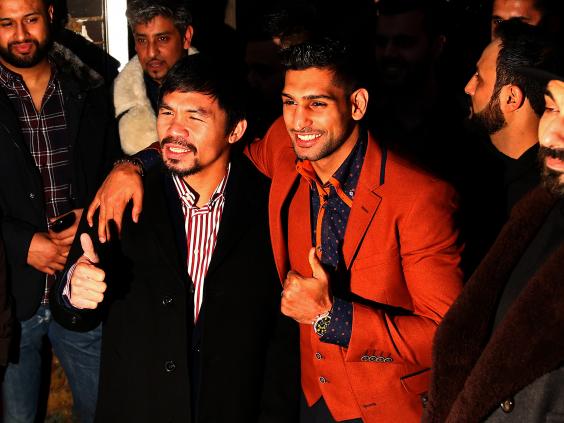 This carnival matters because of the sums Mayweather and Pacquiao generate when they fight. Khan is on the edge, alongside about a dozen others, waiting for the call that will transform his life for a fight that he has more chance of winning now than he has ever had in the past. Sadly, I think he will be overlooked by both Mayweather and Pacquiao this time and will risk his position by fighting Bradley or Marquez.
Then, in November, we will do it all over again when Mayweather, sport's most clinical manipulator, needs another opponent.