In the familiar MGM ring there was a reminder on Saturday night in Las Vegas of all that is good, bad and ugly about the life, fights and reign of boxing's richest fighter.
Floyd Mayweather won for the 49th time, his 26th victory in a world title fight. After getting the nod, he dropped to his knees and looked above the ring at the distant neon that has illuminated so much of his life. His lopsided win over Andre Berto equalled the 49-0 record compiled by Rocky Marciano when he quit 60 years ago.
"You gotta know when to hang it up," Mayweather, who is 38, said after the fight. "I have all my faculties, I have broken all the records in the sport and now I just want to spend time with my family. I'm finished."
Berto, a former world champion and willing player in Mayweather's goodbye party, did his bit during a fight that was in many ways one of the most frustrating of the champion's many frustrating nights in the ring.
Mayweather, who was guaranteed $32m (£21m), could have and should have stopped or knocked out Berto, but a declared intention to not get hit or hurt in any fight stopped him from following up each and every time that Berto was caught cleanly. The presence of Mayweather's uncle and trainer, Roger, shuffling, mumbling and often blank-eyed in the pre-fight entourage is a stark reminder of boxing's ability to harm the men it made both rich and famous.
Mayweather insists that he will never fight again and that means that after 49 fights, 19 years as a professional and 17 years as a world champion, the colossal fighting machine has been switched off. However, imagining the inevitable return will now become the game of choice in a business that came to expect his massive financial injection twice each year; the fight against his lifelong deadly foe, Manny Pacquiao, in May grossed more than $600m (£390m).
Late into the Las Vegas night, Mayweather listed the men that had helped make him rich and famous; it was a roster of the great, the forgotten and the dead boxers that he beat in contests that were often far removed from the glitz, excess and wealth of the last few years.
It was not always Lamborghinis five-deep, parked next to the fountain in the driveway, and there was a dark time when, as a toddler, he was used as a human shield by his father in a dispute at a crack house; the would-be assassin simply aimed the gun at Floyd Snr's leg.
The final-fight fallout has divided boxing, with Oscar de la Hoya, arguably the best of his generation, sarcastically celebrating the end of the Mayweather years and Andre Ward, the only real challenge to Mayweather's present position as boxing's finest, dismissing the  critics and demanding more respect for Mayweather's achievements. They both have a valid point.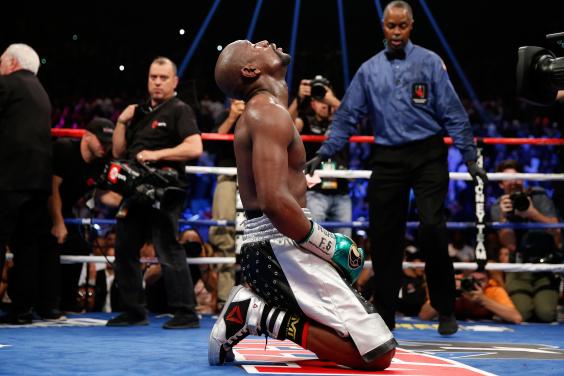 Mayweather was not always the reluctant genius inside the ring, not always content to go to the full 12 rounds in risk-free repetitive dances and there was a time, his early years as the super-featherweight champion between 1998 and 2001, when he had a genuine savage streak; he went looking for the knockout and in six of nine world title fights he got it. As a contrast, seven of his last eight fights went the full 12 rounds.
There were many moments during Saturday's fight when Mayweather stood off, backed away or simply failed to let his fists fly and it was during these moments, his critics complain, that the great fighters at 10st 7lb would have finished their opponents.
Berto would have been butchered by Roberto Duran, knocked out cold by Tommy Hearns, beaten to a pulp by Sugar Ray Leonard and, I would argue, stopped in about six rounds by the Mayweather from 17 years ago. At various points in his remarkable career, Mayweather has been a fighter for all ages and hopefully it is not over.
There is a slim chance that his boxing promotional company will satisfy him and on Saturday's undercard, Badou Jack, his fighter, retained his WBC super-middleweight title with a slender decision over London's George Groves. It was world title defeat No 3 for Groves, who left the ring in shame and anger when Jack's hand was raised.
Had Groves won, a fight at Wembley with his bitter rival and current IBF world champion, James DeGale, looked certain. It is now likely that the adored Anthony Joshua, who won the Commonwealth heavyweight title when he stopped Gary Cornish in 97 seconds at the O2 in Docklands on the same night, will get the big outdoor fight next year.
Reuse content