In just over two weeks' time, Floyd Mayweather Jr. and Manny Pacquiao will enter the ring at the MGM Grand Garden Arena, touch gloves and hear the bell sound for the first round of the most anticipated fight in decades.
The figures surrounding the event, financial and otherwise, are so big as to be mind-boggling, so we sat down and crunched the most interesting numbers ahead of 'The Fight of the Century'.
The Records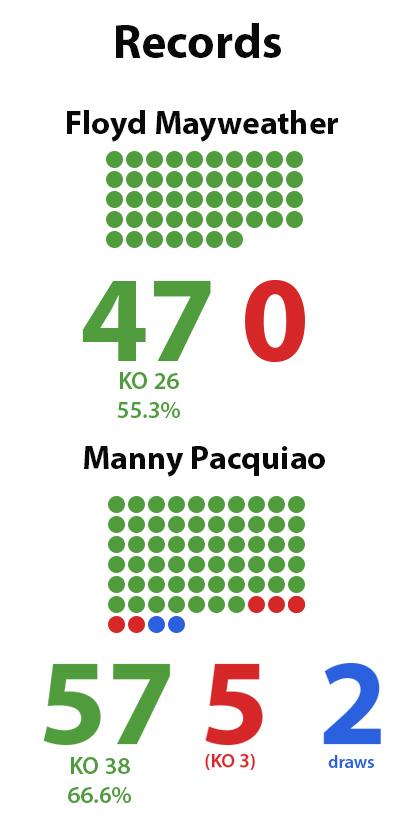 Mayweather likes to remind everybody about 'the zero', his flawless 47-0-0 career record, which he has carefully protected for the best part of his career. He especially likes to remind everybody about it during debates over the greatest fighter of all time. Against the blemished records of legendary figures like Sugar Ray Robinson (173-19-6), Joe Louis (66-3-0) and Muhammad Ali (56-5-0), it provides the WBC and WBA welterweight champion with useful ammunition.
However, an undefeated record alone is not enough to secure a place at summit of boxing's pantheon (just ask Saengmuangnoi Lukchapormasak) and one as delicately cared for as the Pretty Boy's invites scrutiny. Pacquiao may have five defeats to his name but interestingly, 66.6% of his victories have come by way of knockout, compared to Mayweather's rate of 55.3%. What chance that the Filipino shatters the '0' with one devastating blow?
The Earnings and Ticket Sales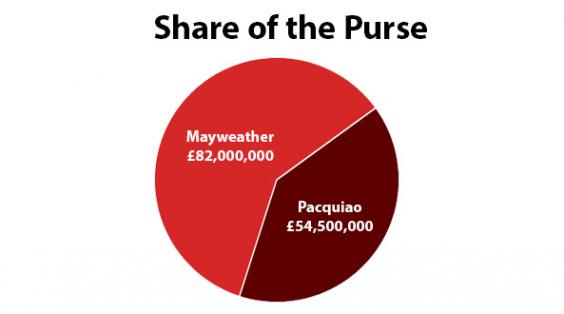 The purse will be split 60/40 in favour of 'Money' Mayweather, who is expected to take home (£82 million). Pacquiao, on the other hand, will walk away from the MGM Grand Garden Arena with a relatively paltry (£54.5 million).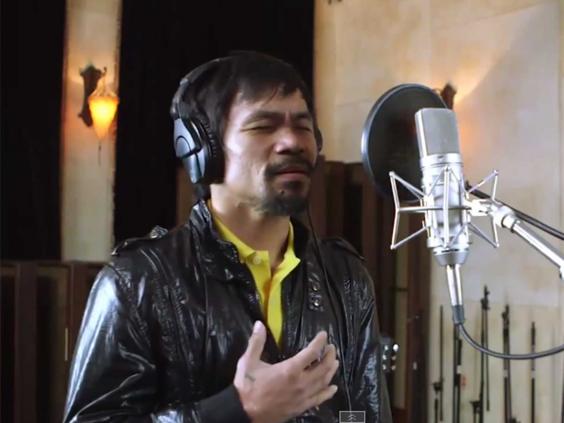 Ticket prices range from $1,500 (£1,016) to $10,000 (£6,776), averaging at a whopping $4,600 (£3,117). Bob Arum, the fight's promoter, expects the 16,000 crowd to generate about $74 million in gate receipts – $14 million more than Super Bowl XLIX generated, despite having four times as many seats.
The Pay-per-view Purchases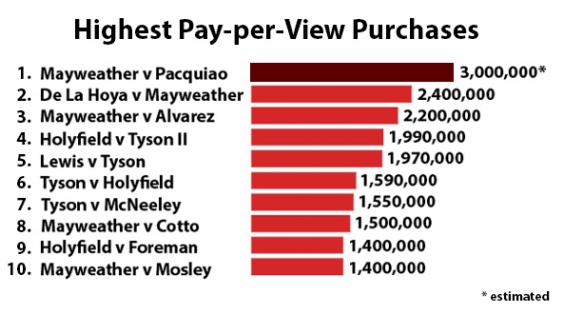 Money will not only be made through ticket sales, of course. $300 million is expected to made through domestic pay-per-view subscriptions alone, which rights-holders HBO have priced at an unprecedented $100. Despite the charge increase, the fight is still expected to draw a record-breaking number of purchases, with estimations as high as 3 million.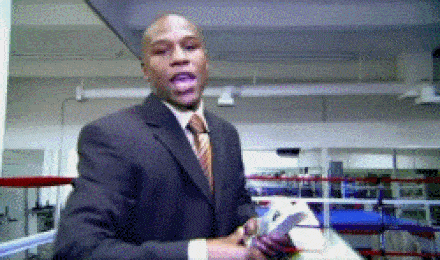 Mayweather's devastating victory over Oscar de la Hoya holds the current record of 2.4 million, whereas Pacquiao's biggest televisual draw to date was his bout with Shane Mosley, which garnered 1.3 million subscriptions. If you combined both fighter's career PPV revenues, at an average purchase price of £50, they would total £941 million. The upcoming bout will undoubtedly see that figure break the billion barrier.
The Referee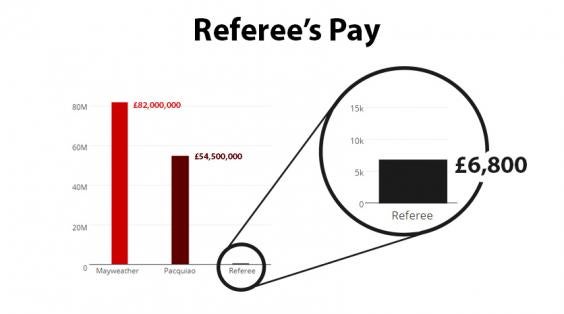 The fight's referee is yet to be confirmed, although one of Kenny Bayless, Robert Byrd or Tony Weeks is expected to officiate, but one thing is for certain. Whoever the third man in the ring is, he will take home significantly less money than the other two.
The Nevada State Athletic Commission, who will announce the appointment later this week, pays a standard rate of $10,000 (£6,800) to its referees and no exception will be made come May 2. The man responsible for ensuring the fight of the century is a good and clean one will be taking home 0.02% of what the boxers will earn between them or, to put it another way, a fifth of what Mayweather will be making every second.
The Punches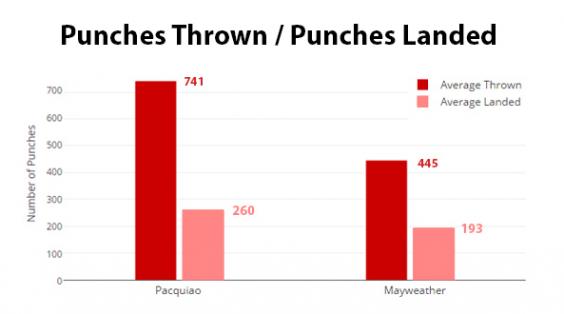 We know by now the pedigree of the two pugilists and that this is a fight with obscene amounts of money attached to it, but what about the actual boxing? Can statistics tell us anything about who will win, or at least what to expect from each fighter?
Career in pictures: Floyd Mayweather
Career in pictures: Floyd Mayweather
1/6 Floyd Mayweather

Floyd Mayweather triumphs in his rematch against Maidana last month by a unanimous decision, making easier work of his opponent than in their first bout

REUTERS/Steve Marcus

2/6 Floyd Mayweather

Floyd Mayweather and Marcos Maidana square off during their press conference to promote their rematch for September 2014

GETTY IMAGES

3/6 Floyd Mayweather

Floyd Mayweather hands previously unbeaten Saul Alvarez a boxing lesson and leaves him slumped and desolate in his corner in September 2013

Getty Images; AP

4/6 Floyd Mayweather

Floyd Mayweather throws a jab to the face of Robert Guerrero during his comfortable win in May 2013

5/6 Floyd Mayweather

Floyd Mayweather is forced against the ropes in his last fight, against Miguel Cotto but prevailed by a unanimous decision in 2012

AFP/Getty Images

6/6 Floyd Mayweather

Floyd Mayweather knocks out Victor Ortiz in the fourth round of their 2011 bout at the MGM Grand, Las Vegas

AP
Over each boxer's last ten fights, Pacquiao threw 40% more punches than Mayweather but landed 10% less. This sounds inefficient, but it might not be such bad news for Pacquaio. Marcos Maidana threw an impressive 858 punches during his narrow defeat to Mayweather in May 2014, a fight many believe to be the closest that the undefeated champion has come to losing.
This is a good omen for the Filipino, who averages 741 punches thrown and broke the 1,000-mark twice his last ten bouts. If, this time around, the judges are inclined to reward industry and energy, Pacquiao's chances of victory will be boosted.
The Snack Cupboard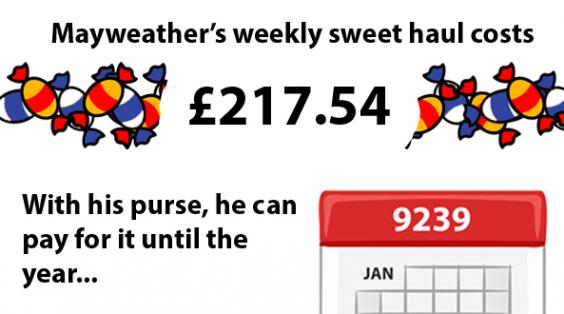 Last week a video emerged on Mayweather's, showing just how much sugar the champion  consumes. "Twizzlers are his favourite thing," his personal chef Chef-Q tells the camera. "Sometimes he may want cookies, sometimes he wants some chips, sometimes he just wants ice tea. It's just that simple, but we gotta get what he wants, he's the champ."
The video shows Chef-Q and a fellow Money Team member loading a trolley to breaking point with sugary snacks that will be washed down with gallon upon gallon of Kool Aid. Once the last Twinkie has passed through the till, the cashier clocks it all up to a staggering $321.43 (£217.54). Not to worry though. Mayweather's projected purse from this fight alone would pay for this weekly snack shop 376,942 times, enough to satisfy his sweet tooth for another 7,224 years.
Reuse content