The mega-bucks showdown between Floyd Mayweather Jnr and Manny Paquiao has long been the fight game's most anticipated piece of legitimate theatre. But at the moment it remains something of a pugilistic pantomime.
Will it ever happen? Oh yes it will. Oh no it won't.
Conflicting reports on whether it may finally materialise in Las Vegas this spring proliferate, with Pacquiao's promoter claiming a deal has been struck despite his official spokesperson insisting it is "still a long way off".
A Mayweather camp "insider" is quoted as saying "they're putting it together", but ominously there is no word from the Money Man himself. Pacquiao clearly now wants the welterweight showdown to help pay off a massive US tax bill (he says he'll accept the short end of a 60-40 split, with boxing's richest-bout likely to gross $200m (£130m).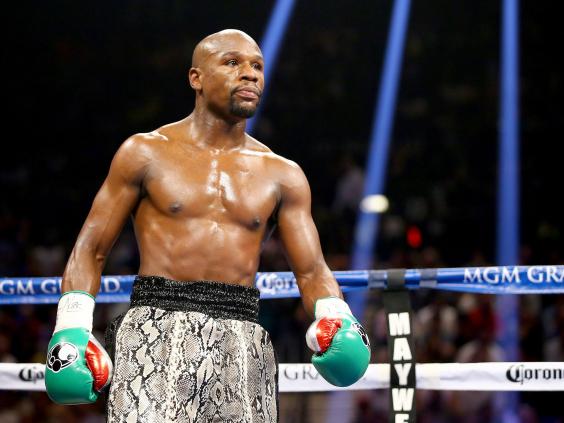 But it seems Mayweather isn't bothered one way or the other, as the Top Rank boss Bob Arum, who masterminds Pacquiao's career, obviously believes.
He says Mayweather "needs to grow some cojones", adding: "Manny has been very reasonable. Now, we're waiting on Floyd, though I'm not sure it will happen."
Career in pictures: Floyd Mayweather
Career in pictures: Floyd Mayweather
1/6 Floyd Mayweather

Floyd Mayweather triumphs in his rematch against Maidana last month by a unanimous decision, making easier work of his opponent than in their first bout

REUTERS/Steve Marcus

2/6 Floyd Mayweather

Floyd Mayweather and Marcos Maidana square off during their press conference to promote their rematch for September 2014

GETTY IMAGES

3/6 Floyd Mayweather

Floyd Mayweather hands previously unbeaten Saul Alvarez a boxing lesson and leaves him slumped and desolate in his corner in September 2013

Getty Images; AP

4/6 Floyd Mayweather

Floyd Mayweather throws a jab to the face of Robert Guerrero during his comfortable win in May 2013

5/6 Floyd Mayweather

Floyd Mayweather is forced against the ropes in his last fight, against Miguel Cotto but prevailed by a unanimous decision in 2012

AFP/Getty Images

6/6 Floyd Mayweather

Floyd Mayweather knocks out Victor Ortiz in the fourth round of their 2011 bout at the MGM Grand, Las Vegas

AP
One possible obstacle is that it is unclear whether Pacquiao's acquiescence to Olympic-style drugs checks includes the random blood testing that Mayweather has demanded.
While this is a classic collision that should have been made years ago, there's no question it remains the biggest fight that can be made today. Unlike most other sports the obvious matches don't always happen in boxing.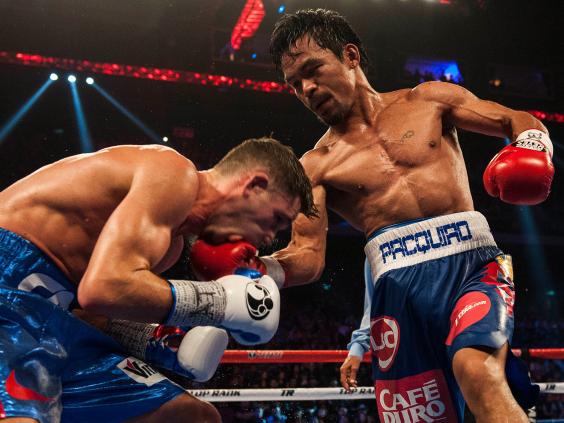 But not having Mayweather and Pacquiao swap blows, even at 38 and 36 respectively, is like Real Madrid never playing Barcelona. But with boxing you never know which way the wind is blowing.
As Arum himself once replied when asked about conflicting statements he had made: "Yesterday I was lying. Today I'm telling the truth."
One-track mind games
Qatar, controversially handed football's 2022 World Cup by Fifa, continues to raise eyebrows by scooping up other upcoming global sporting events, including world championships in swimming, squash, amateur boxing and, curiously, athletics.
The world's wealthiest nation astonishingly beat American favourite Eugene, in Oregon, to follow London 2017 as hosts of the world championships two years later. The 15-12 decision by the IAAF executive has baffled many and conspiracy theories abound. Eugene is the global HQ of Nike. By coincidence the official sportswear brand of the IAAF is Nike's great rival, Adidas, who are also Fifa's longest-serving sponsors. Hmm.
Twin strikers attack
It has been another good week for sport's leading ladies, with Sport England's "This Girl Can" campaign getting six million plays on Facebook, and the Youth Sport Trust's chair Baroness Sue Campbell reminding politicos that the losing battle between the PlayStation and the playing field among kids must be urgently addressed. Tuesday will see two more twin strikers, sports minister Helen Grant and FA board member Heather Rabbatts, teaming up to address the worrying lack of administrators and coaches from the ethnic minorities in football.
Key figures have been summoned to a meeting at the Department of Culture, Media and Sport and pressed about what football is doing to encourage greater diversity.
a.hubbard@independent.co.uk
Reuse content