Floyd Mayweather has announced he has agreed a deal to fight Manny Pacquiao in May.
The undefeated 11-times world champion posted a picture of the signed contract on social network Shots and confirmed the fight would take place on May 2, adding: "I promised the fans we would get this done and we did."
The pair, who both beat Ricky Hatton before the Mancunian retired, have long been considered the two best fighters of their generation and boxing fans have been itching for them to get in the ring for years.
Mayweather, unbeaten after 47 professional fights, and Pacquiao, an eight-division world champion, have tried and failed in the past to reach an agreement, but now the bout is finally set in stone.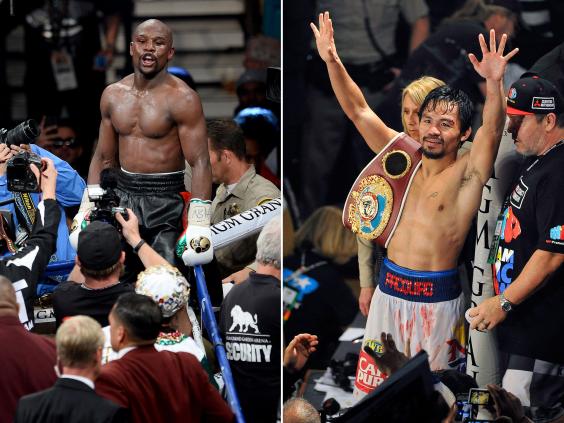 "I am glad my decision to meet with Manny and discuss making this fight happen helped get the deal done," Mayweather said in a statement.
"Giving the fans what they want to see is always my main focus. This will be the biggest event in the history of the sport. Boxing fans and sports fans around the world will witness greatness on May 2.
"I am the best ever, TBE, and this fight will be another opportunity to showcase my skills and do what I do best, which is win. Manny is going to try to do what 47 before him failed to do, but he won't be successful. He will be number 48."
Hopes that the long-awaited contest was finally inching closer were boosted when Mayweather and Pacquiao met and exchanged numbers at a basketball match last month and those inklings have proven to be true.
Career in pictures: Floyd Mayweather
Career in pictures: Floyd Mayweather
1/6 Floyd Mayweather

Floyd Mayweather triumphs in his rematch against Maidana last month by a unanimous decision, making easier work of his opponent than in their first bout

REUTERS/Steve Marcus

2/6 Floyd Mayweather

Floyd Mayweather and Marcos Maidana square off during their press conference to promote their rematch for September 2014

GETTY IMAGES

3/6 Floyd Mayweather

Floyd Mayweather hands previously unbeaten Saul Alvarez a boxing lesson and leaves him slumped and desolate in his corner in September 2013

Getty Images; AP

4/6 Floyd Mayweather

Floyd Mayweather throws a jab to the face of Robert Guerrero during his comfortable win in May 2013

5/6 Floyd Mayweather

Floyd Mayweather is forced against the ropes in his last fight, against Miguel Cotto but prevailed by a unanimous decision in 2012

AFP/Getty Images

6/6 Floyd Mayweather

Floyd Mayweather knocks out Victor Ortiz in the fourth round of their 2011 bout at the MGM Grand, Las Vegas

AP
The welterweight world championship unification bout, which is being promoted by Mayweather Promotions and Top Rank Inc, is believed to have a chance of breaking pay-per-view records.
Amir Khan, who had been waiting in the wings to fight either man had the blockbuster negotiations collapsed, congratulated the pair on Twitter and wished them luck for the bout, which will be staged at the MGM Grand Garden Arena in Las Vegas.
"Mayweather announces he's fighting Manny Pacquiao. Good luck guys. A fight we all been waiting for," he tweeted.
Joe Calzaghe, the former super middleweight and light heavyweight champion, said on Twitter: "Mayweather v Pacquiao is on!!!! Fight everyone wants to see! May 2nd! I can't wait!!"
Mayweather last fought in September, recording a unanimous decision win over Argentina's Marcos Maidana.
Pacquiao, at 36 a year younger than his American rival, defeated Chris Algieri in November for his 57th professional victory.
The last of his five defeats came against Juan Manuel Marquez in 2012.
Pacquiao echoed Mayweather's sentiments over the bout and is excited to be part of such a massive occasion.
"I am very happy that Floyd Mayweather and I can give the fans the fight they have wanted for so many years," he said in a statement, according to Yahoo Sports.
"They have waited long enough and they deserve it. It is an honour to be part of this historic event. I dedicate this fight to all the fans who willed this fight to happen and, as always, to bring glory to the Philippines and my fellow Filipinos around the world."
PA
Reuse content