Will they or won't they? Is Kell Brook v Amir Khan about to become the new Mayweather v Pacquiao? I do not mean in terms of magnitude but in terms of the gestation period.
It took the latter pair more than five years to get it on. I'm not suggesting it will take as long for Brook and Khan to sort their fight out, but I would not bet on it taking place for at least 12 months, maybe longer.
It is an intriguing contest of styles and skill, but Khan is obviously in no hurry to settle what is fast becoming a grudge match in the mould of the superfight taking place in Las Vegas on 2 May.
In any case, both Britons surely will be in the congregation at the MGM Grand when Mayweather and Pacquiao finally meet, hoping to be the big fight "bridesmaid" who catches the bouquet thrown by the winner and maybe his next opponent.
Career in pictures: Floyd Mayweather
Career in pictures: Floyd Mayweather
1/6 Floyd Mayweather

Floyd Mayweather triumphs in his rematch against Maidana last month by a unanimous decision, making easier work of his opponent than in their first bout

REUTERS/Steve Marcus

2/6 Floyd Mayweather

Floyd Mayweather and Marcos Maidana square off during their press conference to promote their rematch for September 2014

GETTY IMAGES

3/6 Floyd Mayweather

Floyd Mayweather hands previously unbeaten Saul Alvarez a boxing lesson and leaves him slumped and desolate in his corner in September 2013

Getty Images; AP

4/6 Floyd Mayweather

Floyd Mayweather throws a jab to the face of Robert Guerrero during his comfortable win in May 2013

5/6 Floyd Mayweather

Floyd Mayweather is forced against the ropes in his last fight, against Miguel Cotto but prevailed by a unanimous decision in 2012

AFP/Getty Images

6/6 Floyd Mayweather

Floyd Mayweather knocks out Victor Ortiz in the fourth round of their 2011 bout at the MGM Grand, Las Vegas

AP
Logically, Brook v Khan is a natural pairing, but when was logic ever a word prominent in boxing's lexicon? Brook did not look like a member of the walking wounded when he overcame the hapless Jo Jo Dan in his IBF welterweight title defence last week. The Romanian seemed more like Desperate Dan and Brook had obviously recovered well from being stabbed six months ago. But let's not get carried away, he'll need a tougher opposition than that to convince me he can outsmart Khan. If it ever happens, of course.
Audley had his detractors, me included, but I wish him well
Brain damaged and bankrupt is no way for  any boxer to end up, especially an Olympic champion. Whatever we think of Audley  Harrison, there can be only be sympathy for a man who promised so much but delivered so little in his 13-year professional career.
The southpaw super-heavyweight champion from Sydney 2000 claims he is suffering from vision and balance problems, moodiness and irritability, and that his decision to quit at the age of 43 has been prompted by research into concussion and brain injuries and after consulting specialists.
There are those among us who believe he needed his head examined to have carried on for as long as he did when it was apparent he was washed up, or even to have turned pro in the first place (though there were a million reasons why he did).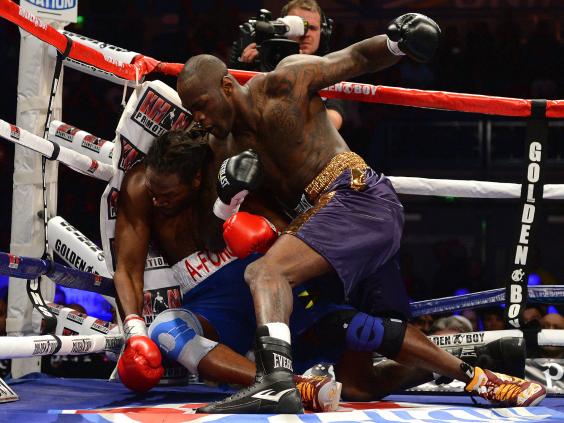 Seduced by the BBC's ridiculous £1m in exchange for his amateur headguard and vest, the self-promoting Harrison proceeded to raid Palookaville to hand-pick his own pushover opponents. So much so it became apparent the BBC's investment was a scandalous waste of licence payers' money and eventually led to it terminating its association with boxing.
When Harrison signed with the BBC, Greg Dyke, then director-general, called me and asked, "Can he fight?" I told him he was charismatic and as an amateur had done what he had to do, but I wasn't sure if he was right for the pro game. Sadly, I was right.
Dear old Audley had the amateur game sussed. He worked the system perfectly, knowing how to score with the counterpunches that caught the eyes of the judges and how to box on the back foot without taking risks. But when it came to the hazards of the prize ring, he seemed to have neither the heart nor the flexibility to adapt. He gave the impression that while he liked boxing, he did not really like fighting for a living. He was never a warrior, like Ricky Hatton or Amir Khan.
With seven losses in his 38-fight career, he became the Eddie the Eagle of boxing, finally crash-landing in Sheffield two years ago when he was bombed out in 70 seconds by Deontay Wilder, the fearsome heavyweight who is now the WBC champion.
Harrison, known to be a frequent poker player in Las Vegas, also admits he has been wayward with his earnings and could face bankruptcy because of huge tax demands.
We've all done our share of Audley bashing, me included. It was me who labelled him "Fraudley". But to his credit he remained affable and approachable and more than willing to talk, which he did volubly.
If only Harrison bashed opponents' noses as fiercely as he did our ears he would have been world champion and not a lampooned contender who threw only one half-hearted punch before being splattered by David Haye in his pathetic attempt to win the WBA heavyweight title.
Klitschko has chance to wow US
About the only thing Wladimir Klitschko and Harrison have in common, apart from winning an Olympic gold medal before their careers took off in vastly different directions, is that they are both men of letters. Harrison has a BSc degree, while Klitschko, like his now retired brother Vitali, is a PhD. 
Both insisted on doing their own thing promotionally but the difference is that Klitschko also listened to sage advice from experienced men in the fight game like Peter Kohl and Bernd Boente in Germany who know the boxing scene inside out.
I am delighted that BoxNation have secured Wladimir's defence against Bryant Jennings at Madison  Square Garden on 25 April because it is the opportunity for the Ukrainian to celebrate new-found fatherhood by wooing an American audience who have never really been impressed with his safety-first style.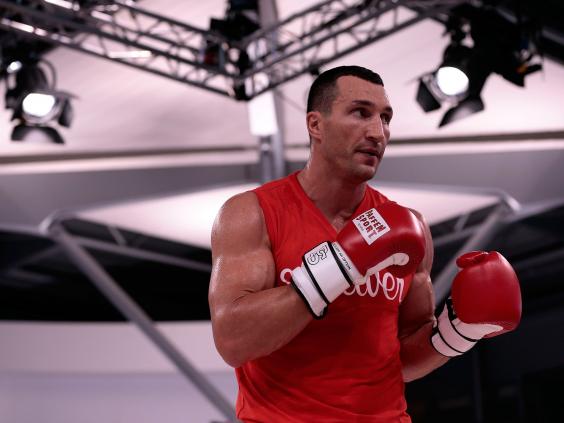 I have always respected their intelligence and professionalism of the Klitschkos but they never clicked in America where they like to see heavyweights get stuck in. Which is why the new WBC Champion, Wilder is such a big hit in every sense.  Neither Wladimir nor his brother have really had the devil in them, as Mike Tyson did.
So this fight against Bryant, an unbeaten American, is his chance to win over the sceptical US fans. If Klitschko, who has just edged past 39, beats Bryant, as he should, he has a mandatory WBO defence against Tyson Fury and the one thing I will say about that match is that he will be facing a live opponent.  
Fury may have his doubters but he matches Klitschko in many departments like their size and skilful use of his jab.  Believe me, he will give it a go, unlike some of those Wladimir has fought before.  There's a good chance we can get it on over here rather than in Germany but in the end it comes down to money and that's the commodity Klitschko and co appreciate more than anything else. You cannot believe how mean they are when it comes to negotiating.  But that's the name of their game.
Saunders waiting on Lee or Quillin
Billy Joe Saunders is keenly awaiting the outcome of Irishman Andy Lee's WBO middleweight title defence against another undefeated American, Peter Quillin, in Brooklyn on Saturday week. 
Both he and his new best friend, Chris Eubank Jnr (I'm kidding!) will be fighting on the same bill at Wembley on 9 May, though of course not against each other again. Just yet. Eubank will be defending his newly won WBA Interim title and Saunders wants a testing warm-up before taking on either Lee or Quillin, another tasty world title scrap for which we want our man to have home advantage.
To subscribe to BoxNation go to boxnation.com
Reuse content