Amir Khan seems confident that victory over Devon Alexander in Las Vegas on Saturday night will guarantee him a mega-bucks showdown with the Money Man himself, Floyd Mayweather Jnr, next year. I am not so sure.
Khan may consider this non-title welterweight 12-rounder at the MGM Grand a dress rehearsal for the big production number, but fickle Floyd always directs his own show and picks the leading man. It is by no means certain that Khan figures so highly on his to-be-hit list, especially while the possibility of the match-up the world has awaited for so long, Mayweather against Manny Pacquiao, edges closer to reality.
Personally, I think it far more probable that Khan will end up fighting in a tasty all-British domestic dust-up with Sheffield's unbeaten Kell Brook, now the IBF welterweight champion, over here in the spring. In fact, I hear preliminary talks have already taken place between the two camps, which suggests that those around Khan are not as confident as him about getting Mayweather to the table, even though both have the same American adviser in Al Haymon.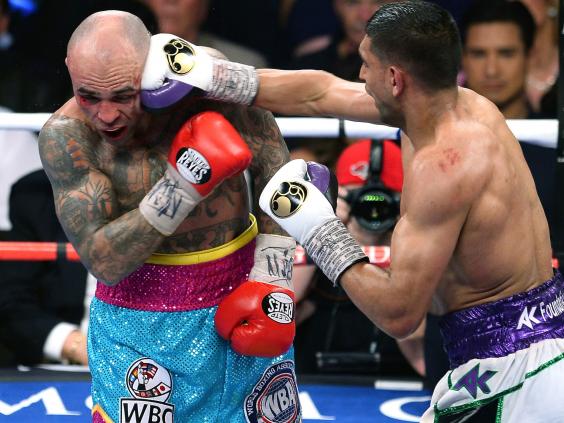 While Mayweather is a really big-money fight, Khan could pocket a tidy few bob in his new £30,000 white nappa leather, 24-carat gold, fancy pants for a pay-per-view blockbuster that could sell out a northern football ground – or perhaps even Wembley. And I think it would be an easier fight for him than against Mayweather or Pacquiao, either of whom might then feel more inclined to meet the winner.
First, however, Khan has to beat Alexander, who he should have fought a year ago, when the 27-year-old from St Louis held a world title. He pulled out in anticipation of a Mayweather fight and Alexander lost that crown to Shawn Porter, who subsequently had it taken from him by Brook.
Career in pictures: Floyd Mayweather
Career in pictures: Floyd Mayweather
1/6 Floyd Mayweather

Floyd Mayweather triumphs in his rematch against Maidana last month by a unanimous decision, making easier work of his opponent than in their first bout

REUTERS/Steve Marcus

2/6 Floyd Mayweather

Floyd Mayweather and Marcos Maidana square off during their press conference to promote their rematch for September 2014

GETTY IMAGES

3/6 Floyd Mayweather

Floyd Mayweather hands previously unbeaten Saul Alvarez a boxing lesson and leaves him slumped and desolate in his corner in September 2013

Getty Images; AP

4/6 Floyd Mayweather

Floyd Mayweather throws a jab to the face of Robert Guerrero during his comfortable win in May 2013

5/6 Floyd Mayweather

Floyd Mayweather is forced against the ropes in his last fight, against Miguel Cotto but prevailed by a unanimous decision in 2012

AFP/Getty Images

6/6 Floyd Mayweather

Floyd Mayweather knocks out Victor Ortiz in the fourth round of their 2011 bout at the MGM Grand, Las Vegas

AP
After a couple of tepid performances, Khan seemed to have rediscovered his mojo against rated Luis Collazo in May but his defence can still be as fragile as that of my team Arsenal's. It leaks alarmingly when the pressure is on. People say he is just chinny, but I don't agree. Anyone who gets hit on the whiskers is likely to go over and the art is to avoid that happening. Khan's defence has always been something he has needed to work on.
Not that Alexander really has enough power to blast his way through it. Which is why I fancy Khan to win his second bout as a full-blown welterweight fairly comfortably in this Sky-televised scrap.
At 28 he seems huge now to the relatively skinny teenage lightweight who turned pro with me after winning a silver medal in the 2004 Olympics. But while he has gained weight he has never lost that essential speed. He also has a brave heart and a great engine, though I do not think he has been fighting as regularly as he should.
Naz deserves his honour but he could have had much more
The elevation of Naseem Hamed to the pugilistic peerage – boxing's International Hall of Fame – is something I applaud, though there will be plenty around the fight game who won't. It is 12 years since the boxer formerly known as Prince last strutted his stuff during a glitzy career in which he got up as many noses as he bloodied. But with his sublime skills, shameless showboating and ferocious punch, he never short-changed anyone, though he upset and often insulted many along the way. Me included.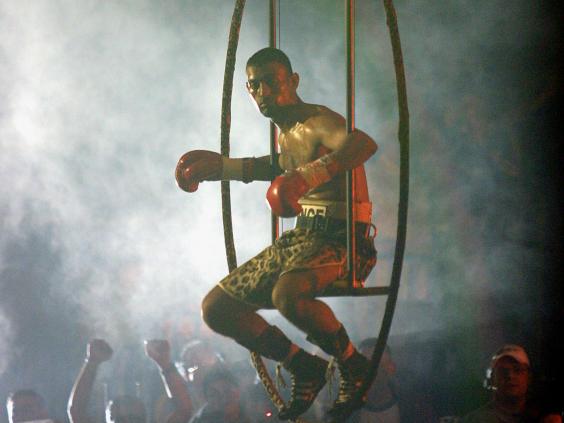 He was arrogant and narcissistic but by God he could fight. Pound for pound he was one of the best boxers and certainly the biggest puncher Britain has ever seen. At his peak he was the finest featherweight in the world bar none. Arguably the most talented boxer I have ever encountered, but someone who ultimately underachieved. If only he had not been so misguidedly vain and lived the life a professional athlete should...
Lee could beat Saunders to the punch as Traveller champ
The Amir Khan show is not the only ticket in town on Saturday. Further along The Strip in Las Vegas, at the Cosmopolitan, Russian emigre Matt Korobov meets Bow-born Irishman Andy Lee for the vacant WBO middleweight title.
VIDEO HIGHLIGHTS: SAUNDERS WIN OVER EUBANK JR
The BoxNation-televised fight is one Billy Joe Saunders will watch eagerly, for two reasons: not only will he meet the winner for the championship but should 30-year-old Lee win he will become the first Traveller to acquire a world title, thus beating Romany Billy Joe to the punch.
To subscribe to BoxNation go to  www.boxnation.com
Reuse content