The bad news for 2015 is that I understand the mega-fight the public have waited for too long, between Floyd Mayweather Jnr and Manny Pacquiao, which was edging closer to reality, now won't happen. Even more bad news is that Audley Harrison intends to make a comeback.
At 43, he says he wants just one more shot so that he can go out on a high. The danger is he is more likely to go out on a stretcher – especially if he gets his wish to face fellow British Olympic super-heavyweight champion Anthony Joshua.
Poker-addict Harrison can't seem to accept that he is now a busted flush, a "has-been" who never really was, once he turned pro after winning gold in the Sydney Games 15 years ago.
He hasn't fought since he was splattered in seconds by American Deontay Wilder in April 2013.
David Price had brutalised him with similar brevity the year before and we all recall his pathetic non-performance against David Haye for the WBA world title.
He claims I was among those, together with the then Frank (now Kellie) Maloney who "messed up" his career. I can't see how. Nominally, we both may have promoted some of his fights but the truth is he actually promoted himself, always insisting there was only one way to do things – his way. That's why it didn't work out.
For most of his career he personally hand-picked all his opponents. There was never any quality control. He was self-managed and self-opinionated. He insisted on being the main event, taking most of the money and leaving little for a decent undercard. I was surprised he wasn't in the foyer selling the programmes before the fight.
I also believe he was largely responsible for terrestrial TV ditching boxing. The BBC, which astonishingly gave him that £1m exclusive deal, finally got fed up with the bad fights and the criticism they drew, and pulled the plug, thereby ending its relationship with boxing.
And despite all the promotional hype, that abysmally negative showing against Haye in 2010 appeared to cause Sky to put a moratorium on pay-per-view, one which ended only last year with Froch v Groves.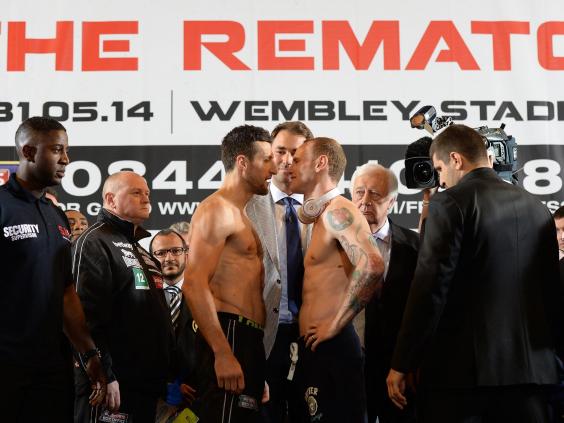 The bottom line is that Harrison had the opportunities to show he could be a great fighter but it was he who messed up, no one else. He never seemed to have the appetite for the pro game.
But I can see where all this comeback talk is going. He sees a possible fight with Joshua this spring. Britain's only two Olympic super-heavyweight champions pitted against each other in itself would be unique.
It sounds fascinating on paper, but in the ring it would be a farce, a total mismatch that would not enhance the impressively progressing career of Joshua, who needs to step up in class, not down.
The buzz is that tentative talks about this all-Olympian "showdown" happening have already been held and I am sure there will be attempts to sell it as a big deal. But I can't see the punters standing for it. Nor should the Board of Control.
It would be a fight for all the wrong reasons. Harrison wouldn't have a prayer; he has as much chance against Joshua as I have. He'd get knocked spark out just as he was by Haye, Price and Wilder.
So do us all a favour, Audley. Shut up – don't put up.
Khan deserves a gong in Queen's birthday honours
I am disappointed that boxing got such short shrift in the New Year Honours list.
OK, there was an MBE for Paddy Barnes, the light-flyweight from Belfast who has won Commonwealth Games gold and Olympic bronze. But there are other worthies in boxing who have been snubbed for too long.
One of them is Amir Khan, who surely should have been honoured for being the youngest British boxer, at 17, to win an Olympic medal – silver in Athens  in 2004, when he was the nation's lone  ring representative – but also for his tremendous commitment to charity and race relations.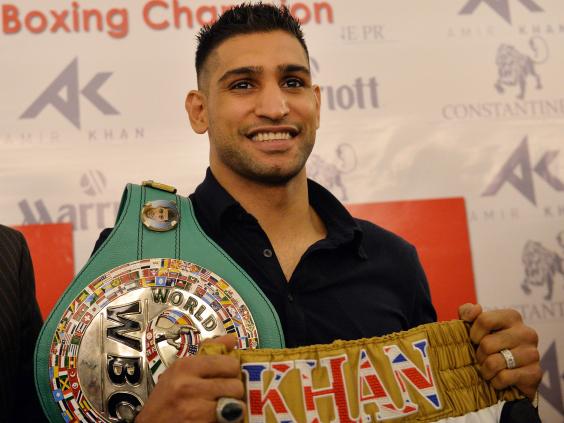 Moreover, he made quite a statement recently over the Peshawar school atrocity, reinforcing what he said at the time of the London bombings in 2005, less than a year after I first signed him.
He was only a kid then but he spoke out as bravely against terrorism as he did against the Taliban over the horrendous massacre in Peshawar last month. If only more Muslim sports personalities, of which there are several in this country, would do the same, especially in the light of this week's atrocities in Paris.
I remember talking with him early in his career about his strong views on Islamic extremism and he always impressed me, both with his pride at being of Pakistani heritage but also at his family's innate Britishness.
Immediately visiting the country and the school where so many kids were insanely slaughtered by the Taliban is further testimony to his bottle, a commodity he has always had inside the ring and out. He is one fighter whose heart, unlike dear old Audley's, has never been questioned.
Khan says he hopes his actions in raising money for the school and promising to help rebuild it make a difference. They certainly deserve to, and I for one would like to see him finally get the reward he merits.
A gong in the Queen's birthday honours this summer would be timely and appropriate. He could now be compensated with a shot at Mayweather this year as it seems Pacquiao is out and Amir is next  in line.
To subscribe to BoxNation go to  www.boxnation.com
Reuse content