I am one of Anthony Joshua's biggest fans. It is no secret that I tried to sign him after he became the London 2012 Olympic super-heavyweight champion as he is a fine prospect who one day may win the world heavyweight title.
Having said that, I am disappointed that the opponents he has faced so far in his 11-fight professional career have not been of sufficient quality to test either his durability or his chin – the two big questions that need answering.
The latest, the American Jason Gavern, was duly despatched in three rounds, a predictable outcome as he had been beaten 20 times before and stopped or knocked out in half of those. As a contest, it told us nothing about Joshua's true professional potential.
Joshua talks the part, looks the part and so far punches the part. But can he act the part when the curtain goes up on the real show once the auditions are over? Surely it is time he was let off the leash against stiffer opposition to see whether he really can be a top dog of war. In my view, he fought better opposition as an amateur, certainly in the Olympics, than he has as a pro.
Of course, it is not unusual for young heavyweight hopes to be fed initially a staple diet of soft touches, but the 6ft 5in Joshua has faced a string of much smaller and older opponents who have punched well below their weight. The combined age of the last three is 112. He has yet to meet anyone currently under 30 and three have been in their forties. One (Matt Skelton, knocked out in one,) was 48.
Great boxing rivalries
Great boxing rivalries
1/10 Muhammad Ali vs Joe Frazier – 1971, 1974 & 1975

Possibly one of the greatest rivalries of all time, not just in boxing but in any sport. These two titans met three times, with Ali taking home the spoils 2-1. The first was known as the 'Fight of the Century' in which two undisputed title holders came together, it ended with Frazier winning after 15 rounds via unanimous decision. The final fight was dubbed 'Thrilla in Manilla', where Ali retained all three of his heavyweight titles.

GETTY IMAGES

2/10 Joe Louis vs Max Schmeling – 1936 & 1938

Among two of boxing's most historical fights. With Schmeling's origins of Nazi Germany, these two represented something a little more than just two heavyweight boxers at their peak coming together. Louis was undefeated coming into the first fight while Schmeling already had 60 fights under his belt. The German won it with a 12th round knockout. By the time the pair met again, Louis had won the world Heavyweight title. It only took him one round to knock out Schmeling. Louis' performances gained him national recognition and became one of America's first African American heroes.

GETTY IMAGES

3/10 Micky Ward v Arturo Gatti – 2002, 2002 & 2003

The first time these two met proved to be The Ring Magazine's 'Fight of the Year'. A famous left hook body shot in the ninth brought Gatti to his knees and proved the deciding factor in the judges' decision. A rematch was agreed immediately with Gatti knocking Ward down in third, however the American managed to finish the fight before losing by decision. The final fight also won The Ring Magazine's fight of the year, Ward knocked down Gatti in the sixth, but before the referee could count to ten, the bell sounded. Gatti was able to come back and win via unanimous decision.

GETTY IMAGES

4/10 Nigel Benn v Chris Eubank – 1990 & 1993

In what was initially a fierce domestic rivalry, became one of world interest between these two British greats. Eubank was originally the challenger and began shouting out for Benn after only 10 fights. After winning his WBO middleweight title, Benn agreed to face Eubank. With each fighter saying they were going to knock the other one out, it was the challenger that actually did. With a technical knockout in the ninth round. The re-match was watched by half a billion people worldwide, with both defending titles it was so even, it ended in a draw.

GETTY IMAGES

5/10 Gene Tunney v Jack Dempsey – 1926 & 1927

Fighting twice, these bouts have gone down as two of the most famous in boxing history. Tunney won the first over 10 rounds via unanimous decision. The second is why these two were forever known in boxing history. In the seventh round Dempsey threw a flurry of punches to knock Tunney down for the first time in his career. The referee couldn't count until Dempsey had reached a neutral corner. He didn't oblige, buying Tunney valuable time. Tunney managed to rise at a time many say was over ten seconds. This is why the fight is known as the Long Count. Tunney went on to knock down Dempsey in the eighth and win by unanimous decision.

6/10 Manny Pacquiao v Juan Manuel Marquez – 2004, 2008, 2011 & 2012

One of the greatest modern day rivalries which will go on to be imprinted in boxing's history. Having fought four times to this day, Pacquiao has won two, Marquez one and the other being a draw. Marquez winning the most recent with a sixth round knockout, handing the Pac-Man back to back defeats. The Ring Magazine awarded it not only 'Fight of the Year' but also 'Knockout of the Year'.

7/10 Ken Norton v Muhammad Ali - 1973, 1973 & 1976

Ali's second defeat came to the man known as 'The Black Hercules'. In what was their first fight, Ali was the 5-1 favourite and had won 10 fights since his first lost to Frazier. Norton broke Ali's jaw in the fight, despite The Greatest carrying on, he lost on a split decision. Six months later, Ali avenged Norton winning also on a split decision and re-gaining his NABF Heavyweight title. The third and final fight was some three years later after Rumble in the Jungle, Ali won via unanimous decision.

8/10 Marco Antonio Barrera v Erik Morales - 2000, 2002 & 2004

Involving two of more modern days most famous Mexican boxers, the Barrera v Morales trilogy is a famous one, spanning over three different classes. Their first fight was in the super-bantamweight division with both holding titles. Morales won the first on a close split decision. Deciding to move up classes, Morales went to Featherweight, where again he met Barrera for a title match. This time Barrera won, in what was Morales' first ever career defeat. The third and final time they met was in the Super-Featherweight division, where again Morales lost and with it his WBC title.

GETTY IMAGES

9/10 Riddick Bowe v Evander Holyfield - 1992, 1993 & 1995

These two Heavyweight giants came together three times in a famous blockbuster conquest. In the first fight, Holyfield walked in with Lineal, WBC, WBA & IBF Heavyweight titles having beaten Buster Douglas and George Foreman. Bowe had never tasted defeat and to everyone's surprise, won via unanimous decision. The re-match went the distance with Holyfield winning on a split decision. This was Bowe's first and only career defeat. The third, unlike the other two, was ended after eight rounds when Bowe knocked out Holyfield.

GETTY IMAGES

10/10 Sugar Ray Leonard v Thomas Hearns – 1981 & 1989

These two first met in a heavyweight clash with both boxers' welterweight titles on the line. Ray Leonard known for his boxing skill, and Hearns for his vicious punching. The epic battle lasted 14 rounds before Leonard unleashed a series of punches, forcing the ref to stop the fight. The re-match, known as 'The War', had both fighters again holding titles, this time in the super-middleweight class. After 12 rounds of back and forth punishment, the fight was scored as a judge's draw. The two never fought again with Hearns moving to light-heavyweight.

GETTY IMAGES
Joshua is 25, just a year younger than Tyson Fury, who is No 1 contender for Wladimir Klitschko's WBO title and won the English title in only his eighth fight.
Leon Spinks, also an Olympic champion, had only seven pro bouts before he fought – and famously beat – Muhammad Ali.
Next up is another American, the well-seasoned warhorse Kevin Johnson, who is 35. Although he's lost four of his last five and is not a noted puncher, he has never been stopped, so hopefully he can take Joshua more than just a round or three so we can finally see what he's made of.
After that, surely Britain's golden boy should be stepping up in class to tackle, say, either Dereck Chisora, David Price or new kid on the block – Brixton's unbeaten Dillian Whyte, who is 26, knocked down Joshua and beat him as an amateur.
As I say, I really like Big Josh. But it is time he started fighting men nearer his own age – and size.
Comeback king Lee will need luck of Irish for Quillin test
When Irishman Andy Lee stormed from behind last December to bludgeon the previously unbeaten Russian Matt Korobov and claim the WBO world middleweight title, it was arguably the biggest ring upset of 2014. More of the same will be required if the man from Limerick is to hang on to that belt when he makes his first defence against another undefeated foe, Peter Quillin, tomorrow night. It is a tough ask, not least because they clash in the American's Brooklyn backyard, but I believe Lee, 30, has a great chance.
Quillin is a class act, but I'd like to see what happens when he takes one on the whiskers, as he surely will from Lee.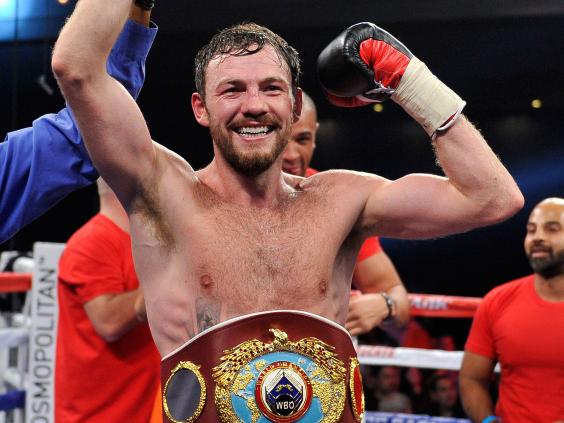 One thing Lee has going for him is the ability to land a surprise equaliser, which he did when clobbering Korobov in the sixth when well behind on all three scorecards. Another is that Lee will not be fazed by fighting in the US. He won the title in Las Vegas and America is where he has spent most of his 36-fight career.
Quillin is the former title holder, having never lost the belt in the ring. He had been due to defend against Korobov but turned down a career-best $1.4m pay day, citing emotional problems over a family situation.
Billy Joe Saunders will be watching with great interest as he is officially next in line for the winner.
I can't wait for Stevenson vs Kovalev
Over the next few weeks M&P will become as familiar a pairing in the public consciousness as M&S. 
Yet while Mayweather v Pacquiao undoubtedly will be the event of the year, the fight of the year is likely to be the light-heavyweight collision between Adonis Stevenson and Sergey Kovalev, two of the fiercest punchers and hardest men the business.
While Superman v The Krusher may sound more like WWE than WBO or WBA, no fight is more eagerly awaited by the hard core fans.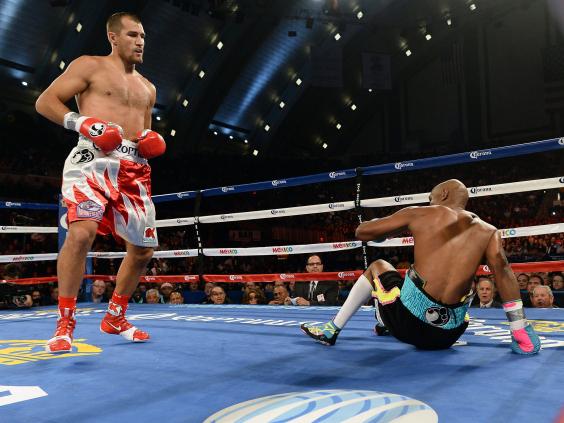 Haitian-born Canadian Stevenson, aka 'Superman', brilliantly outclassed durable Sakio Bika in defence of his WBC crown last weekend  while in his last fight WBA and IBF champion Kovalev, the undefeated 'Krusher' from Russia, blitzed Jean Pascal to set up a potentially sensational showdown that has now gone out to purse offers..
These are not Sunshine Boys like M&P but two perfectly-matched rivals at their peak who will contest a 50-50 fight and unite the light-heavyweight division for the first time since Roy Jones  in 1999.  Can't wait.
To subscribe to BoxNation go to www.boxnation.com
Reuse content