A man called Zab Judah threw the corner stool at the referee, a boxer called Johnny Frankham threw a punch at the referee and this summer Michael Conlan flicked the middle finger when he was eliminated at the Olympics.
Judah was fined and suspended, Frankham banned for life and Conlan has turned professional with a publicity shot alongside his promoter Bob Arum, the ancient showman of the profession, of the pair flicking the finger again.
Most bad behaviour in boxing by boxers happens before the fight, or at another boxer's fight or when a fight is announced. Mike Tyson bit Lennox Lewis on the thigh in New York and Lewis needed an urgent tetanus jab when their announcement ended in a wild-west brawl; the cracking right hand that Lewis threw in the melee was forgotten.
On Saturday night, Tony Bellew retained his WBC cruiserweight title in Liverpool and then insulted ringside pundit David Haye. Bellew lunged for the former heavyweight champion and did his best to create enough interest to make their proposed fight next year a hot ticket. Haye never reacted, just nodded and that is lucky because he does have previous for trading punches without gloves after a fight; Bellew has previous for the "let-me-at-him" act, and he is damn good at it. Hopefully the pair will fight next year.
In 1971, Mickey Duff, then a matchmaker, occasional cornerman and fight fixer, even lost his cool when Chris Finnegan was fighting for the European light-heavyweight title in Berlin. Finnegan was romping easily to victory against Conny Velensek, the only problem had been recognising Velensek when he stepped in the ring; Velensek wore a toupee, a full-bodied attachment, throughout the week of the fight and suddenly on fight night a bald man appeared. Duff was in Finnegan's corner and a German reporter prodded him in the back every time Velensek connected. When it was over, and a disgraceful drawn verdict was announced, the reporter was smiling, gloating... and then unconscious: "I'd had enough and I just hit him," Duff said. Finnegan was delighted: "It was the best punch thrown all night." The following year Finnegan beat Velensek and Duff never had to throw a punch.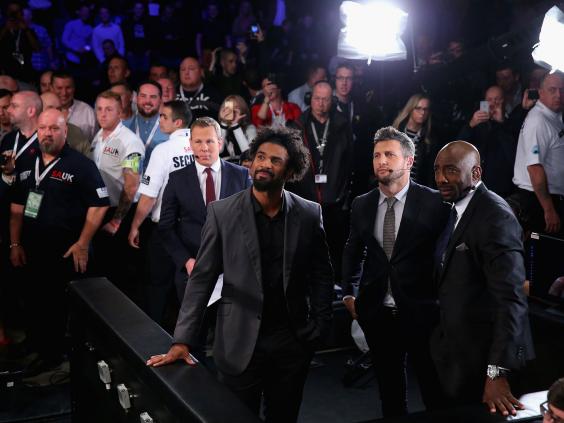 Arum and Don King, twice imprisoned after men died in altercations with him, once had a push-and-shove at Caesars in Las Vegas and it is reported that a gun fell from King's pocket. A violent death on the outside of the ropes to either a boxer, trainer, manager or promoter because of a bitter and long-running dispute is not uncommon. Rick Elvis Parker was a swaggering lunatic and a fringe promoter in America, expert purveyor of staged fights and colourful guy. He was shot to death by heavyweight Tim Doc Anderson; shot so many times that he never got a chance to draw his personalised Glock from the holster on his fat leg. Anderson remains in prison. 
Next year Bellew and Haye are likely to be separated by a metal fence, which is what happened during the promotion for Haye's fight with Dereck Chisora back in 2012. Tyson and Lewis eventually fought but their every move until the bell sounded was separated by a blue wall of police. It will be fun to watch the Bellew and Haye tour, and the British Boxing Board of Control might insist on certain safeguards being put in place to guarantee that nobody gets hurt before the punching starts. Trust me, there will not be a problem.
The most extreme pre-fight precaution was the necessary segregation of Albuquerque boxers Johnny Tapia and Danny Romero in Las Vegas in 1997. Long before Breaking Bad put Albuquerque on the international map, Tapia and Romero were forced to perform separate press conferences in different Las Vegas casinos. They were each, so the tale insists, heavily associated with rival gangs back in New Mexico, the risk of a shoot-out was simply too great and the intelligence warned of a turf war on the road. However, on the night Tapia won comfortably on points, but he did twice officially die after overdosing during his life. He finally died in 2012 and at his service, which was attended by 7,000 people, mariachi bands sang of his greatness and little Romero wiped away a tear. The gangs held an amnesty.
Against a backdrop of Elvis Parker's bullet-riddled fat body, police cordons, separate locations to limit the chance of a mass killing, and even Duff's short right cross, the shenanigans from Bellew and Haye will hopefully remain purely carnival until the first bell tolls.
Reuse content