In 1969, Johnny Pritchett lost for the first time when an accidental clash of heads in his messy scrap with Juan Carlos Duran was ruled a deliberate butt. His European title fight in Milan ended in disqualification in round 13.
Pritchett had been the British middleweight champion since 1965, the Duran disgrace was his 34th fight and he fought at a time when there was just one world champion. Pritchett never came close to getting a shot and he is not bitter.
"To tell the truth, the loss did me a favour," Pritchett told me last Sunday at a gathering of over 350 boxing veterans in central London. "I had fallen out of love with the sport; I was happy to walk away." Duran, incidentally, had been involved in a fight that ended in a riot and had to be abandoned a couple of years before – he was also losing that fight.
During the 27 months between Pritchett winning the British title and his last defence, just five world title fights took place. The belt changed hands between 1965 and 1968, slipping from Dick Tiger to Emile Griffith to Nino Benvenuti and then back to Griffith in a short period of excellence involving three of the finest middleweight champions in history.
This Saturday in Monaco, Martin Murray, a former British middleweight champion, will challenge for the world title for the third time in what will be the 20th world middleweight title fight to take place in the last 27 months. When Pritchett fought, there was just the one belt. Now there are four recognised belts belonging to the quartet of powerful sanctioning bodies and it is lazy to dismiss all of the champions.
Murray is a throwback fighter, a man who would have gladly travelled to the bear-pit rings of Milan to fight Duran. He had his own outrageous "Pritchett moment" in 2013 when he fought the Argentinian idol Sergio Martinez for the WBC middleweight title outdoors during a storm in Buenos Aires.
Murray's travelling fans, including his then promoter Ricky Hatton, were placed in a cage for their own protection during a night of genuine hostilities on both sides of the ropes. In the ring, Murray was masterful against the fading icon and would have surely won on points if a knockdown in round 10 had been scored 10-8 in his favour and not ruled a slip; Martinez was exhausted and looked embarrassed at the end when he was given a narrow victory.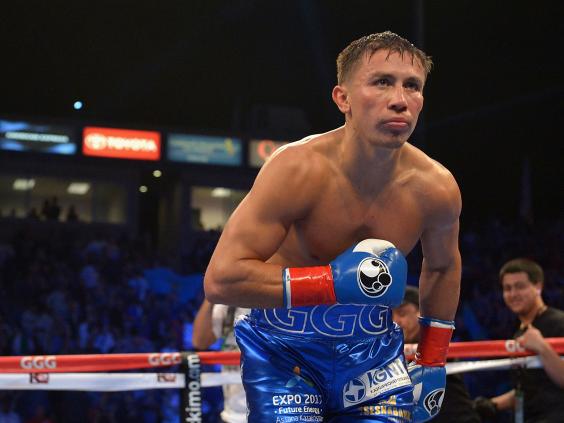 In 2011, Murray had travelled to Germany for his first world title fight, knowing that in the last decade or so Germany had replaced Italy as the hardest place in Europe to get a close decision. Murray met Felix Sturm for the WBA version and at the end of 12 gruelling rounds the three judges went Murray, Sturm and a draw, which meant Sturm kept his title; it was perhaps the third or fourth tight decision of Sturm's reign.
This Saturday, Murray's fanatical following will once again take up their standing positions at the back of a grand ballroom in Monte Carlo, where Murray has recently been fighting, for an even more daunting task than the lost mission in Argentina. In the opposite corner is WBA and WBC champion Gennady Golovkin who is unbeaten in 31, has stopped 28 and is on a sequence of 18 straight knockouts.
However, Murray, it has to be said, is a fearless operator in any era. "I have never expected an easy fight at this level and never turned away from a hard fight," said the 32-year-old from St Helens, who will be having his 32nd fight this Saturday. "I think Sturm, Martinez and Golovkin were all good champions – I'm a boxer that says he wants to fight the best and does; no cheap talk from me."
Pritchett would approve, and would surely cheer Murray on if he still watched boxing, the fight by the way is on Channel Five. "When I signed for the Duran fight I remember something that [Terry] Downes said. He said: 'In Italy you need to knock 'em out to get a draw.' Well, he was nearly right. Still, I gave it my best."
Downes, incidentally, lost a world title fight to Paul Pender in Pender's home town of Boston and then won the title in the 1961 rematch at Wembley when the American quit. Pender had picked up a mystery bug before the fight and Downes was allowed to do whatever he liked by the referee, which is what home-town advantage can mean. "I got the Yank just a couple of miles from my home, that was better," said Downes. Murray would be world champion now had he fought either Sturm or Martinez on Merseyside.
But Golovkin is special; he was born in Kazakhstan, has had world title fights in six different countries and he would be a classy champion in any epoch, even if he had to trade elbows, butts and shoulders with Downes at midnight on a Paddington  street corner.
Reuse content