Before Gennady Golovkin's fight against Danny Jacobs at Madison Square Garden, GGG's career appeared to be headed in one direction: a lucrative showdown with Mexico's Canelo Alvarez.
But after his tough points victory over the unfancied and yet impressive Jacobs, the undefeated Kazakh has two more possible fights to choose from.
The new big-money possibility is a rematch with Jacobs. The 30-year-old New Yorker performed admirably against Golovkin, recovering from being sent to the canvas in the fourth-round to become the first man to take Golovkin the distance in 24 fights, and deserves another moment in the spotlight.
Golovkin vs Jacobs: The story of the fight
Golovkin vs Jacobs: The story of the fight
1/16 Story of the fight

Golovkin, undefeated in 36 professional fights, took on the unfancied Daniel Jacobs at Madison Square Garden.

Getty

2/16 Round 1

A cautious start from both men but Golovkin ends the round on top, with Jacobs forced to fight off the back foot.

Getty

3/16 Round 2

Golovkin begins to establish his dominance, aggressively coming forward and hurting Jacobs with a big body shot.

Getty

4/16 Round 3

Golovkin lands some more painful body shots before Jacobs responds with a big counter-left.

Getty

5/16 Round 4

Golovkin sends his rival to the canvas! The champ lads a right-left combo 30 seconds into the round.

Getty

6/16 Jacobs knocked down

To the home hopeful's credit, he's quickly back up on his feet.

Getty

7/16 Round 5

Golovkin looks to finish the fight. He almost knocks Jacobs to the canvas again, with a booming right which leaves the American staggering backwards.

Getty

8/16 Round 7

An uppercut has Jacobs in trouble yet again but he digs deep, hurting GGG on the counter and nicking the round.

Getty

9/16 Round 8

Golovkin gets back on top after losing the last round but Jacobs grows into the contest.

Getty

10/16 Round 9

Jacobs lands a huge three-punch combo to leave Golovkin reeling! The Kazakh recovers and ends the round with a combo of his own, but it's another round to the challenger.

Getty Images

11/16 Round 10

Golovkin continues to work on the body but the champion is tiring. Jacobs lands a series of deadly combos and wins the round.

Getty Images

12/16 Round 11

Jacobs goes on the attack and takes the round, but Golovkin shows supreme experience to evade his more painful blows and remain in the fight.

13/16 Round 12

Another round in the favour the challenger, but has he done enough?

14/16 Jacobs waits...

... to see whether he has done enough to stun the champion.

Getty Images

15/16 The official scorecard

But the judges have Golovkin ahead on points.

Getty

16/16 And still...

The WBA (Super), WBC, IBF, and IBO middleweight champion of the world.

Getty
Key to Jacobs' success against a man who boasts an unblemished career record of 37-0-0 was his repeated switch of stances, which kept Golovkin off-balance. Jacobs periodically switched to a left-handed style before closing with a flourish, putting himself firmly in the mix for another go with Golovkin.
Golovkin admitted a rematch was a distinct possibility in his complimentary assessment of Jacobs after his narrow points win.
"He's my best opponent, he is very smart, he had very good boxing skill," Golovkin said. "He don't mind fighting, he doesn't lose control. I am ready for anybody. It's my job."
While a rematch would no doubt prove lucrative – with boxing fans already intrigued if Golovkin's performance was simply a bad evening at the office or sign of something more – a match-up with Canelo would be box-office gold and would rake in far more PPV buys.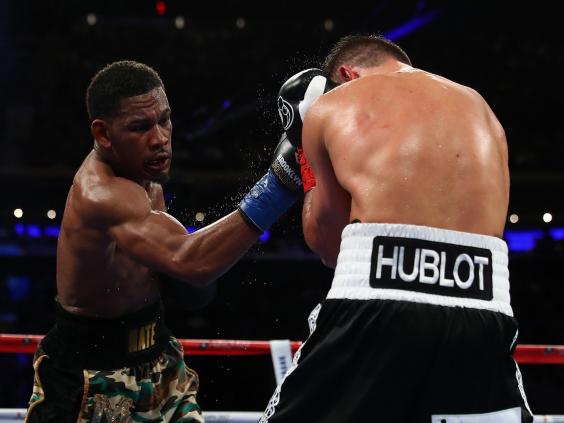 The pair have been due to fight for years but a bout has so far proved elusive. However some of the recent comments made by Golovkin's promoter, Tom Loeffler, have suggested that the super-fight remains a distinct possibility.
"I believe both sides want this fight and we are getting closer to it," Loeffler said.
His boxer was asked in the ring Saturday night after the exhausting bout with Jacobs to discuss meeting Alvarez, the super welterweight champion whose only defeat in 43 fights was to Floyd Mayweather in 2013.
"Of course I am ready to fight Canelo. Of course I want that fight," Golovkin said. "I am like an animal for that fight."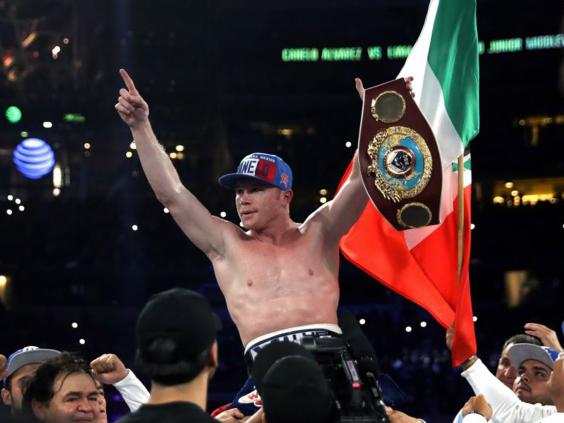 A showdown with Canelo is undoubtedly what every fan of boxing wants: but it is not necessarily what Golovkin wants. There is only one belt in the weight class not currently in GGG's possession and his next fight may well see him attempt to unify the division.
England's Billy Joe Saunders has been the WBO middleweight champion of the world since 2015, when he outpointed the Irishman Andy Lee, and he could face Golovkin in Kazakhstan in June, at the EXPO 2017 event.  
Golovkin likes that idea – though it wouldn't be a lucrative payday.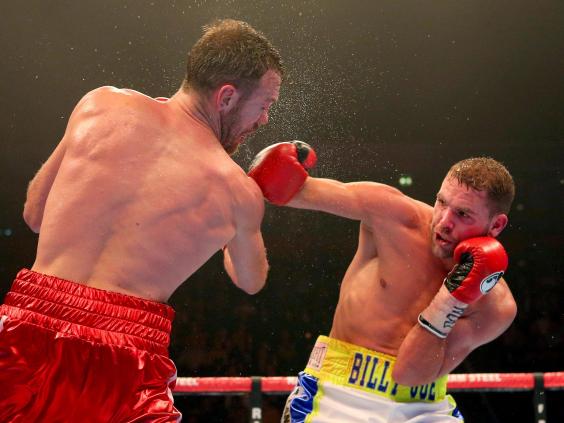 "My goal is all the belts in the middleweight division," he said after winning 115-112 on two cards, 114-113 on another. "Of course, Billy Joe is the last one. It is my dream."
The fight has another strong lure for Golovkin. He hasn't fought at home since 2010, when he won the WBA crown against Nilson Julio Tapia. It simply hasn't been a profitable place for boxing, though his handlers think there potentially could be a bigger purse during the expo. 
Additional reporting by AP.
Reuse content