Away wins in boxing are properly earned; multiply that by 10 in world championship bouts. Our liking for lists will keep the boxing chat rooms busy, allocating the appropriate slot to Kell Brook's IBF welterweight victory over Shawn Porter in California in the early hours of today.
Nudging the top 10 for my money. Better, if not as entertaining as Naseem Hamed's up-and-downer with Kevin Kelley 17 years ago. Superior to Danny Williams' conquest of Mike Tyson in 2004. In both cases British success was scored against fighters in deep decline. Porter was a live prospect.
The epic earth-movers fashioned by Ken Buchanan, a split-decision monster in the molten heat of San Juan against Puerto Rican poster boy Ismael Laguna; John Stracey's stunning six-round immolation of world welterweight champion Jose Napoles in Mexico City; and Lloyd Honeyghan's subjugation of the "unbeatable" Don Curry in Atlantic City will arguably live for ever at the top of this particular tree.
Welterweight belts inevitably thrust the owner into historic comparisons with that iconic three-ball Roberto Duran, Sugar Ray Leonard and Thomas Hearns. This was not a bout that compares. So few do. That should not detract from Brook's achievement.
Such is the rum complexity governing the careers of prizefighters, Brook had to negotiate three "final" eliminators to get his shot at the world title. When it came he was asked to travel to a perimeter town in the Los Angeles hinterland to take on an unbeaten American groomed by the host broadcaster for the big show in Las Vegas. This was not an outcome Showtime had pencilled in.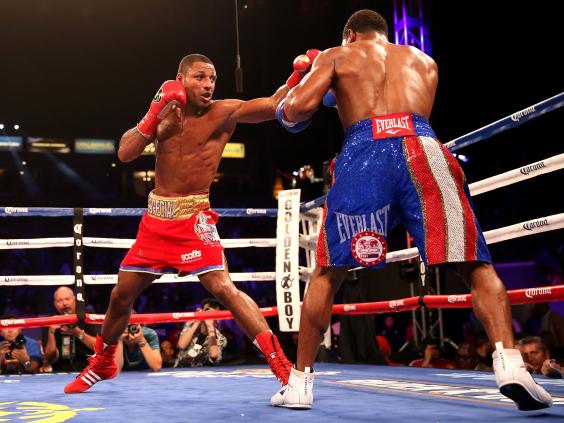 Brook has been a pro 10 years. For three of those he has been on a boxing promise. This was his 33rd engagement. It might have been a fourth or fifth title defence. A sequence of injuries either to himself or his opponent, Devon Alexander, conspired to deny him 18 months ago. The sick note in boxing is right up there with the letter from mum presented to teacher on the day of the cross-country trials. Sir knows the kid is bluffing his lights out but what can he do if protocols are observed?
So now Brook has the political leverage hitherto denied him. He goes forth with a recognised belt in one of boxing's classic divisions. He does so bearing the same Sheffield stamp that characterised the counter-punching genius of Herol Graham and Hamed, both developed in the Wincobank switch-hitting barrio under the eccentric tutelage of Brendan Ingle.
Ingle took boxing's core philosophy – protect yourself at all times – to its logical conclusion, developing a limbo-dancing style premised on not getting hit. He instilled in his students the reflexes and stealth of cats, and in the best of them an instinct for the kill. Graham was his first and, in the estimation of many, the greatest exponent of the art but fatally fell asleep for a split second against Julian Jackson, falling victim to a punch that would have anaesthetised a row of elephants.
Hamed was the first British superstar of the pay-per-view age, injecting under Frank Warren's canny management a sense of occasion hitherto unseen outside a Vegas chorus line. This is the tradition into which Brook is tapping, manifest in the post-bout euphoria that saw him call Amir Khan to account.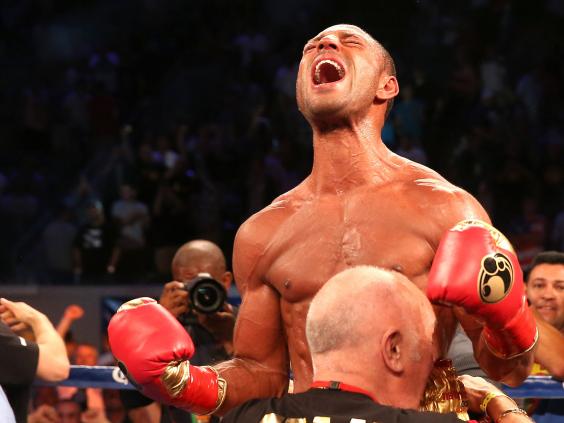 Brook made his professional debut in the same month that Khan claimed Olympic silver as a 17-year-old boy in Athens. There was only going to be one winner in that headline grab. Deprived of the necessary light, Brook's career was set on a parallel trajectory unable to penetrate the protective shield around Khan's atmosphere.
Ten years on and a number of jaw-snapping defeats later, Khan's star has settled into a familiar orbit around the only sun in boxing's welterweight division. Until Floyd Mayweather Jnr calls either forward, then Brook and Khan are each other's best option. We saw recently the powerful appeal of the domestic showdown when Karl Froch and George Groves banged out Wembley Stadium.   
A cross-Pennine rumble of this stature has the potential to sell out the big arenas along the M62 corridor, if not Wembley once more. The cognoscenti have had this one chalked up for an age. Brook's elevation at last coincides with the more earthy career requirements of the readjusted Khan. This is meritocracy boxing-style, far from ideal but every now and again producing the irresistible fit.
Khan got the ball rolling by awarding the fight to Porter by "a point or two". Expect that slur to come back warm enough to melt the snows of winter should a deal pitch them in the same ring, as it ought, early next year.
Reuse content