It was a welcome birthday present for James DeGale MBE, as today he has opened negotiations with US contender Andre Dirrell to fight for his first world title.
The announcement follows the news that Carl Froch has vacated his IBF world super-middleweight title. DeGale has two stoppage victories in his last two outings over Brandon Gonzalez and Marco Antonio Perriban and is ranked No 1 by the IBF. DeGale's manager Ambrose Mendy spoke of his disappointment that Froch took so long to vacate his title.
"I was lucky enough to live through an era where fighters fought each other and as a result their reputations as great fighter resonate in the modern day. Carl had an opportunity to become a great fighter, he didn't need to beat James, but he did need to fight him. If you don't fight, you're a coward, and only Carl knows why he chose not to do so."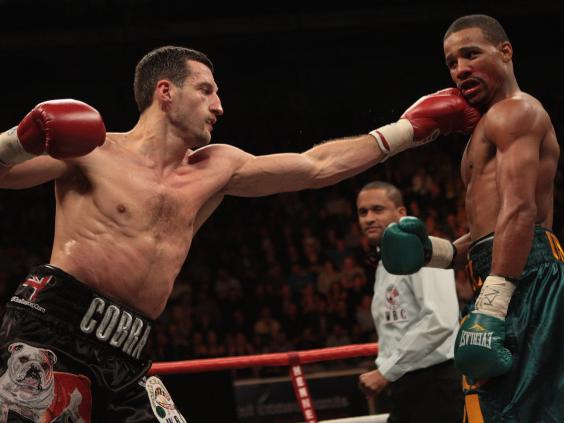 As a result, negotiations are now underway between Eddie Hearn and Dirrell's manager, Al Haymon. "We've got 28 days, but I'm confident it won't take that long." said Hearn.
The Matchroom Sport Director alluded to the option of the two meeting on the undercard of the rescheduled heavyweight clash between Anthony Joshua and Kevin Johnson on April the 25th.
"The allure of London and a high profile card should be a big enough sell for any fighter, and I'm confident that would be an appealing prospect to Dirrell's camp, but nothing is confirmed yet. Either way, James DeGale will be fighting for the IBF world super-middleweight title in his next fight."
DeGale, who has two early stoppage wins in his last two outings, is confident of becoming the first British Olympic gold medalist to secure a professional world title.
"I'm willing to fight anyone. If it is Dirrell, it's a tricky fight against a very good southpaw. In fact we're probably the best 168lb southpaws in the world. But trust me I'm making history. Whoever you box for a world title, it's gonna be hard, but I'm excited, it's been a long time coming."
DeGale has had two surgeries on his groin in recent years and puts much of his recent success down to being injury free. "People don't understand how much that groin injury hindered me, ever since the Christian Sanavia fight in 2012 I haven't been able to move properly, turn through my punches or anything. It's been a nightmare. Since its all cleared up, what you've seen is the real me." DeGale's recent impressive form sees him a hot favourite for the IBF title.
On the possibility of George Groves fitting into the equation, Eddie Hearn said: "With George, we had the opportunity to make that fight (with DeGale), but the reasons why it hasn't happened are a story for another time. Maybe that fight can happen in the future, but for now the first order of business is negotiations with Andre Dirrell."
Reuse content