Friday night in the basement at New York's Madison Square Garden, in a fighting den once known as the Fabulous Felt Forum, the music mogul Jay-Z will become  a boxing promoter for the  first time.
The main event will probably be the moment Jay-Z and his wife, Beyoncé, take to their ringside seats to cheer the local fighters who have been sensibly gathered to launch his boxing journey. The show has been called a hybrid fight/live music event by some in the industry that Jay-Z dominates.
Several of the rapper's friends will perform before, during and after the boxing and Rihanna, who is signed to his Roc Nation label, will be in one of the ringside thrones. There will be appearances from New York hip-hop artist Fabolous, the night will be hosted by Angie Martinez, "The Voice of New York", but the fights will be introduced by the smoothest voice in town, Michael Buffer.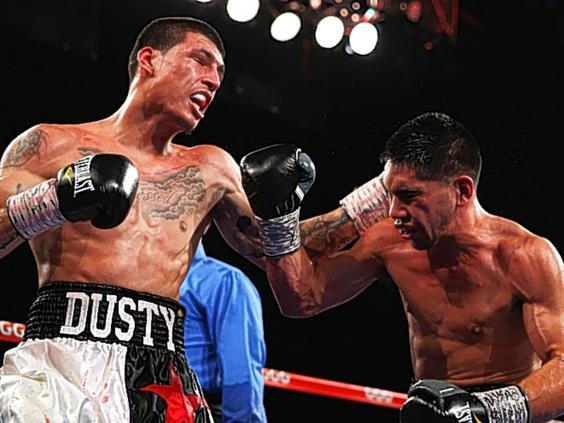 In the ring, a fighter called Dusty Hernandez-Harrison, who is unbeaten in 24 bouts, will take on native New Yorker Tommy "The Razor" Rainone at welterweight in a blood-and-guts contest that would not have been out of place at the Forum back in the Seventies. The sweat from the fights, they said, turned the red felt walls into a sponge every Friday night and the place, now optimistically called The Theatre, still smells when it is packed.
Jay-Z launched the sports division of his Roc Nation empire in early 2013, fast acquiring top athletes from the big three American sports, and in August last year he decided it was time to move into boxing. He announced his arrival with an audacious purse bid for a mandated middleweight world-title fight involving Peter Quillin and Matty Korobov, two boxers with whom he had no connection.
In the weeks before the bid, which took place at the offices of the WBO in San Juan, Puerto Rico, Jay-Z hired David Itskowitch, who had worked with promoter Lou DiBella and for six years with Oscar de la Hoya at Golden Boy, as his chief operating officer.
It was Itskowitch who flew to San Juan with the sealed bid in his pocket and entered the room to shock the envoys from the promotional companies that represented Quillin and Korobov.
Jay-Z made an outrageous bid of $1,980,840 (about £1.3m), beating Golden Boy, who represented Quillin, by nearly a million and Top Rank, who were there for Korobov, by $1.5m. The rumours were true, Jay-Z was in the boxing business.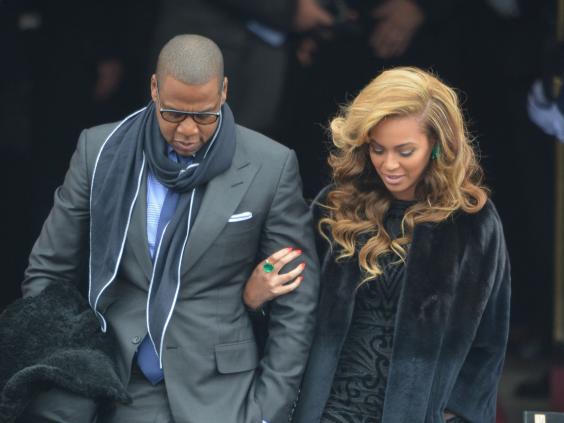 The fight was scheduled for November and a launch was planned. At the same time Jay-Z's people started talking to fighters who were either out of contract or close to being out of contract. A lot of top boxers like Guillermo Rigondeaux, Keith Thurman and Deontay Wilder acknowledged that the deals offered by Roc Nation were fantastic but they all politely refused. "I don't want to be the first to go, let me see what Jay-Z can do," said Thurman, who holds a version of the welterweight title. Then it started to get messy.
Quillin relinquished his title, walked away from a guaranteed career-high payday of $1,428,630 and has not fought since. He quit on the advice of his agent, the camera-shy Al Haymon, and this is where Jay-Z, Beyoncé and their boxing story get a bit lurid, bitter and greedy.
Haymon, who is described by Billboard as "one of the most successful R&B promoters of all time", acts as a super-agent and fixer for dozens of top fighters including Quillin, Thurman, Wilder, Amir Khan, Floyd Mayweather and Danny Garcia. Haymon is boxing's power broker and he has a problem with the Roc Nation duo from their days in the music business.
Beyoncé named Haymon in a 2011 legal document issued against her father, Mathew Knowles, over a financial dispute. Now the musical trio have arrived on the boxing scene with a rampant feud to match any of the ill blood that ever existed between Bob Arum and Don King or Mickey Duff and Frank Warren.
Itskowitch has insisted  Jay-Z will be heavily involved, appearing at the weigh-ins, looking for ways to change the sport's image, and he will be present Friday night to get a feel for his latest business.
The 45-year-old was once the part-owner of the Brooklyn Nets basketball team, but had to sell his share in 2013 when he launched Roc Nation Sports and started representing athletes. Jay-Z, incidentally, still owns a sliver of the Barclays Centre in Brooklyn, New York's premier fight  location.
"Boxing has not changed," said Itskowitch. "It's the same experience now as it was decades ago for people  going to boxing. There is the opportunity for change. We believe that."
There is nothing new in the "change" claims; boxing has been reliant on its old and established fans, the die-hards, to buy the new products for a long time. The tickets for Friday's debut night start at 30 bucks, which is about 15 quid less than British promoters can manage. Fabolous will not be at the York Hall any time soon, by the way.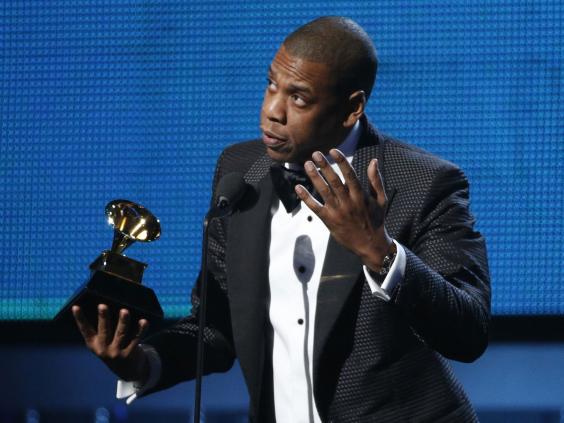 Last summer a deal was nearly done between Roc Nation and Gary Hyde, the maverick boxing promoter and manager from Cork, for the services of arguably the world's purest fighter, Rigondeaux, whose defection from Cuba after winning two Olympic gold medals remains the standard for sacrifice. The super bantamweight was Fidel Castro's favourite fighting son before his departure.
Last Wednesday in Japan, Rigondeaux survived two brief knockdowns in round seven to stop Hisashi Amagasa at the end of round 11 and retain his WBA and WBO titles. It was Rigondeaux's 15th professional fight, his ninth world-title contest and it was not shown on American television, which seems harsh on the Miami-based exile. His previous defence, which took place in Macau, was shown in America but only on a Spanish-speaking channel.
"We had some good offers in the summer and we are talking to people right now," confirmed Hyde. "We have spent some time with Jay-Z and Beyoncé at one of their shows. Beyoncé has shadow-boxed with Rigondeaux – he will be back on American  television and that is where he deserves to be."
Jay-Z has a three-fight deal now with Fox in America, but has not ruled out working with either HBO or Showtime, the satellite powers that stand sentinel over boxing. A deal with Rigondeaux would be a massive addition, a further sign of intent and essential for a fight label that so far only has the services of Hernandez-Harrison on their books.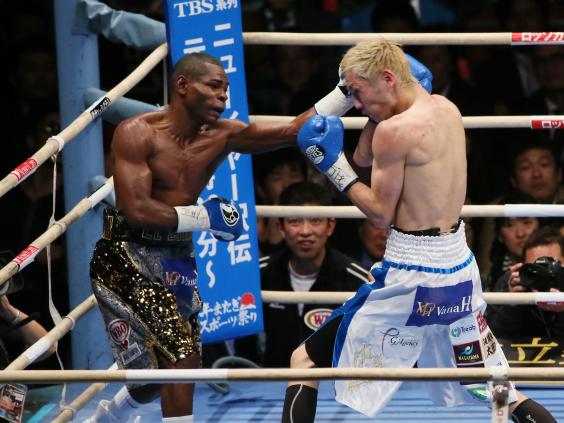 "Jay-Z loves his boxing, sure he does," added Hyde. "He's very serious about getting involved and making a success of it – I hope to have some good news about Rigondeaux very soon. Jay-Z likes him, he knows talent."
During the last 50 years actors, charlatans, infamous crooks and singers have fancied a bit of the boxing business. Actor Ryan O'Neal had a piece of flawed world-title challenger Hedgemon Lewis in the Seventies and last year rapper 50 Cent saw his considerable investment in Yuriorkis Gamboa crumble in a failed world-title attempt.
However, this time an outsider has joined the club, it is not a vanity project and he is very, very determined. It will not be easy but you know what Jay-Z says: "Difficult takes a day, impossible takes a week."
--
Friday's boxing show will not be the first time that Jay Z has shown an interest in sport. The American rapper paid a $4.5m sum for a share in the Brooklyn Nets basketball team to become a part owner in 2010. He gave up his share three years later.
The same year, it was reported that he was to launch his own sporting agency, Roc Nation Sports. Further sources reported that the rapper was also looking to become a certified sports agent himself.
In the summer of 2013 it was announced that Jay-Z had officially become a certified baseball agent, allowing him to negotiate deals for second baseman Robinson Cano, Roc Nation Sports' first major signing.
Having signed basketball and baseball players to Roc Nation, which also incorporates his music agency, Jay-Z then branched out into American Football, currently having five players to his name.
Reuse content