Six months after almost bleeding to death when he was stabbed while on holiday in Tenerife, Kell Brook, Britain's new world welterweight boxing champion, will complete a remarkable return to action next Saturday night.
The homecoming that he feared might never happen comes against Canadian-based Romanian southpaw Jo Jo Dan in his first defence of his title at the Motorpoint Arena in Sheffield.   The unbeaten 28-year-old has made an astonishing recovery from the life-threatening leg-wound he suffered in a machete attack, a fortnight after taking the IBF title from Shawn Porter in California.
His return to fitness has been aided by hi-tech recuperative treatment from the physio team at Sheffield United. "I thought I might never walk again, let alone box," he told The Independent on Sunday. "But thanks to those guys I am great, very fit and healthy. My leg is bang on fine."
Kell Brook - pictures by Steve Morgan
Brook sustained serious injuries and lost a copious amount of blood after being attacked by a young Briton he had met in a bar only hours earlier on 4 September last year, while on a family holiday. It was a celebratory vacation that went horribly wrong. Two muscles in Brook's thigh were spliced open, and he almost bled to death, requiring several blood transfusions and life-saving surgery.
He fingers the curved six-inch scar which runs horizontally around his left thigh, just above the knee, and looks back on the most terrifying night of his life: "It had been a nice holiday. I was on such a high after going to the US and winning the world title in Porter's backyard."
His assailant, whose identity is known, had given Brook the impression that he was a fan and, after a few drinks, they had gone back to the youth's apartment to talk boxing. "It was around 2am and, although I am not normally a drinker, I'd had a few but I wasn't  hammered.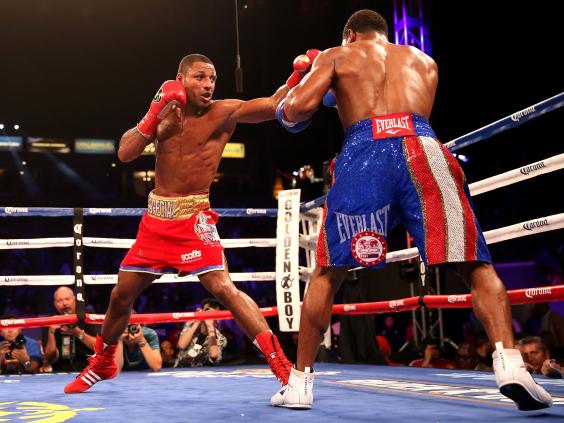 "The attack was unprovoked. One minute we were chatting, the next I was being macheted up. There was blood squirting out of my leg. I could see death, my life flashing in front of me. He stood over me shouting and swearing and I scrambled away.
"All I remember is thinking about my daughter and that I needed to get away from this; there was so much blood, I was covered in it. I really feared for my life.
"Just two weeks before I had been on top of the world in America, winning the world title – not something many men from England have done – and now there I was at the bottom of the ocean. To be a world champion had always been a childhood dream. Had I not been found by paramedics, I would have bled to death."
Brook describes the weapon as "like a machete", about a foot long, which he believes his attacker had fetched from the kitchen: "I remember waking up in hospital and there were drips in my arms. It was horrific. I was trying to find my feet but the legs weren't working.
"I lay in hospital for four or five days and nobody could speak English; no-one was telling us what was going on, I didn't know if I'd ever walk again. When I looked at the wound it was like something out of Jaws, just like a shark attack. I had staples in it, too many to count – more than 30.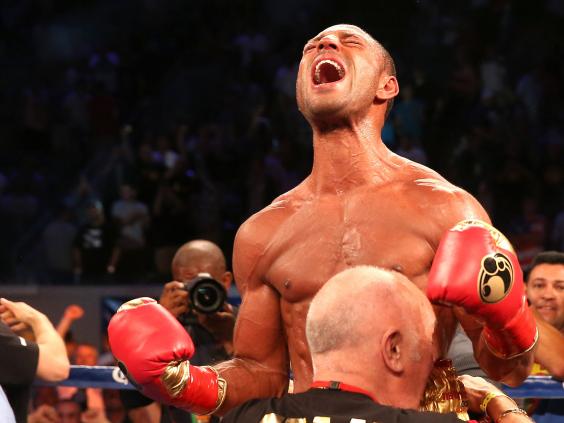 "After about four or five days, they eventually got a wheelchair in. I  remember my mum and dad and my missus and my daughter came and wheeled me out. I remember sniffing the fresh air and looking up at the sky as we left the hospital and a gush of wind came. It was one of the small things that people take for granted: looking at the sun, seeing birds fly. I was thinking how lucky I was to be alive. I was looking at my daughter and she was smiling and I was thinking how overwhelming it all was."
They told Brook in Tenerife it would be weeks before he could walk again, but he was back on his feet after a matter of days. "I couldn't have believed then that I would make a full recovery.  But the operation was a success and I worked hard with the physios to get things right.
"They are still after the guy who did it, but apparently soon after it happened he grabbed his passport and fled the country. This scumbag needs catching.  Sometimes I think he's still out there and now I have a minder with me when I go out."
However, Brook admits that he "can't wait till I get back into the ring in my home town again". Should he dispose of Dan, as expected, he  believes he could be in the mix to meet the winner of the Floyd  Mayweather-Manny Pacquiao blockbuster. His more immediate wish, though,  is for a domestic showdown with Amir Khan. "Amir is avoiding me like the plague," he points out.
Meanwhile, that night in Tenerife is never far from his thoughts: "I know how fortunate I am and I treasure it now. It has changed me. I'm a lucky kid."
Kell Brook v Jo Jo Dan is live on  Sky Sports 1 on Saturday
--
Dangerous game outside the ring
The Brook incident highlights how it can sometimes be more dangerous for fighters outside the ring than in, with two other British boxers badly injured last year in violent episodes. Jamie Moore, an ex-European light middleweight champion, was shot five times in the leg in an apparent case of mistaken identity in Marbella, while lightweight champion Anthony Crolla suffered a fractured skull after being hit over the head with a concrete slab when chasing burglars from a neighbour's house in Manchester.
Reuse content