He sits relaxed, surrounded by family and friends amidst the bustle of post fight celebration. His young boys sit with him on the changing room sofa, admiring the shiny green belt draped across his shoulder. 'WBC', the letters read, and although it may be the Silver version of the ultimate prize, Kevin Mitchell is now surely closer to the big one than ever. The Dagenham fighter displayed his most complete performance to date, as Capital Punishment became the reality for the tough Mexican Daniel Estrada.
Truth be told, it was Latino heart and spirit which had seen the contest go as late as the eighth, many a fighter would have wilted sooner. But as Mitchell's work rate increased, so did the regularity with which hooks and uppercuts breached his opponents guard, thudding home with precision and spite. Mitchell looked as sharp as he did relaxed, winning the jab exchanges and dictating the pace from the first bell. "When you have a team around you like this, a game plan and a coach like I have, you feel secure in the ring. When you don't feel secure, that's when you are vulnerable."
A well documented series of trials and tribulations have befallen Kevin Mitchell, and since the East Londoners career began at Hornchurch and Elm Park amateur boxing club 2 decades ago, his life outside the ring has been mirrored by the results within it. But last night saw a new, matured fighter, perhaps born of the responsibilities as a father and a family man.
"I'm just in a good place right now. You see me, my boys, my family, the team around me - it's strong, and it shows with how I'm fighting."
A short right hand during an inside exchange dropped Estrada in the third, and while Mitchell pressed hard for the finish, the Mexican stood typically strong, showing he had enough about him to see out the round. "I could feel he wasn't quite ready to go," said Mitchell, "I'm a good finisher, so after a while I had to get back to boxing." With hindsight, perhaps Estrada would have preferred the quicker finish, as what would follow was a ruthless, slower and altogether more painful alternative.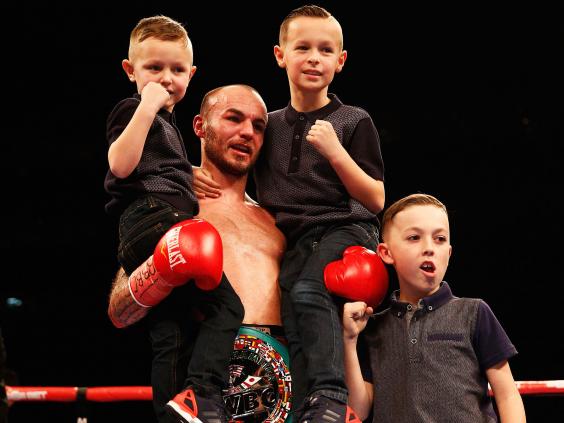 The Englishman dictated the pace and distance, adopting a low, crouched stance, switch hitting with clinical and hurtful precision. Estrada is a man who carries the Mexican reputation of durability, but even he was not able to withstand the barrage of hooks and uppercuts from the home fighter. By round seven, it was clear that the occasion was unlikely to go the distance. Referee Ian John Lewis had taken a long hard look at Estrada by the closing bell after a flurry of hooks were delivered unanswered. The bell tolled for the eighth, as Juan Manuel Marquez - who had widely tipped Estrada to outclass Mitchell - found himself a helpless bystander to a boxing masterclass come beatdown of his Mexican prodigy. Ian John Lewis would have been forgiven for stopping the fight after another unanswered flurry in the corner. "Ian's a fantastic referee, but I'm glad he let it go just that bit longer. I wanted to prove I've got what it takes to finish the job properly," said Mitchell, who moments later delivered an uppercut which proved to be the final blow. The referee had seen enough, Estrada did not protest.
"We've been working on that shot for about four weeks. I switch to Southpaw, which is naturally what I am anyway, drop the shoulder, and throw the left uppercut from low down. It worked great tonight."
Mitchell showed huge gratitude to trainer Tony Sims, with whom he reunited 18 months ago following a long period of inactivity.
"He works me so hard, I remember the first day he had me back, I was a bit scared and so unfit. We did 16 rounds. He does everything for me and I'm 100% secure with him in my corner. Thanks to him, I'm going to be world champion this year."
As the mandatory challenger to Venezuelan Jorge Linares WBC Lightweight World title, Mitchell is open to fighting at home or abroad. "I mean it's every boys dream to fight in Vegas, so I'd be more than happy to do that." As a lifelong West Ham fan, Upton Park holds chequered memories for Mitchell as the venue for his first professional loss to Michael Katsidis in 2010. "It doesn't bother me, my demons back then weren't in the ring. I was only 25, I had a lot going on outside the ring and I let the occasion get to me. But yes, I'd fight there again, and I'm sure Eddie could make it happen, so I'm ready either way."
Promoter Eddie Hearn alluded to other options, including luring Linares to the capital on the undercard of the rescheduled heavyweight clash between Anthony Joshua and Kevin Johnson on April 25th.
But wherever the venue, and whatever the date, a new and improved version of the precocious talent who had previously fallen short at the top level looks set to mount his strongest claim to a world title yet. For the less easily convinced, the big question mark will continue to hover over whether he can replicate the quality of his most recent display when the stakes are highest. But If last night's performance is any indication, then his odds of winning a world title have just been slashed.
Reuse content