Muhammad Ali's death in June of last year marked the passing of a sporting icon, a pop culture monolith and one of the 20th century's greatest figures.
Ali was also a father, though. He left nine children, seven daughters and two sons, who have had to overcome the loss of a much-loved parent first and foremost.
Here, Rasheda Ali talks about her father's life, death and his last words to her.
Is there anything you regret not asking your dad during his life time?
I regret not asking my dad, "How did you believe in yourself against all odds?" As challenging as our lives are today, my dad faced more drastic challenges. It was clearly more difficult to believe in yourself as an African American living in a racially divided country.  
You're a large family. Do you regret that he never got to spend much time with you - the kids - because he was on the road a lot?
At a young age I knew that we had to share my dad with the world, and so we knew that some of this sharing was a sacrifice. A lot of my dad's travels took up our family time, which is understandable because at the time, in the 1970s, my dad was still fighting and still creating his brand and working.
We understood that he had to work for us and that he wasn't just ours but the world's. Fortunately, as we got older and dad had more time and we were out of college, we were able to spend more time with him. We would travel with him and do things that we were not able to do when we were a lot younger and in school.
Muhammad Ali: A life in pictures
Muhammad Ali: A life in pictures
1/20

Despite taking his first booking lessons with a local policeman, Clay was simultaneously coached by the more experienced Fred Stoner. Under him, the young boxer won six Kentucky Golden Glove titles, two national Golden Glove titles, and an Amateur Athletic Union National Title. His amateur success culminated when Cassius won the Light Heavyweight gold medal in the 1960 Summer Olympics in Rome. After that, Clay decided to start off his professional career.

Getty Images

2/20

Clay won his first professional fight against Tunney Hunsaker in a six-round decision on October 29, 1960. After that, he went on to establish a record of 19-0 fights, with a total of 15 knockouts. Thanks to his high stature (1.91m), he developed a highly unorthodox style for a heavyweight boxer, relying on foot speed and carrying his hands low rather than on heavy punches.

Getty Images

3/20

By 1963, Clay had not only built a reputation for his boxing technique, but also for correctly predicting the round in which he would "finish" the opponent. Here, he predicts (correctly) the round in which he will knock-out British boxer Henry Cooper. Other boxers Clay defeated prior to his first title fight included Doug Jones, Lamar Clark and Jim Robinson.

Getty Images

4/20

In his first title fight, Cassius Clay opted for world heavyweight champion Sonny Liston. Though few observers thought the 22-year old could defeat an ex-con with ties to organized crime, Clay proved them wrong: in the legendary sixth round of the fight, he landed spectacular combinations of punches, seemingly at will. When Liston told his cornermen he couldn't continue to the seventh round, Clay sprang to the center of the ring, and repeatedly yelled "I'm the greatest!" and "I shook up the world". Cassius Clay had made history for the first time.

Getty Images

5/20

The day after the fight, Cassius Clay announced that he was changing his name to Muhammad Ali for religious reasons. Although he had already been member of Nation of Islam prior to the fight, he was advised not to declare this publicly, in order not to jeopardize his chances. At that time, the Nation of Islam was often viewed with outright suspicion by mainstream America, and Ali did little to counter these impressions: the boxer once stated, for example, that "Integration is wrong. We don't want to live with the white man; that's all." However, after the death of Nation of Islam leader Elijah Muhammad in 1975, Ali converted to mainstream Sunni Islam. Later in his life, he came to embrace spiritual practices of Sufism.

Getty Images

6/20

Muhammad Ali also aroused controversy through his outright opposition to the Vietnam War. When notified of his army classification as 1A in early 1966, the boxer declared that he would refuse to serve, as he considered himself a conscientious objector. He also famously declared about the war: "I ain't got no quarrel with them Viet Cong ... They never called me nigger." When refusing to step forward at his scheduled induction, Ali was arrested and found guilty after a 21-minute trial in June 1967, as a result of which his boxing license was suspended. Refusing to accept the verdict, Ali took the case to the U.S. Supreme Court. In June 1971, with public opinion already against the war, the highest court of the United States reversed his conviction by unanimous decision.

Getty Images

7/20

In 1971, with the case still on appeal, Muhammad Ali was allowed to fight again - in what would become the Fight of the Century against Joe Frazier. It was a heavily promoted fight, with massive popular interest: Frank Sinatra, for example, took pictures for Life magazine. For Ali, it became one of his most crushing defeats. Despite dominating the first third of the fight, he later struggled to keep the pace and, indeed, was put on his back for only the third time in his career. Though he managed to stay on his feet for the rest of round 15, Frazier was declared winner by unanimous decision. In January 1974, however, Ali defeated Smokin' Joe in a non-title rematch.

Getty Images

8/20

In October 1974, Muhammad Ali regained his title in what was to become of the biggest upsets in boxing history. Taking place in Congo, Ali's fight against champion George Foreman was fittingly promoted as the Rumble in The Jungle. Almost no one gave Ali a chance of winning. Foreman and Ali became friends after the fight, and the movie When We Were Kings, a documentary of the fight in Zaire, even won an Oscar.

Getty Images

9/20

The Thrilla In Manila was Ali's third, an final, fight against Joe Frazier. Leading up to the fight, Ali enraged Frazier through frequent insults and slurs, for example remarking: "It will be a killa ... and a chilla ... and a thrilla ... when I get the gorilla in Manila." It was a tedious fight, with both boxers battling each other into near incapacity. When Frazier's coach refused to allow Frazier to continue, Ali was declared winner by technical knockout. Later on, Muhammad Ali would declare that this was the closest to dying he had ever been, as well as stating that Joe Frazier was "the greatest fighter of all times, next to me." It also inspired the fight scene from Sylvester Stallone's 1976 Oscar-winning film Rocky.

Getty Images

10/20

After the Thrilla In Manila, Ali beat Coopman as well as Jimmy Young and Richard Dunn. Following these wins, he staged an exhibition match with professional wrestler and Mixed Martial Artist Antonio Inoki (picture). This match would seriously jeopardise Ali's health, as both of his legs were bleeding after the fight, leading to an infection. He also suffered two blood cloths in his legs.

Getty Images

11/20

As Ali had briefly lost the heavyweight title to Leon Spinks in February 1978, the Greatest fought a rematch in September, winning the title for a record third time (picture). Even after his retirement, Ali decided to return and win the title for an unprecedented fourth time, but lost against current champion Larry Holmes. As his coach, Angelo Dundee, refused to let Ali come out for the 11th round, it became Ali's only loss by anything other than a decision. Ali also lost his final fight against Trevor Berbick in 1981 by unanimous decision after ten rounds.

Getty Images

12/20

Muhammad Ali is considered to be one of the greatest heavyweights of all time. In total, he won 56 of his 61 fights, 37 by KO. He was also the first person to win the heavyweight title three times. Consequently, he was named Sportsman of the Century by Sports Illustrated as well as Sports Personality of the Century by the BBC.

Getty Images

13/20

Ali became known as a global champion of civil rights, including his friendship with Malcolm X

Getty Images

14/20

His legacy continues to arouse interest up to this day, the most famous example being the biographical film Ali (2002). When Ali found out Will Smith was to play the young boxer, his first reaction was: "You ain't pretty enough to play me." Ali himself published an oral history, entitled Muhammad Ali: His Life and Times, in 1991.

Getty Images

15/20

Muhammad Ali also received a vast number of honours and awards, such as the Spirit of America Award which called him the most recognized American in the world. In 1996, he had the honour of lighting the flame at the 1996 Summer Olympics in Atlanta. For his work with the US civil rights movement and the United Nations, Ali received the Presidential Medal of Freedom as well as the Otto Hahn Peace Medal in Gold.

Getty Images

16/20

Muhammad Ali with his daughters Laila (9 months) and Hanna (2 years 5 months) in London in December 1978

Evening Standard/Getty

17/20

The boxer has been married four times, with his large family includes seven daughters and two sons. One of his daughters, Laila Ali, has also made herself a name as boxer, despite Ali's early comments against female boxing in 1978: "Women are not made to be hit in the breast, and face like that ... the body's not made to be punched right here. Get hit in the breast ... Hard ... and all that."

Getty Images

18/20

Much of Ali's life after retirement was overshadowed by his suffering from Parkison's Syndrome disease, which was diagnosed in 1984. Nevertheless, he remained a beloved and active public figure right towards the end of his life. He continued to work for humanitarian causes, for example through his appointment as "U.N. messenger of Peace" to Afghanistan in November 2002. During these final years, Ali travelled on average more than 200 days per year. In 2005, he also opened the $50 million non-profit Muhammad Ali Center in Louisville, displaying his boxing memorabilia as well as focussing on core themes of peace, social responsibility, respect and personal growth.

Getty Images

19/20

Muhammad Ali became a goodwill ambassador for the UN, seen here at Kabul airport in November 2002 during a three-day mission

Getty Images

20/20

Muhammad Ali became known for his charity work including the annual Celebrity Fight Night, seen here on April 8, 2016 in Arizona

Getty Images
Your father was the heavyweight champion, but many people seem to have taken advantage of him. Do you feel he was too 'soft' on the inside, which led to certain individuals to take advantage?
My dad was very kind to people and very forgiving to others who took advantage of him. He didn't have greed of money or malicious intentions. He knew his life had a purpose and he tried to do as much good in this life as possible in order to get to heaven. I believe he accomplished that goal. 
What is the best advice he gave you as a father?
Stay humble. He was the perfect example of someone who had reached the top of the mountain and still stayed true to who he was. My dad loved being Muhammad Ali and he loved caring for others and giving to people. And I think the best advice he could give us was to stay humble and be kind to others.
What is one of your best memories?
I have so many great ones. One of the greatest memories with my dad is when my dad used to live in Los Angeles. He loved driving his favourite car, which was a Rolls Royce.
We would visit him in the summer and get in the back and have the top down on the convertible and we'd drive down Wilshire Boulevard, and to see peoples' reaction with Muhammad Ali with his kids in the back of the car was one of the most magnificent memories I've ever had of my father. As other drivers looked around on the road, lots of pedestrians took notice and stopped in amazement.  My dad always had a way with stopping traffic and people in their tracks and he loved every minute of it.
Your worst memory?
I think in 1981 when he fought. That was the only actual fight I was physically able to witness in the arena when he fought against Trevor Berbick. It's a fight that shouldn't have happened. I honestly have to say that my dad was a lot older than Trevor and he was out of his prime.
My dad loved boxing but he was out of shape and didn't want to say no to the fight. And of course he lost. All of us kids were like, "No, don't do it Daddy, don't box." But it was hard to see him get beat up. He didn't want to say no to boxing, so boxing said no to him.
What can you tell me about Muhammad Ali the family man?
My dad was a very humble, generous, caring, sweet and a sensitive family man. He loved his kids. A lot of people know Muhammad Ali the boxer who loved his craft. He was extremely confident and losing was not an option. Most people know that part of Muhammad Ali. He was driven and dedicated, but as a family man, he loved his kids and he loved his religion; when we were together we'd read the Quran together.
He had pictures of us kids and he used to cry looking at them. Nobody knows that my dad was very sensitive. When we were little and our grandparents Mama Bird and my grandfather Papa Cash were around, we shared stories of family and life. He always stressed how important family was. Whenever we'd speak on the phone, he would record us. He said it was important to keep these memories. He wanted to cherish those. He valued that family connection profoundly.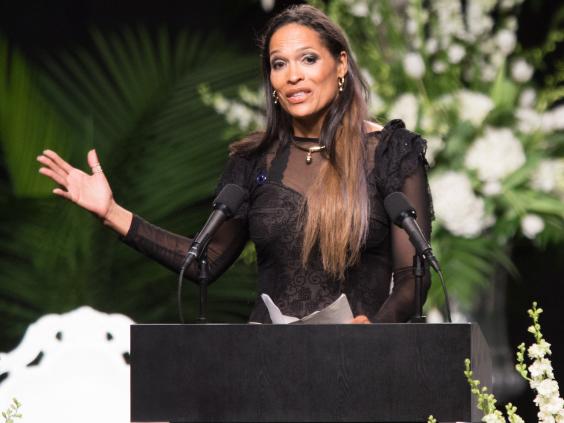 How would you want the legacy of Muhammad Ali to live on?
I think we have a big responsibility. My dad would say, "I'm bigger than boxing," and he was. He transcended the sport but became a civil rights activist, leader and an ambassador of peace. He built an incredible legacy, I can't think of many personalities who are on his level.
Is there anything in your own life that you would have wanted him to be there for?
That's very simple. I wanted him to be there for my son Nico's fight. Daddy was actually in Arizona for my son Nico's first fight, but he was ill so he couldn't attend. So he gave Nico some advice afterwards and said, "OK, we'll make it to the next fight."  But of course he couldn't make it. I really would have loved for Daddy to have seen Nico's first victory. That was one of my dreams. He was able to see my son play football briefly, but I really wanted him to there for Nico when he stepped into the ring.
What were yours and your dad's last words when you saw him?
My siblings and I kind of shared and reflected and laughed and cried together. We talked for hours and hours and we prayed together. Some of the last words I told him were that we would try our best, as Muslims, to carry on his legacy the best way possible. And I told him that on the other side, "You're going to be young, handsome, fast and pretty." 
The word 'Islam' and 'Muslim' have lately been thrown around a lot. What were your dad's thoughts of the current situation reflecting that Muslims seem to be associated with terrorism?
Of course it's never been popular in America to be a Muslim. But I think it's just one of our trials. My dad always told us whether it's a terrorist attack or something else, the world would have misconceptions about Muslims and that true Muslims aren't terrorists. Our religion is a religion of peace – that's what it means, peace. He never stopped propagating that fact and telling people. Some people who are intelligent know that our religion is about peace, but there's a small percentage of people - who just like any other religion- take whatever facts they read and distort them, be it Christianity, Judaism or Islam.
But every religion has a bad apple. Unfortunately, in our religion of Islam we have some bad apples and the whole world is showcasing our religion as a bad one. So it's our job to do the best we can to be great representations of true Islam. Also, to inform people that if you are intelligent and read about it, you will see it's a religion of peace. Most people really don't want to believe that, or may not have done their research. They rely on the internet and they'll believe the media. So I think those people need to take time and learn about not just Islam but other religions they may not be familiar with. My dad loved everyone regardless of their race, creed or religion and he taught us that too, to love everyone regardless of their affiliation or group. I think he's an example. He wasn't perfect, but I think for the most part he was sincere and he did showcase the great values our Muslim religion teaches.
We are living in critical times right now. My mom and brother were recently stopped by TSA officers as they were returning home to Deerfield Beach, Florida from attending a Black History Month event in Jamaica. The officers interrogated my mom and brother separately for nearly two hours asking questions like, "Where did you get your name? Are you Muslim?" All while their passports were in order and verified. No passport questions or other documentation questions were even asked. I feel that our new appointed U.S. leader has taken us back nearly 100 years. 
I believe that if Dad were here today, as difficult as it was for him to speak, he would go on national television to let people know what's happening to us is horrible and our religion is one of peace. He was quick to inform the public of the misconceptions of our religion and he constantly spoke against bigotry and racism in this country.
Reuse content