Nicola Adams and Daniel Dubois are separated by fifteen years, twelve inches, nine stone and united by the same uncertainty that grips every boxer in the days before his or her debut.
Both fight for the first time as professionals on Saturday night in Manchester and both enter the ring draped in the type of heavy expectation that is increasingly rare in a business saturated with quality fighters. Adams and Dubois each know that they need to do more than simply win a few fights, acquire some tinny baubles and pose with their bloodied victims.
"Nicola has won every single major gold medal as an amateur," said Frank Warren. "Daniel was pursued by everybody in the boxing business, promoters from all over the world wanted to sign him - they are special, their debuts will be special."
Adams is 34, which is normal for quality female pros, and has taken up residency under the calm and watchful gaze of Virgil Hunter near Oakland in California. She trains alongside Andre Ward, arguably the world's best fighter, Amir Khan and her partner, Marlen Esparza; the distant location at the start of a career is a clear warning of her intent.
The presence of Esparza, who won a bronze medal at the London Olympics, is not a concern in the boxing business where the only thing that has ever mattered is whether a person can fight and not whether a boxer kips with somebody of the same sex. Orlando Cruz, which is still the greatest name for any gay athlete, fought for a world title in 2013 and nobody batted an eyelid.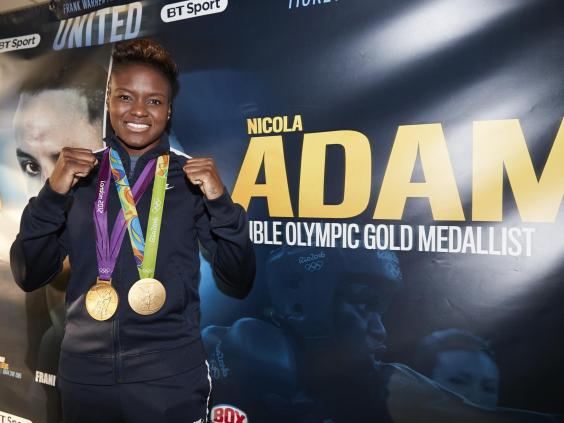 In many ways Canning Town is not a long way from Oakland and under the concrete curve of a seemingly endless line of flyovers the Peacock gym is like a frontier outpost. Inside the building Dubois soils the floor and canvas with his sweat under the watch of Martin Bowers. If Hunter and Bowers ever sat in each other's company it would be dawn before they had finished putting the world and the boxing universe right. They each built their gyms with heart and soul and it shows.
To enter the Peacock a guest must walk in reverence inside the shadow of Bradley Stone's statue. Little Brad - he is only ever 'Little Brad' - died after losing a British title fight in 1994 and he stands heroic sentinel by the gym's door. It is that type of place and Dubois is that type of fighter, a permanently smiling kid stuck in the land of memories and relics.
Last year Dubois was part of the GB team in Sheffield, being prepared for a four-year campaign on the Tokyo Olympics, which would have been realistic but difficult. He shared the ring with world champion Anthony Joshua and Olympic silver medalist from Rio, Joe Joyce. He was a boxing baby, a kid of just eighteen when the first dark rumours started, there was idle talk of knockdowns and in the aftermath dented egos were fixed.
Dubois denied everything: "I held my own, it was an honour to spar with them." Even in modern boxing, a seemingly endless business of often inane exposure, it is still taboo to talk openly about closed-door sparring sessions.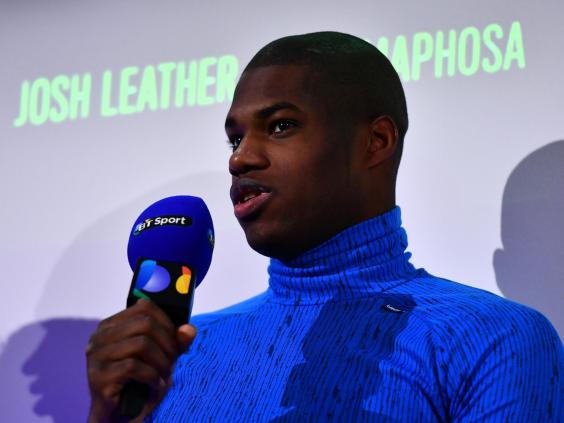 Two weeks ago Dubois shared a ring with a smiling and hefty Tyson Fury, it was a light spar and Dubois was impressed. "He is clever, real smart - that was good for me." The education has started, the type of education for a British heavyweight that would have been fantasy in the past.
I watched his feet one day at the Peacock during a session and he was brilliant, poised and balanced. There was no need to watch his hands, that testimony had been forwarded, but nobody had talked about his feet, his movement. He is an athlete, but not in the sense of a converted basketball player or American footballer. Dubois looks and moves like he was born to fight.
Heavyweights always neglect the basics in pursuit of power, but Dubois has the shape, the structure and he could deliver the jab from its hibernation spot after Larry Holmes faded more than twenty years ago and retired the greatest punch in sport. The old-time trainers, men with years in filthy gyms fifty and sixty years ago, talk about a heavyweight jab being like a legal gun in the fight game.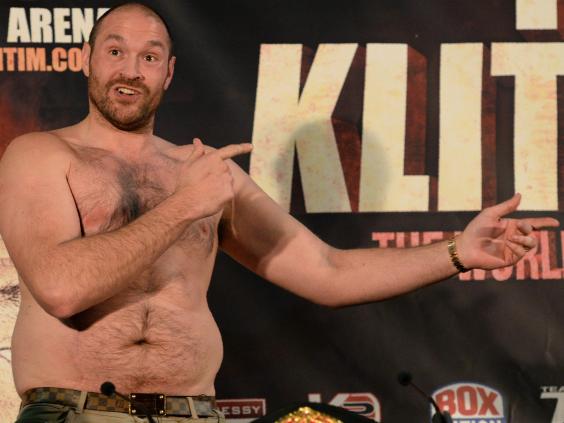 Adams is scheduled to go six rounds and she needs every round to prepare for an assault on the world titles next year.
The champions at her weight all fight over ten rounds and have done so dozens of times; as an amateur Adams has only been four rounds. Dubois is doing his learning in the rings and gyms away from paying customers and right now he will just need to learn to standstill for ten seconds when his victims are counted out.
The little and large fighting twins will be coming to a city near you soon.
Reuse content