Paul Butler is exactly 10 stone lighter than Tyson Fury and each time he steps into the ring has to fight with the burden of expectations beyond his poundage in a sport where big is beautiful and talent often incidental.
It is inevitable that size is the main topic of conversation when boxing's tiny men talk about opportunities lost in the ignorant rush to celebrate yet another of the modern sport's bulkier hypes. In Manila, Managua, Macau and Mexico City, Butler would be an idol.
"If I was a heavyweight?" replies the 26-year-old from Merseyside. "If I was a heavyweight? Well, I would be world champion for about 20 years!"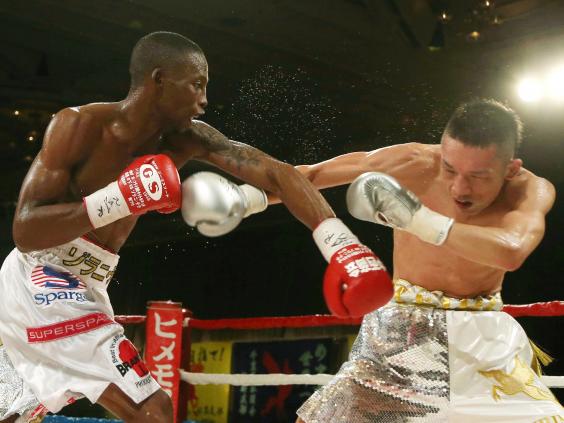 This Friday in Liverpool, Butler fights for the IBF super-flyweight title against Zolani Tete, a South African raised in sweatbox gyms where being about 5ft 2in and less than eight stone is the desired combination. South Africa's greatest fighter was arguably Jacob Matlala and he was either 4ft 11in or 4ft 12in  – his manager once told me that – and about 7st 10oz with rocks in his underpants.
Butler moved up in weight last June, gaining three pounds to win the IBF bantamweight title but sensibly decided to relinquish the belt and return to the super-flyweight division. The difference between the weight divisions from the smallest, which is minimum weight and going through light-flyweight, flyweight, super-flyweight and bantamweight is always less than four pounds. It increases to seven pounds and more the heavier the categories become.
In the bottom four weight divisions, Butler is the only recognised European in any of the top 10 and he is surrounded by South Africans, Thais, Filipinos, Japanese, Chinese and the sport's traditional small men, the Mexicans. "Can you imagine what those gyms are like in Japan and Mexico? That would make you a better fighter, no mistake," added Butler. I know what they can be like and they are ferocious with blood-splattered conveyor belts delivering new talent in and slipping the battered out.
On Friday, Butler has to be inside the 8st 3oz limit for the Tete fight, which will be the result of genuine sacrifices that most people not linked to a set of scales for their survival would struggle to comprehend. The process of making weight is at its most drastic and damaging in the lower divisions, but over 20 years ago Chris Eubank Snr dropped the final pounds by licking fruit and dreaming of food during the last mad days before his defences of his 12st world title.
Tete, make no mistake, will have boiled his body down to the weight by taping black plastic bags to his torso during his weeks of preparation and that is because at either 5ft 9in or 5ft 10in – there is always a dispute over the height of the small men – he is a giant at super-flyweight. In the final minutes before he steps on to the scales, most probably naked to drop an ounce or two, he will have been rubbed raw by a man clutching a towel. Trust me when I say that boxing has not changed in over 100 years. Butler's sacrifices will also be visible when he steps up on the scales and that is because fighters below lightweight, which has a hefty limit of 9st 9oz, always look ill when they make the weight for big fights.
Tete will be as many as five inches taller, have as many as six inches reach advantage and is unlikely to be intimidated by the local's support; Tete won the title against an unbeaten Japanese fighter in Kobe last year and he has also dropped a controversial split decision over 12 rounds in an eliminator in Argentina. However, more alarmingly he survived a brutal final eliminator in Mexico when he was dropped, had two points deducted for holding – he was hurt at the time – before forcing a stoppage in round 10.
"We have to fight that much harder to get the respect," said Butler. "Look at what Tete has been made to do. That is proper preparation for becoming world champion – the bigger weights don't have to do that sort of thing."
This Friday, Butler's unbeaten record is in jeopardy in the type of world title fight that dominated the British scene in the Eighties and Nineties, when there were fewer opportunities and the champions arriving to defend their titles were, like Tete, dangerous. There is nothing convenient about him, nothing soft or easy about the South African and that is how fighting for a world title at any weight and at any size should be.   
"He is a young boy with a dream and I will ruin his dream – I'm a man, a  big man," said Tete  and it is too easy to believe him even if the scales and the tape measure disagree.
Reuse content