Ricky Hatton had been selling out venues, defending a poor version of the world title and moaning about hard fights falling through long before his 39th fight one morning at the old MEN Arena in Manchester.
The first bell was 2am, the crowd of just under 20,000 had been locked in and deprived of booze for nearly three hours when Hatton walked across the ring to touch gloves with Kostya Tszyu. At that moment in history, 5 June, 2005, Tszyu was probably the best pound-for-pound boxer in the world and had wrecked a long list of quality fighters in his decade as champion.
"I had been complaining about fights falling through and listening to critics for too long," said Hatton. "In 2004 I went through the motions in a couple of fights against men that – I don't mean to be disrespectful – there was no way that I could lose to. I wanted big fights."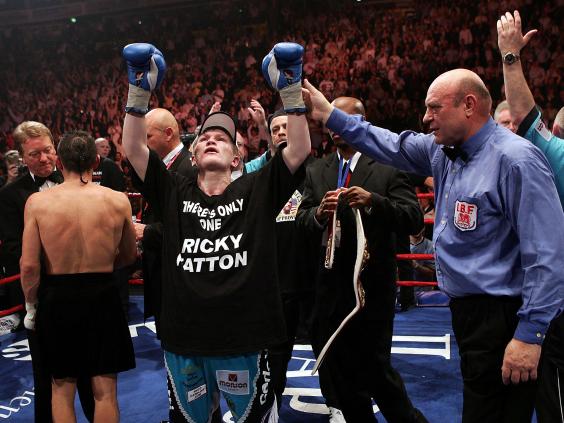 Tszyu had been a world champion since 1995, with just one loss in 33 fights before meeting Hatton; the Russian won the world amateur title in Sydney in 1991, defected and was an Australian citizen when he arrived in Manchester. He had with him Russell Crowe, fresh from making Cinderella Man with Paddy Considine, another ringside guest, and Crowe took over the ring at about 1:50am as Tszyu entered. Crowe strutted from corner to corner beating his chest with his arm and fist like he had done in the movie Gladiator. It was a remarkable few minutes; bedlam to be honest.
Hatton entered the ring under a steaming canopy of love and noise with "Blue Moon", the Manchester City terrace anthem he made his own, rising from every seat and bouncing all over the venue. Both sets of cornermen, I remember, looked a bit anxious as Crowe continued to prowl and the minutes ticked before the ring finally cleared for the opening bell. Hatton was unbeaten in 38 but he had never been anywhere near a fighter like Tszyu.
In rounds three, four, five and six Tszyu started to find his range and he looked like he was taking control. Tszyu was following a familiar pattern, starting to do what he pleased, doing what he had done against unbeaten boxers like Zab Judah in their unification world title fight; Judah was brutally knocked out in two rounds. There was no panic in Hatton's corner, but Billy Graham, his trainer, kept the pressure on, constantly reminding the boy that Tszyu had knocked out good fighters, unbeaten men when they had started to relax.
In round nine, as Hatton fought his way back into the fight, Tszyu was dropped by a low blow and the crowd responded with relentless howls at what they clearly considered to be a change in the fight. In round 10, Hatton took a slight lead and in round 11 he dominated and hurt the champion; Tszyu suddenly started to look like an ancient 35-year-old. It was getting close to 2:45am and nobody in Manchester was looking to sleep.
At the end of round 11 Hatton walked back to his corner and punched the air, which further delighted the fans, and Tszyu walked back to his corner with his head low and blood seeping from a cut under his left eye. Hatton was in charge of a real world title fight and the champion looked like a beaten man. All three judges had Hatton in front at the end of 11 completed rounds.
In Tszyu's corner at the end of the 11th, Johnny Lewis, a veteran of 40 years in the hurt game, took a long, sad look at his once invincible fighter and placed his hands tenderly on Tszyu's shoulders. He shook his head and whispered in Tszyu's ear: "You've not got a knock-out in you and you need one to win. I'm pulling you out, son." Nothing else was said, their fight was over.
It took seconds for the message to move to Hatton's corner and when it did, he collapsed exhausted to the canvas. "I have never been so relieved and so knackered," Hatton said. Then, the rest of the people in the venue realised what had just happened and the greatest of roars went up – it was part relief and part joy.
Just two years later the horde following Hatton had grown and over 30,000 travelled with him to Las Vegas for the Floyd Mayweather showdown in 2007. The Mayweather fight was not such a happy night, but it was a great event. Hatton has written a book about his Vegas days and it's a glorious mix of fights, Tom Jones and barrels of beer under the twinkling neon. However, nobody present or watching live will ever forget the June morning ten years ago in Manchester when the mighty Tszyu was made to quit.
Reuse content