There have been some notable deaths in the boxing business this year, with two heavyweight world champions, a notorious killer and Britain's greatest promoter all hearing the final bell.
Jimmy Ellis and Ernie Terrell both held versions of the world heavyweight title during the troubled years of Muhammad Ali's first reign, Rubin "Hurricane" Carter was convicted of a triple murder and sentenced to life in prison when he was a leading contender for the middleweight championship and Mickey Duff fought 69 times, then made fights happen for nearly 50 years.
Ellis won and lost to Ali when they were amateur boys in Louisville, the town where they were born, but lost the decider one night in front of 32,000 in Texas when they were professionals; Ali seemed to show some pity against his old, old friend that night in 1971, holding back before it was halted in round 12. "Jimmy was not in Ali's shadow," insisted George Foreman. "He was a natural boxer, a good fighter."
Big Ern, as Terrell was known, met a very different Ali to the benevolent one that carried Ellis. It was 1967 and Ali had sworn his hate for Terrell during an ugly build-up, and inside the ring he was brutal for 15 rounds, giving Terrell a fearsome beating; Terrell, you see, had called Ali by his former name, Clay. Both Terrell and Ellis were friends with Ali once their ring careers were over. "We were friends, good friends and always friends," said Ellis.
"The Hurricane" was sentenced in 1967 for a triple murder in a bar and was finally released, a free man, in February 1988. He was, as he had insisted from the start, an innocent man. Carter narrowly missed the death penalty and when I visited him at his home in Toronto in 1997 he was still amazed that he had not been sent to the electric chair: "They had the power to kill me and if they for just one second believed that I killed those people they would have burnt me to death."
Duff and Carter knew each other well and on one occasion Duff, unwittingly, helped Carter smuggle a gun through what was customs at Heathrow. Carter was a tough man back in New Jersey, he knew tough men and he travelled armed like most of his associates. He came to London to fight in 1965 and Duff, who had considerable influence, met him at the bottom of the steps from the plane and, eager to please, he took Carter's bag.
The pair slipped out of Heathrow, jumped in a taxi and Duff dropped Carter at a Park Lane hotel. A few hours later, Duff received a call at his Soho office and it seems that Carter had found some company, some booze and during the party a few shots were fired in celebration at the hotel's hanging pictures. Duff fixed the whole thing, which is what he was good at; it needed to be done because he had carried the gun in Carter's bag.
Another famous boxing man to pass away this year was Jose Sulaiman, who liked people to call him Don Jose. He came into contact with just about everybody in the boxing business during his 50 years as an administrator – he was the president of the WBC, arguably the sport's best sanctioning body, for 38 years. He was, however, seldom far from a fight, a controversy, a conflict or a convention.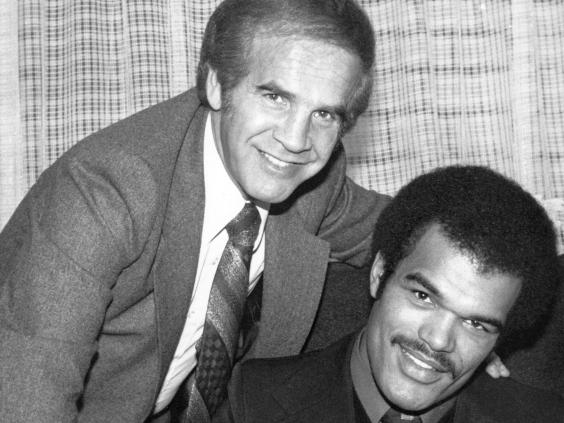 "I have been called a whore and a pimp and I thank all my enemies for making me get up earlier each morning to work harder," Sulaiman said. It was Sulaiman's lifelong friendship with Don King that helped make the WBC powerful, but it also undermined his independence. Duff, who loved a memorable quote, said: "Sulaiman will only be happy when Don King is the only promoter in boxing." I don't have to tell you that each year King, Duff and Sulaiman would be reunited at an exotic location for the WBC's opulent convention.
This year also saw the death of Matthew Saad Muhammad, known as Miracle Matthew, who was dumped as a child on the streets of Philadelphia and raised by nuns. Nobody ever came forward to claim the five-year-old boy and the nuns named him Matthew, after the apostle, and Franklin, after the street he was found on. The boy went on to win the world title in 1979 and is considered one of the best light-heavyweight champions. Sulaiman's WBC, by the way, helped Muhammad when the bad years followed the glory years.
Muhammad's fights are truly amazing to watch now, but the amount of punishment he took and handed out would make most modern boxing fans wince. "I hate to watch my old fights, nobody wants to celebrate that," he said. How wrong he is and the eighth round of his 1980 fight with Mexico's Yaqui Lopez is arguably the greatest round in history. It's online and somebody has added a Rocky soundtrack – treat yourself to three self-indulgent minutes.
Reuse content