Tyson Fury has watched too many boxing dreams collapse and there has been far too much time to calculate in his head how much money vanished, each time one of his fights was cancelled.
Two fights with David Haye and this summer's planned brawl with Dereck Chisora all fell apart in front of the young fighter's eyes and after each setback, he has to pack his bag again and go back to isolation in a gym somewhere. He has set up camps in France, Belgium and right now, home is a converted pub in a Bolton backstreet.
On Saturday, he fights Chisora as part of the Bad Blood night at the ExCel in London's old Docklands and he knows that a win moves him closer to a world title fight with Wladimir Klitschko; he also knows that is a fight pictured in the distant dreams that hopeful fighters have each night they close their eyes.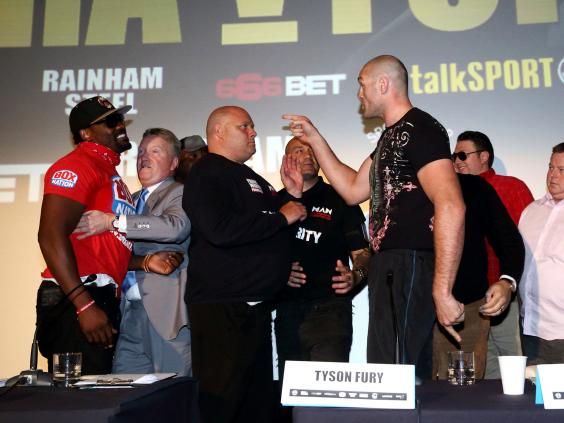 "Boxing is not easy, how could it be?" asked Fury. "I train for fights that never happen and I have been let down by a shithouse like Haye. It's easy to dislike boxing, it's too easy to hate it for what it does to a man. It can break a man."
Fury suffered terribly after the first fight with Haye collapsed last September and sought assurances, some financial, to guarantee that a second hastily announced fight would not be called off. He never got the assurances, he never got the fight and he quit the business.
"I did walk away, that was not a threat," said Fury. "I was gone, I can make money away from boxing and I just thought that there was no point in chasing the bullshitters. I was not sure if I could take it again, not sure how many more setbacks I could take."
Fury took his break, walked away and then slowly started to punch again under the watchful eye of Peter Fury, his uncle. There was a meaningless little fight in February and then the fight with Chisora was arranged for Manchester in July; it was called off at six-days notice because Chisora injured his hand. However, that was just the start of a dreadful week and Tyson's other uncle, his first pro trainer, Hughie, was taken ill the night before the original date set for the Chisora fight. The sudden illness forced Tyson to withdraw from a replacement fight less than 24-hours before the bell.
"It has been a terrible time, a dreadful year to be honest," said Peter. "There were the cancelled fights and then my brother Hughie's illness. Tough for anybody and Tyson has had to be strong." Hughie died in October after 11 weeks in hospital.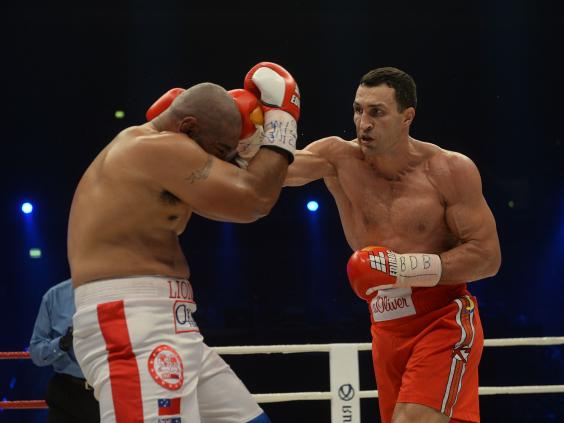 On Saturday, the real prize for the winner is the mandatory position with the WBO and a guarantee of a fight for their world championship next year. There is a complex process of negotiations already in place, created by a WBO committee at an exotic location, but there is not an edict in the world that can force Klitschko to fight the winner. "I have been with Wladimir in training camp and I know that there is no way he will fight me – he knows that there is no way that he will fight me," said Fury. "I think that is rubbish and I will end up having to beat somebody else to win the world title and then watch as the big robot runs away from me. Nothing is ever easy. Nothing."
At the weekend, Fury has to repeat his 2011 win over Chisora to force Klitschko to make his move and vacate one of the three belts that he owns. Their first fight was an oddly muted affair and that was because Chisora arrived in the ring fat, flat and without any desire.
"That was not me that night," said Fury. "He knows that it was not me, I was at my very worst and he still couldn't get a knockout. I use that night as motivation and he foolishly believes that was me – it was not, and since then I have operated at a much higher level."
Chisora has also lost three times since that night, including the brutal ending to his bitter fight with Haye in 2012; defeats pay well but they can also be the only way that heavyweights learn their trade away from an often endless stream of men made soft and sad by beatings. A quick look at any good heavyweight's record will reveal the point when a risk was taken and it is often a risk that saves a career.
"He's lost four times now and he believes that gives him an edge," said Fury. "I have shown that I can fight and shown that I can come back when hurt, get up from the canvas and win. I have not just been banging out unknown quantities. I'm world class and Chisora is brave, mediocre and a slapper."
It is a real fight, driven by desire, not meaningless hate and that means both men will have to go to some harsh places to win; it has nothing to do with dreams at this level, once the bell sounds.
Reuse content