Bernard Hopkins was seventeen when he received an eighteen-year sentence for being a street thug in Philadelphia and was sent off to an adult prison. This Saturday he will be 49 when he fights one of the most destructive punchers of this generation of boxers.
In prison Hopkins joined the now defunct boxing programme, trained by men that are still serving out their life sentences and when he was released in 1988 he found a job washing dishes. He was 23, his brother had become another death statistic during his incarceration, the crack wars were still raging on the city streets and he lost his first pro fight. "See you shortly," a guard had said as he stepped outside Graterford's monstrous walls, leaving with the desire for a hot bath and shackled to his bloody past by ten years of parole.
"What chance did I have?" Hopkins asks. "There was no fairy tale when I was released. There is never a fairy tale and I never went looking for one. I had to change the way that my mind worked, I had survival as my motivation."
This Saturday, over 26 years after walking out of Graterford Penitentiary, Hopkins will climb through the ropes in Atlantic City to fight Russia's Sergey Kovalev in what in many ways is the fight of the year so far. Hopkins holds two versions of the world light-heavyweight title and Kovalev has a third version; the Russian is 18 years younger and has stopped or knocked out 23 of the 25 men that he has beaten and nobody is desperate to fight him: Step forward Hopkins.
"Kovalev is boxing's bad-ass at the moment and for 27 years in the professional ring and before that in prison, I took on the bad-asses," Hopkins adds. "I took them on when I was on the street – that's my throwback mentality, the way I've been taught, brought up and the only way I understand."
Hopkins won his first world title in 1995, made 20 defences of the middleweight belt and this Saturday will be his 34th world title fight. He has not stopped an opponent in a decade and, more importantly, in 65 fights he has never been stopped or knocked out or come even close to not hearing the last bell.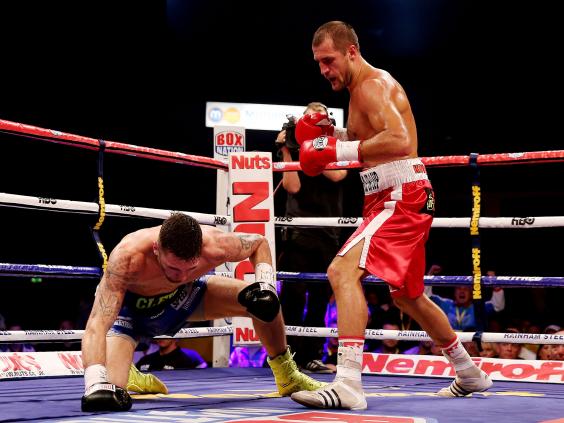 "Kovalev feeds on a fighter's fear," Hopkins said. "If you show him fear, he will be brave and it he gets brave then the fight could be over. I have watched him beat men that were beat before the first bell." Kovalev is better than that, he has fantastic timing to go with the power and he just might be exceptional.
"He could land one punch and there might not be a second chance for me," continued Hopkins. "But, I think I have met men that hit as hard, the difference now is my age. I'm 49, I'm not human – I'm an alien." Hopkins has certainly met better fighters in world title fights, slicker operators but Kovalev does have exceptional power and Hopkins is, as he keeps on telling people, 50 in January.
"I come from a boxing time that has gone forever," insisted Hopkins. "I belong in another era, I shouldn't be here. I should be fighting 15-round fights, that's where I'm from and that is what the men in front of me are fighting. Time, remember, is my friend."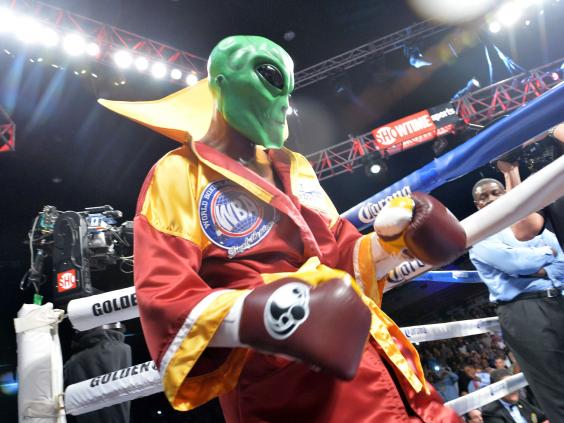 Hopkins has been the underdog in big fights before, he has been the man prepared, delivered and wrapped for somebody much younger to beat and it has gone wrong. In many ways his best wins were meant to be career-shortening defeats and the Kovalev showdown can be added to the list of fights that he is expected to lose.
He took the short-end money in big fights with Felix Trinidad and Oscar De La Hoya and knocked out both; the wins helped him create the "profound legacy" that he talks about, but any search or mission for a place in history will be damaged by a nasty defeat at the end of Kovalev's fists. The bookies fancy the Russian, the punters want the veteran and on Saturday we have a real fight.
"My motivation now has changed from wanting to survive, from needing to stay out of prison," Hopkins continued. "I get my motivation every time that somebody of 40-plus tells me that I have made them go out get something extra from life. Every time one of them tells me to 'Rumble, old man, rumble', I feel motivated." It is the biggest risk yet in a truly remarkable career that has been defined by risks.