Gennady Golovkin is one of about 80 men who hold an increasingly diluted segment of a world title in one of the 17 different weight classes that help to maintain boxing's position as a global sport.
On Saturday night in California, Golovkin did what he pleased for a few minutes before knocking out a rube from Mexico in round two with a punch to the temple that was visible in the cheap seats; somehow the slow-motion punch slipped under the radar of 67-fight veteran Marco Antonio Rubio and he dropped willingly to the canvas for a tiny snooze.
Golovkin is from Kazakhstan and so far he has fought and won 13 world title fights by stoppage or sophisticated knockout in six different countries, and it is just possible that he is the best world champion you have never heard of. It is also just possible that, in addition to being avoided, he has compiled his championship record by not meeting a single elite fighter in the middleweight division; in theory he fights men who are ranked at four or five but the rankings from the various sanctioning bodies are pathetic fairy tales and not worth the paper they are printed on.
Right now Golovkin has about 10 leading contenders, some of whom hold a version of the world middleweight title and some hold belts at different weights. However, the tiresome politics between rival sanctioning bodies, the intransigence of opposing promoters and television companies with firm alliances that form a lethal mix of reluctant partners all combine to keep men like Rubio in the opposite corner. It is, after all, the tragic way that we do business. There are some obvious modern exceptions, boxers like Miguel Cotto and Carl Froch have a truly fearless approach, and also a lot of men in history ignored the pleas of their natural rivals, but it seems that in the last 25 years dozens of essential fights have simply failed to take place.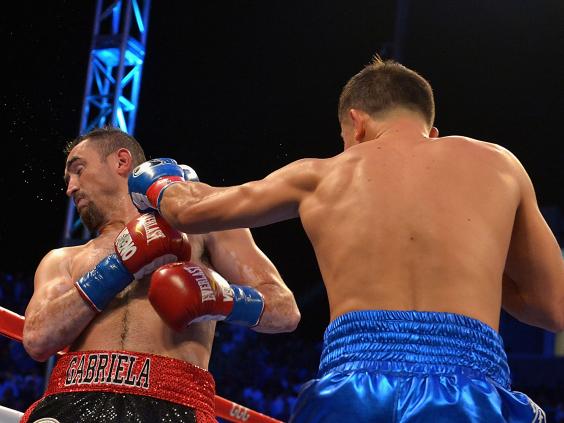 The business of boxing, where the absence of one ruling body encourages chaos, has shaped the sport during the last 120 years into a bewildering coalition of men with rival agendas. It has created a sporting wilderness where the best never have to fight the best and often retain their world titles in mismatch after mismatch. It is a contradiction in terms but there has always been a solid, if unacceptable, excuse for the best men not fighting each other; it was for a few decades straightforward racism, then the gangsters controlled the sport and then television money and the grandees from the sanctioning bodies formed unholy alliances. It is now as acceptable to say that Floyd Mayweather will not fight Manny Pacquiao because they are on rival television stations, as it once was for Jack Johnson to be excluded from fighting for the heavyweight world title because he was black.
Right now Golovkin is two fights shy of becoming a truly great fighter and a very rich man, but he will not achieve either if he meets more boxers like Rubio or the 12 who preceded the Mexican into the ring, men with enough talent to deserve the chance but not enough to avoid the inevitable slaughter. There is bold talk of men moving up and men moving down for a fight with Golovkin and the sport would be a richer place if Mayweather agreed to gain a few pounds or Andre Ward, arguably the best fighter in the world today, agreed to lose a few pounds to make the fight happen. "I will fight anybody and I will consider any offer," said Golovkin and I believe him.
The uneven pile of boxing history books that litter my shelves is often a hopeless guide to the sport's greatest fighters, but there is no denying that the pages of memories, often packed with howlers, contain the cold, hard facts that all great fighters have at some point had a great fight, often with a splendid rival. Men like Sugar Ray Robinson had a dozen close encounters with elite boxers and that type of cherished conflict is something that far too many modern fighters seem to avoid. It is, for instance, the one missing ingredient that Mayweather, with his millions and ring riches, simply can't buy.
Golovkin has, even at 32, a lot of time left and I hope that eventually he finds his great fight, his big night and his rival. However, another three years of sending men like Rubio out in front of huge crowds of more than 9,000 will only convince the sport's powerbrokers that there is no need to change the safety-first format for good fighters. Golovkin is unbeaten in 31, with 28 ending quick, and he just might be a great fighter but there is every chance that we will never find out.
Reuse content