When the dust from the fights finally settled on  Saturday night in Las Vegas and the lights went out over two blood-drenched rings, it was a careful Amir Khan that emerged as the big winner in a city that dislikes caution.
Khan was unusually flawless in a risk-free exhibition of boxing that made the younger and highly regarded Devon Alexander, a world champion at two weights, look like a clueless novice inside the boundaries of the MGM Grand's feted ring. Khan probably never lost a round and poor Alexander never got started.
After the calculations of the three officials were announced – a scoreline of dominance that few, even the diehards at Khan's side had predicted – a real world star danced from the  slugging shadow of the kid from Bolton.
It has taken 10 long years since the silver medal at the Athens Olympics, but now, at 28, Khan has proved to everybody that he is an elite boxer, and not a hype-hungry fatalist inside the ropes.
The fight, as everybody in the Alexander and Khan business knew, was an unofficial final eliminator for a scrap worth in excess of $6m (£3.8m) with either Floyd Mayweather or Manny Pacquiao, the perfectly formed dollar darlings that stand sentinel over the boxing game. There was bold talk last Friday of a fight between Mayweather and Pacquiao, which should have taken place in 2010, but the  diversion faded with every round Khan dominated.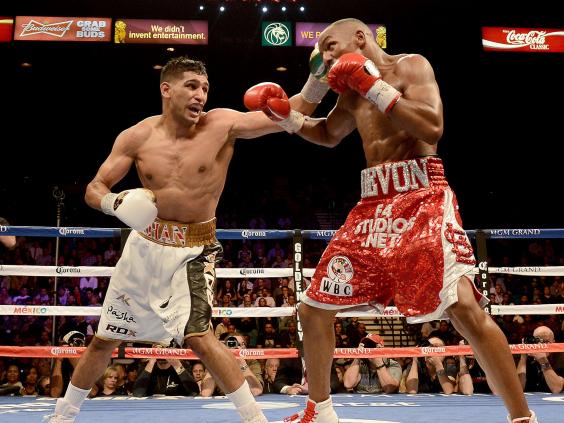 Alexander is now eliminated from the race and Khan, contrary to popular thinking, manoeuvred himself closer than ever to a super-fight. I now believe there are several positive factors, including Mayweather's belief that he can beat Khan, the fact the fight can be made without the need for a defection from one TV channel, which should encourage his consent for serious negotiations to start.
Inside the ropes on Saturday every move that Khan and Virgil Hunter, the man who worked with him at a closed-door gym in Oakland, California, had imagined, tried and talked about during a relentless year or so of training, happened so naturally that it was hard at times to remember the crazy Khan. The jab was perfect, his balance composed and Hunter's cautionary mantra was willingly absorbed during the calm minutes that interrupted the boxing lesson.
To add to Khan's hopes of getting a Mayweather fight, the other two boxers in the hunt and fighting in Las Vegas on Saturday failed dismally. At the MGM, Keith Thurman was booed during his one-sided, one-paced win over Italy's 40-year-old Las Vegas virgin Leonard Bundu, and, across the neon river that splits the city, Tim Bradley drew with an Argentinian tough guy called Diego Chaves.
"Mayweather knows that he has to fight me," said Khan. "His problem is that he avoids fighters like me with fast feet, quick hands and no fear of him – he will have to take the fight after the way I beat Alexander."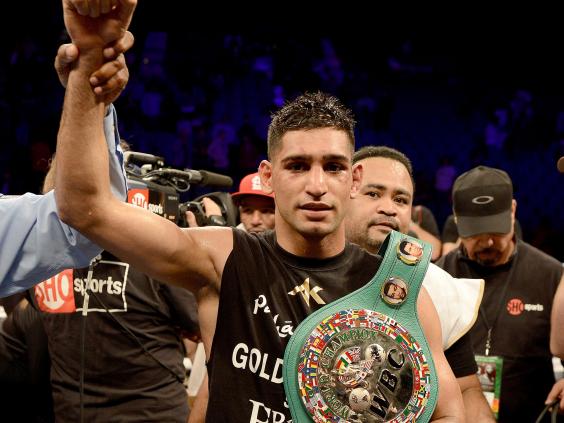 There will be many frantic and erroneous claims in the next few days and weeks about future fights, but people from both camps are talking and, after Saturday's display, people are also listening.
However, Khan's brilliance in his measured master-class was arguably not the best performance in Las Vegas by an English-born boxer fighting on Saturday night. At the Cosmopolitan, in the chief support to the Bradley and Chaves bruiser, Andy Lee, a Traveller boy born in east London, raised in Limerick and now living in Dublin, fought the unbeaten Russian Matt Korobov for the vacant WBO middleweight title.
In round six of a tense affair, Lee connected with a short southpaw right hook and then, as Korobov staggered, 18 unanswered and on-target punches finally forced the referee, Kenny Bayless, to intervene.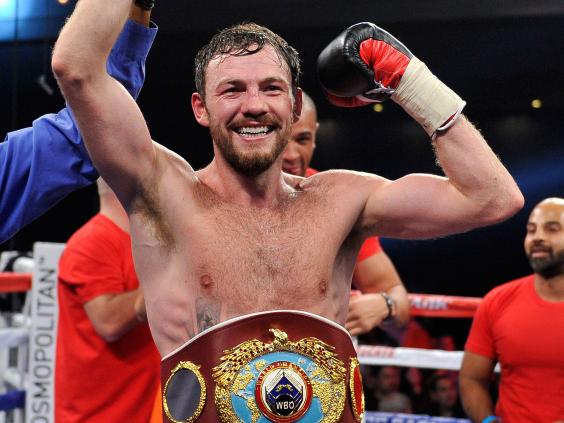 In the highly emotional aftermath, Lee thanked Emanuel Steward, the iconic trainer who died in 2012 aged 68, for the time that the  30-year-old had lived under Steward's tutelage and  care in one of Detroit's most lethal areas.
"I know he's watching tonight," Lee said, before leaving the ring to embrace Steward's widow, Marie, who had made the pilgrimage from Detroit to watch another of her husband's boxers win a world title.
Reuse content