Dave Radford got the call when he was plastering a kitchen wall in a village near Pontefract and four days later he was in the ring at a casino in South Africa fighting Roberto Duran.
Last week the pair, separated by about  $100m in purses, dozens of world title fights and a language or two, were reunited at Bar Sport in Cannock. They hugged like brothers and made out they were not wiping away a tear or two.
Duran finally quit the ring at the age of 50 in 2001 after 119 fights, his legacy secure. He now tours, talking through an interpreter to audiences like the devoted fans in Cannock. Duran tells tales about his ring exploits with greats such as "Marvelous" Marvin Hagler, "not a nice man", Sugar Ray Leonard, "I beat him bad" and Tommy Hearns, "a great friend". He also goes into disturbing detail about when he knocked out a horse and the night the plasterer from Hemsworth chased him all over the ring in South Africa.
"David can take a punch better than a horse," Duran said. "I remember that he arrived very late for the fight and I knew nothing about him. I could tell that he was not scared ("Too right, I was not bloody scared," Radford added) and he really came to fight."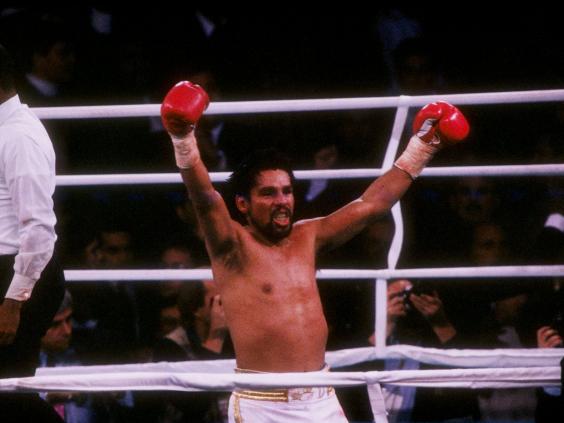 Radford, who at 45 is 18 years younger than Duran, is still taking punches and has been on the bare-knuckle circuit since leaving licensed fighting in the late 1990s. Some of Radford's brutal exploits in secret bare-knuckle scraps, where titles and cash change hands, have become legend in the dark world of illegal fighting; Radford's face is a permanently puffy reminder of the brutality of the business he dominates.
In Cannock, flanked by Bar Sport's Las Vegas showgirls, the pair talked in smiling gestures, emphasising points with shoulder rolls and hugs. They each pounded their chests in the universal sign of respect whenever a point was made and the onlookers in the Staffordshire town just watched in awe – Cannock's a tough town and the pair were made to feel right at home. The showgirls later put on stilts and sold raffle tickets, not something that happens at the MGM Grand.
"I was plastering on the Tuesday when I got the call to fight Roberto," said Radford. "I had to go home, get me gear and get to Manchester in a hurry to start the journey." On the Saturday he was in the ring for eight rounds with Duran at the Carousel Casino in Gauteng. "I was treated like a king," he added.
Radford lost on points but pushed Duran and had very good rounds in the fourth and seventh. Duran fought for a world title a couple of fights later and lost, retiring four years afterwards. Radford had two more fights and quit the ring.
"Roberto was a dirty fighter," Radford said. "He was clever with it, but I knew that there was no chance of the referee throwing him out – I  gave him back a bit of it, don't worry about that. I've never been one to complain, so I just got on with it." After the fight Radford needed a hernia operation, a painful reminder of Duran's wayward punches.
"He hit me so hard, so hard," Radford said. "It was an honour to share the ring with him and going the full distance was about all I could hope for. I was just a plasterer from Yorkshire and he was Roberto Duran. You know what? It was a bloody good scrap." This gets translated and once again the pair hit their chests. 
Radford got a copy of the fight a few years ago and now has it on his phone. "I was getting sick and tired of telling people that I fought Roberto and nobody believing me – now I just show 'em the fight. It's easier." Having many people calling Dave Radford a liar is probably not a good thing.
At Bar Sport last week the crowd loved every second of Duran and Radford. "I'm a fighter, he's a fighter and we never wanted to stop," Radford added. It is true and only in the last few years, as Duran has turned 60, have the rumours of a return finally stopped.
Reuse content