There were dark years in the 1960s and 1970s when not one British boxer held a version of the world championship and the wait between titles was simply too long. Last Saturday, at the O2 Arena in London, Lee Selby added his name to a current list of eight British boxers that now hold a portion, a segment or just a tiny scrap of one of the belts handed out by the four main sanctioning bodies.
At the start of the 1960s, two sanctioning bodies formed to compete for the spoils; a third was added in the early 1980s; and the WBO, the last of the quartet, started giving out belts in 1988. However, the lunatic purists in the game have spent 50 years hoping for a return to the criminal, racist and crooked business of boxing that existed in the 1940s and 1950s.
There are, at present, in excess of 90 men currently holding one of the various types of world titles at one of the 17 recognised weights. It is ridiculous in many ways but unavoidable because of the television demands and the vicious promotional rivalries that forever keep boxers apart.
The WBA, which was formed in 1962 and stripped the then Cassius Clay of his world title shortly after in an early act of madness, has three world titles at each weight: the interim, the regular and the super.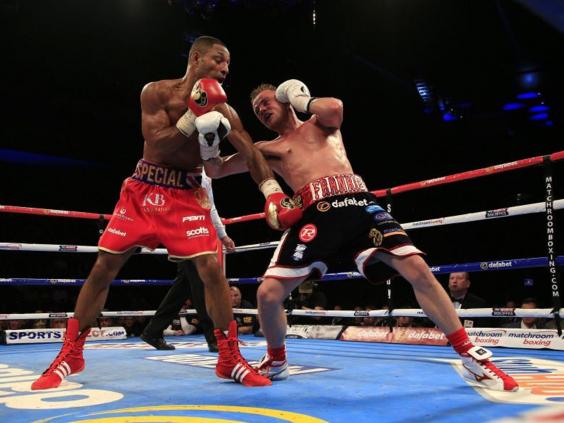 Scott Quigg, from Bury, holds the WBA's regular super-bantamweight title. Above him is the peerless Cuban, Guillermo Rigondeaux, custodian of the super super-bantamweight title. Derry Mathews holds the WBA interim title at lightweight, while Manchester's Ant Crolla is about to fight Darleys Perez for the regular title at the same weight. Perez, incidentally, was recently upgraded by the WBA from the interim to the regular title fight.
Chris Eubank Jnr holds the interim version of the WBA middleweight title, with the super version held by Gennady Golovkin, who is unbeaten, looks unbeatable and has stopped or knocked out his last 20 opponents, including 15 in world title fights. At bantamweight, Jamie McDonnell holds the WBA's regular title and would, to be honest, have a good chance of beating the WBA's super champion, Juan Carlos Payano.
It is a boxing soap opera, a comedy in many ways, but the merry-go-round produces memorable fights.
Selby's win on Saturday was quite stunning, but even he has to compete as the featherweight world champion with two brilliant fighters: Vasyl Lomachenko, the double Olympic champion who won his WBO title in just his third fight, and unbeaten Nicholas Walters, who holds the WBA Super belt.
Selby could fight them at some point, but there is no chance of an elimination process leading to just one champion. It is too easy to forget that when Carl Froch was world champion, and selling 80,000 tickets at Wembley Stadium, he was not the best super-middleweight in the world. Froch lost to Andre Ward, who still reigns.
None of the eight British men holding a portion of a world title can be considered the best in the world at their weight, like Lennox Lewis and Joe Calzaghe had been. This pair dominated their weights before they retired and held titles on and off for about a decade.
But those eight are considered part of a golden period here; part of a business that is booming, with more fights on radio and television and more world-class fighters than ever before. In addition to the eight, three more will be challenging for world titles in the next six or so weeks and another three or four fighting in September or October. It is possible that in September Amir Khan will get his super-fight with Floyd Mayweather Jnr and that Tyson Fury will force Wladimir Klitschko to defend his heavyweight belts.
There may be more world titles than ever on offer but, even if some have jumped the domestic queue to get a title shot, the opposition can still be daunting. Selby had to beat Evgeny Gradovich, which was a tough challenge, and on 11 July in Manchester, former British lightweight champion Terry Flanagan fights Jose Zepeda for the vacant WBO title in another daunting task.
Both fights negate the argument that it is easy to win a world title in modern boxing. If extra proof was needed, then take a look online at Saturday's encounter between Kevin Mitchell and Jorge Linares for the WBC lightweight title. British boxers won world titles in easier fights in the 1970s and 1980s, trust me.
It is not perfect having 90 world champions, but it is better than eight at just eight weights, low-key coverage and abuses, inequality and corruption at every filthy level.
Reuse content