There was never a chance that the Mike Tyson and Buster Douglas showdown one Tokyo morning 25 years ago was ever going to end up in the graveyard of forgotten fights.
If the mighty Tyson had knocked out Douglas, an overwhelming underdog and dubious contender, the history books would have still recorded the calamitous Japanese adventure undertaken by the untouchable heavyweight champion and his "wilding" entourage of fools.
The promoter Don King stood uneasy sentinel over the vicious splits in the camp, the dreadful sparring sessions, a champion suffering from depression and a corner team capable of little more than applying a condom packed with ice to the swollen features of their bored boss between rounds.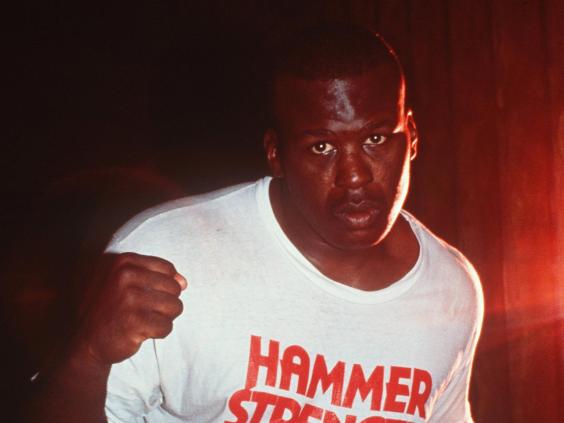 However, at some point near high noon in Tokyo, Tyson was dropped, left stunned and counted out as he fumbled in treacle-heavy motion to try to replace his blood-filled gumshield. The days of Iron Mike were over, the end of one of boxing's most brilliant and toxic champions and in the opposite corner the no-hoper winner had no way of knowing that he was just a few minutes and $24m away from his own ring exile. The Tokyo fight was never, ever going to be a footnote.
"It was the dream to win," said Douglas. "I knew if I just kept hitting him and hitting him that he would break. I knew that, but nobody listened, nobody believed me." Douglas, you see, had nothing to lose and Tyson, we now know, had nothing to fight for.
Douglas arrived in Tokyo having just split from his wife, the mother of his child had been diagnosed with terminal cancer and a few weeks before he touched down his beloved mother had died. He was considered guilty of lacking heart for his abject performance in a 1987 world title fight against Tony Tucker; Douglas was a 40-1 outsider but he was filled with a troubling mixture of hate, righteousness and hunger. He was, in simple boxing terms, a fearless man and it still amazes me that not one member of Tyson's gang had any notion of the danger the podgy challenger posed.
Less than a month before the fight King and Tyson held a conference in Beverly Hills to announce a fight with Evander Holyfield, which would have been boxing's most lucrative ever fight at that time. The Douglas stopover in Tokyo was overlooked, it was routine, a massacre waiting to happen and, long as the odds were about a Douglas win, it was claimed that just one casino in Las Vegas took a bet. It was a mismatch – some experts called it an insult. But they had not sat with Buster when he held his mother Lula's hand before she died on 18 January. She had looked into her son's eyes and asked if he would be OK. She had seen Tyson, knew he was ferocious and she held her son's gaze. She knew then, knew that he would be fine. Nine days later Douglas left for Tokyo, his mother in the ground, his wife gone and the mother of his child in hospital.
Tyson had been in Tokyo for 11 days by the time Douglas arrived and his nights had, so he told the few travelling writers, been busy, with two or three sex workers keeping him occupied until dawn. He bragged about the exploits, the weak men on his payroll smirked as he talked and the Japanese loved it.
On 23 January, before Douglas had even left America, Tyson was dropped in sparring by former champion Greg Page; the knockdown was just part of a malaise that supposedly went undetected by the men made rich to watch over him. It was a genuine knockdown but was swiftly demoted to a cheap stunt, an effort to improve sluggish ticket sales. Page told me it was genuine, payback for a savage public beating Tyson had given him one day at an open sparring session in Atlantic City six months earlier. "I had my pride," Page said.  
Just over 40,000 were inside the Tokyo Dome for the opening bell of the fight. It was obvious early that Douglas was not going to fall over at the first sign of Tyson's violence. Tyson was unbeaten in 37 fights, it was his 11th world title fight and Douglas had won 29 contests, but lost four including the Tucker fight, which was an ominous blueprint for his inevitable surrender. The American commentators joked about a 90-second bout and then spent the next 10 rounds finding ways to reverse their lazy and cruel cynicism. Douglas, make no mistake, had been treated like a sacrifice by all involved.
In round five Tyson's left eye started to swell and the paid cuts man in his corner, Detroit veteran Taylor Smith, never had the correct tool, a tiny strip of metal called an Enswell, to contain the mound. Tyson's chief trainer, Aaron Snowell, improvised and claimed he filled the fingers of a rubber glove with ice but the temporary gadget looks like a condom. There was chaos and Douglas was still jabbing the untouchable Tyson closer to oblivion.
Suddenly, in round eight Tyson connected with a right and Douglas was down heavily on his side. Tyson walked smiling but bruised to a neutral corner. Douglas had given him a scare and it was over now. At ringside the celebration bells were sounding in King's head and then Douglas rolled over, possibly said "fuck" and then pounded the canvas with his fist as he somehow climbed up at nine. The fight was still on, the controversy secured and the round was over.
Tyson started the ninth fast but Douglas had recovered and took control by the halfway stage. At this point there was real panic at ringside and talk already of the long, long count in the eighth round. At the end of round nine Tyson stumbled to his corner, his left eye now closed and an open target to anything Buster threw.
After 1min 23sec of round 10 Tyson was counted out after a sickening knockdown. Douglas was the heavyweight champion of the world but duplicitous forces were combining to relieve him of his fairy-tale prize even before Tyson was counted out. The WBC and WBA immediately withdrew their recognition of him, claiming that Douglas had failed to beat the count in round eight. Thankfully, both organisations changed their minds and King, desolate at the outcome, started to negotiate hard for a rematch. However, Douglas did a deal for $24m, a record purse at the time, to fight Evander Holyfield. King, by the way, collected $4.5m to sit and watch but still retained the promotional rights to a Tyson rematch if Douglas won. Douglas, as the record books show, was dreadful, a fat wreck going down and out in round three and out of boxing for six years. As I said, there was no chance of the noon fight in Tokyo ever being forgotten.
Reuse content