Tony Bellew had to be restrained from a confrontation with David Haye moments after his successful defence of the WBC cruiserweight title against BJ Flores on Saturday.
The Liverpool-born boxer was prevented from coming face-to-face with Haye by security after securing a third round stoppage at the Echo Arena, having dropped Flores three times in the second.
Bellew wasted no time in seeking out Haye, who was in attendance to support his friend Flores, and almost squared up to 36-year-old heavyweight after slipping under the ropes.
After returning to the ring, Bellew gave an impassioned interview to Sky Sports and directly called out Haye, who watched on from ringside.
"You see him? He's been conning the British public since that pathetic comeback of his," Bellew said.
"Listen to me right now. David, let's be totally honest brother. Those two guys you just fought, they're in town now. They're either working on nightclub doors or they're putting the bins away. Those two guys you fought last were a joke.
Those two guys you just fought, they're in town now. They're either working on nightclub doors or they're putting the bins away.
"And you're robbing everybody who pays to come in the arena. You predicted BJ was going to beat me, didn't you? He got smashed. And you see you, you're going to get smashed too.
"I don't care how big or how dangerous you think you are. We remember what happened when I was at amateur and you were fighting for the British title. Me and Pricey spanked you in the gym.
"With 10oz gloves on boy, I'll put you and that pathetic haircut to sleep," he added.
Bellew went on to label Haye as 'SpongeBob SquarePants' and claimed that the former WBA heavyweight champion's true level was the 200lbs category.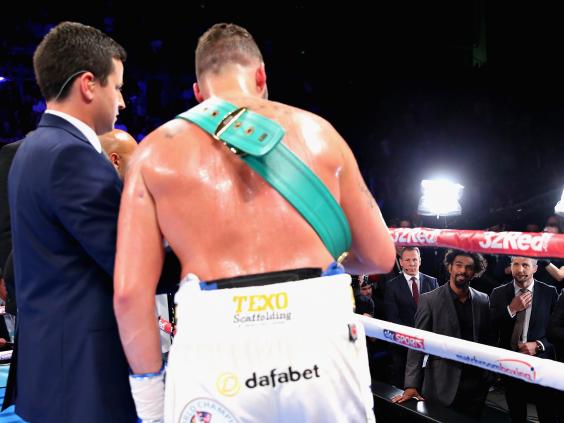 "If the truth be known, he's the same dimensions as me. I have a little bit more fat and he's better looking, but the top and bottom of it is, he's in his dimension at cruiserweight.
"He's a cruiserweight. He goes to heavyweight because he loves the money and he loves big paydays.
"Well brother, I'm the biggest payday you can get hold of right now so bitch we better do it soon."
Britain's current boxing world champions
Britain's current boxing world champions
1/13 Anthony Joshua

IBF heavyweight

Getty

2/13 Tony Bellew

WBC cruiserweight

Getty

3/13 Nathan Cleverly

WBA light heavyweight

Getty

4/13 James DeGale

IBF super-middleweight

Getty

5/13 Billy-Joe Saunders

WBO middleweight

Getty

6/13 Kell Brook

IBF welterweight

Getty

7/13 Ricky Burns

WBA light welterweight

Getty

8/13 Terry Flanagan

WBO lightweight

Getty

9/13 Carl Frampton

WBA featherweight

Getty

10/13 Lee Selby

IBF featherweight

Getty

11/13 Jamie McDonnell

WBA bantamweight

Getty

12/13 Lee Haskins

IBF bantamweight

Getty

13/13 Khalid Yafai

WBA super flyweight

Getty
Haye, in response, challenged Bellew to make the step up in weight division and claimed that a bout with the Liverpudlian would be an "easy night's work".
"Bellew has dynamite in his fists but would that work on me? I don't think so.
"He was taken big shots in the process [of beating Flores], his defence was leaky. Against me, that'd take one shot.
"I am a heavyweight for eight or nine years. If he wants to come up, it's an easy night's work.
"I'll probably knock him out with a jab. I could win the fight with one hand, just my left hand, I wouldn't even need my right hand."
Reuse content