David Haye believes Tyson Fury is capable of "reinventing" himself and will return an improved fighter if he addresses the issues that have previously undermined him.
Fury vacated his WBA and WBO heavyweight titles on Wednesday and the next day the British Boxing Board of Control suspended his boxer's licence pending further investigation into "anti-doping and medical issues".
He has been seeing a psychologist to treat the depression that by his own admission had led to him taking cocaine and contributed to his withdrawal from a lucrative rematch with Wladimir Klitschko.
The 28-year-old is also the subject of a UK Anti-Doping investigation amid reports that alleged he tested positive for the banned substance nandrolone, an anabolic steroid. He has denied that allegation.
Haye relaunched his career in January following a three-and-a-half-year absence that largely owed to injury, and he expects to challenge for one of the titles Fury has vacated within his next two fights.
Haye has faced and beaten several hurdles himself and believes his domestic rival can still thrive if he does the same.
Speaking on his 36th birthday, he told Press Association Sport: "I'd say to (Fury) 'Get away with your family, a change of scenery. Somewhere nice and beautiful, where nobody knows you, and switch off.
"'Don't take your phone, check Twitter: switch off and enjoy the moment, re-connect with why you've been putting your body through years of hardship'.
"Even if the worst happens, and he gets banned, he's still a young guy. This might not be the end, this might be the start, the catalyst that turns his career around. He can re-invent himself.
"His belts are gone now, (so) he needs to get away from any negativity, hang around with positive people, get his body in good shape - he looked really overweight - start watching his diet, eating healthy food, (and) stay away from alcohol: that's the worst one."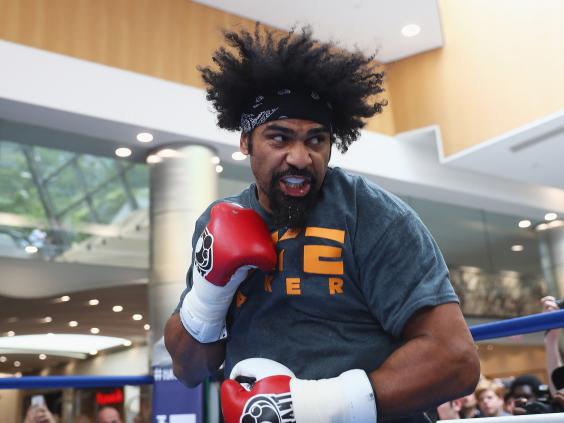 Fury's trainer and uncle Peter insisted earlier on Thursday his nephew is not addicted to drugs but is suffering with "manic depression".
"Absolutely you will see him in the ring again," the 48-year-old told BBC Radio 5 Live. "I was with him yesterday, me and his dad (John), and just listening to him speak and the way he is.
"Boxing is in his life. It's in his blood. It's in his veins. He doesn't know anything else. He's just frustrated. When you lose interest in everything and you can't see the meaning of anything - clearly you've got a problem.
"He's addressing it now and we spoke for three and a half, four hours yesterday. The treatment he's had already is doing him a lot of good.
"He hasn't got a drug addiction. He just did a stupid thing. He's not going into any clinics for drug abuse; he's got manic depression, which is a version of bipolar (disorder).
"They did have a name for it but I can't think of it. They said over a period of the next few months he should start to respond, and (make) progress."
PA.
Reuse content