Floyd Mayweather extended his unblemished record to 47-0 after recording a unanimous points victory over his game Argentinian challenger Marcos Maidana.
But the bout was was not without controversy, however. In the eight round, Mayweather accused Maidana over biting his hand while the pair clinched.
WATCH THE VIDEO BELOW
Incredibly, the alleged incident happened in the very same ring as Tyson-Holyfield II 17 years ago, the MGM Grand in Las Vegas. Mike Tyson who bit Evander Holyfield's ear in their heavyweight contest then, was watching from ringside last night.
Mayweather, who nullified the threat of Maidana in smoother fashion than he did during their first fight in May, immediately complained to referee Kenny Bayliss in the eighth round. The fight was then briefly stopped before continuing. Maidana was not deducted any points for the incident.
He did lose a point in round 10 for rough tactices.
WATCH: DID MAIDANA BITE MAYWEATHER?
(warning: video contains strong language)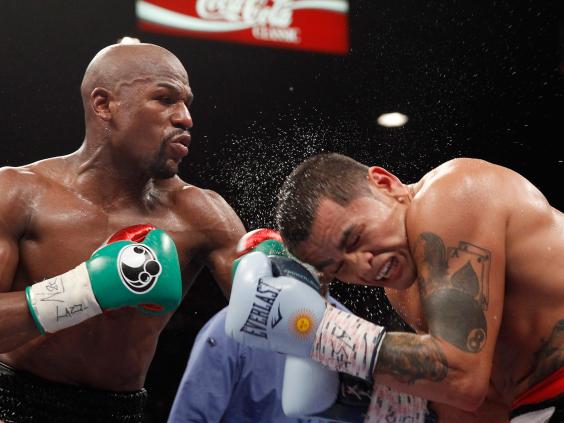 Career in pictures: Floyd Mayweather
Career in pictures: Floyd Mayweather
1/6 Floyd Mayweather

Floyd Mayweather triumphs in his rematch against Maidana last month by a unanimous decision, making easier work of his opponent than in their first bout

REUTERS/Steve Marcus

2/6 Floyd Mayweather

Floyd Mayweather and Marcos Maidana square off during their press conference to promote their rematch for September 2014

GETTY IMAGES

3/6 Floyd Mayweather

Floyd Mayweather hands previously unbeaten Saul Alvarez a boxing lesson and leaves him slumped and desolate in his corner in September 2013

Getty Images; AP

4/6 Floyd Mayweather

Floyd Mayweather throws a jab to the face of Robert Guerrero during his comfortable win in May 2013

5/6 Floyd Mayweather

Floyd Mayweather is forced against the ropes in his last fight, against Miguel Cotto but prevailed by a unanimous decision in 2012

AFP/Getty Images

6/6 Floyd Mayweather

Floyd Mayweather knocks out Victor Ortiz in the fourth round of their 2011 bout at the MGM Grand, Las Vegas

AP
"He bit my left hand, so my fingers were numb," Mayweather said. "He's a tough competitor. I couldn't use my left hand. But I did what I had to do."
Maidana would later counter: "He was rubbing my eyes with his glove. Maybe he had his glove in my mouth. But I didn't bite him."
Video copyright: ShowTime/ BoxNation
Reuse content