It's Tuesday-night training with the London Rollergirls. Thirty women are haring around a Bermondsey sports hall on skates, each striving to circumnavigate the track in the optimum number of strides. Heads down, their collective speed punches out a blast of wind as they pass. Their power and athleticism is overwhelming. The smell, however, is something else.
This is roller derby, a high-speed, super-aggressive women's contact sport, dubbed "skating on steroids". It didn't exist in this country until 2006, when the Rollergirls formed and imported the game from America. Each team puts out five players on the elliptical basketball court-sized track at any one time: four defensive "blockers" and one "jammer". The jammer scores points by breaking through the other team's defensive line and lapping them. In reality, this means one girl on roller skates trying to force her way past four others as they elbow and push her for all they are worth.
Just like the wrestling scene of the 1970s, skaters have tongue-in-cheek derby names such as Anna Mosity, Kitty DeCapitate and Beating Disorder – and it has clearly captured the imagination. It's currently the fastest-growing women's sport in the world, and in the UK alone we've gone from having zero to more than 100 teams, from Falkirk to Lincoln to Barnstaple.
"I got into roller derby when a friend asked if I wanted to come to Tottenham to watch some girls smash into each other and skate and drink beer. I was like, 'Yes, that sounds amazing,'" says Amy Ruffell, aka Raw Heidi, who has been a London Rollergirl since 2008. "Pretty much everybody here who sees it for the first time, whether on screen or in the flesh, says this is something I need to do."
The results are remarkable. Unlike the US, which is steeped in skating culture, we don't have a roller rink in every town. Here, a pair of strap-on Fisher Price skates best sums up our collective skating memory. Yet at the last Roller Derby World Cup, held in Canada in 2011, Team England, dominated by London Rollergirls, was the first club outside America to even qualify. When they came third, jaws dropped. It puts Rooney and co's World Cup journey neatly into perspective and makes our roller girls the greatest England team you've probably never heard of.
The London Rollergirls in action
The London Rollergirls in action
1/6 The London Rollergirls

Skaters have tongue-in-cheek derby names such as Anna Mosity, Kitty DeCapitate, Bette Noire and Beating Disorder

Pal Hansen

2/6 The London Rollergirls

The team train at Bermondsey sports hall

Pal Hansen

3/6 The London Rollergirls

The skaters are gay, straight, often tattooed and come in every body shape going

Pal Hansen

4/6 The London Rollergirls

'At the last championship everyone in the roller-derby community went, 'Who the hell are London?' We came in and smashed everybody' says Raw Heidi (centre)

Pal Hansen

5/6 The London Rollergirls

Roller derby didn't exist in the UK until 2006

Pal Hansen

6/6 The London Rollergirls

Formidable opponent: The Gotham Girls' Suzy Hotrod shows off her muscles

Jules Doyle
"At the most recent championship, pretty much everyone in the very American-centric roller-derby community went, 'Who the hell are London?'" says Raw Heidi. "We came in and basically smashed everybody."
It was decided early on that the Rollergirls were going to aim high. "Our goal was always to become part of the elite," says Courtney Welch, aka Bette Noir, one of the team founders. "We made it our business to pay attention to coaching strategies and what was going on with teams at the very top. We were the first club outside of America to be allowed entry to the worldwide governing body, the Women's Flat Track Derby Association. We knocked on their door for ages saying let us in, let us in. Now we're ranked in the top five teams in the world. We had the unique combination of people, drive and gumption to make that happen."
The fact that roller derby is entirely run by the skaters themselves also worked in their favour. The London Rollergirls have taken the punkish, DIY ethos of the sport and run with it. They learnt tactics by watching YouTube footage and raised money to compete in the US by flogging shirts. "As a skater-run operation, we control everything," says Raw Heidi. "No one can come in and say, 'I want you to wear this, or do that, or you're off the team.' No one can tell any of us what to do."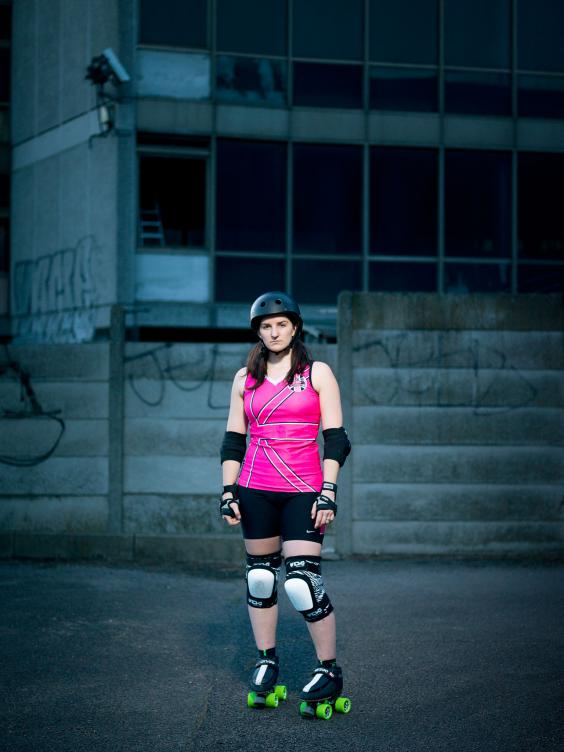 In training today, there's a scientist, an artist and a librarian whose ages range from twenties to mid-forties. They're gay, they're straight, they're often tattooed and they come in every body shape going. It's one of the few places you'll catch women comparing thighs to see whose are the biggest.
The impact the Rollergirls have made Stateside is such that the feared Gotham Girls of New York City, best in the world and unbeaten for three years, are deigning to board a plane k to these shores for the first time for a match next month. Tickets sold out in three minutes.
That all this has been achieved without the Rollergirls even having a permanent base says much about women's sport in this country. They train at least four times a week, traipsing between any sports hall willing to house them. "We're like hermit crabs walking round London with huge rucksacks full of kit," says Raw Heidi. At least permanent tracks have been laid in places from Bermondsey to Milton Keynes; in the early days, every session had started with them having to measure and mark out a track.
While there are now plans for a roller derby youth team and even talk of the sport becoming part of the Olympics, the Rollergirls have found sponsorship to be a little slow in developing; it currently comes in the form of donated kit. It seems an oversight that a smart marketer hasn't latched on to them. They are cool, edgy, athletic and a bit underground – traits with which most sports brands love to be aligned. They also have strong ties with their fans, and are very active on social media – their Facebook page has more than 30,000 likes. What's more, they win.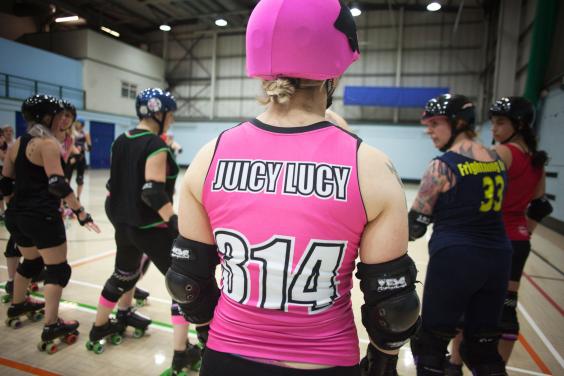 "What we love about roller derby," says Maya Gallus, director of a new documentary called Derby Crazy Love, which premiered at Sheffield Doc/Fest earlier this month, "is that it's inclusive of all sexual orientation and all body types, yet it's not something they go on about. Nobody is making a big feminist statement. It's not about being sexy, it's not about being an object on display. It's about finding your most powerful self."
Plenty powerful is Stefanie Mainey, one of the Rollergirls' big blockers, who is having physio on her shoulder as she sits ringside. "There are few sports dominated by women where aggression is OK," she says. "Being able to hit someone as hard as you can or physically control them is something I've never been able to do before. It teaches women to be strong and powerful and play as hard as we physically can."
Yet it's not all about aggression, adds her Romanian teammate Andreea Mihaescu, aka "An Dracula", mother of an 11-year-old, who has broken both legs within the space of a year. "I'm a rules geek," she says. "I'm always thinking technically – how to get round things, where to put my weight. Pure aggression just doesn't work when you're playing as part of a team."
With that, she skates back out to do more work on breaking down the Gotham Girls' legendary defence. There have been some chinks appearing in the New York team's armour recently. Last year, San Francisco's Bay Area team gave them a good run for their money, as did the Texas Rollergirls. Could London roll them over? "I've heard they're a little bit worried about us," says Raw Heidi. "As worried as the Gotham Girls can ever be…"
London Rollergirls take on the Gotham Girls at Leeds Futsal Arena on 12 July. For more information: londonrollergirls.com