Conor McGregor will get his chance to hold two Ultimate Fighting Championships at the same time after it was confirmed he will face lightweight champion Rafael dos Anjos at UFC 197 on 5 March.
As if the champion vs champion bout was not enough, women's bantamweight champion Holly Holm will defend her title against Miesha Tate in her first defence since brutally knocking out Ronda Rousey at UFC 193.
McGregor has so far proven a man of his word, delivering on his promise of to knock out Jose Aldo at UFC 194 in December to win the featherweight title, although few had predicted such a stunning victory that came inside 13 seconds of the opening bell.
After a brief delay that led to suggestions that McGregor may not get his wish of a tilt at the 155-pound belt, UFC president Dana White confirmed the news this week that the Irishman will face Dos Anjos in under two months' time.
Few were expecting Holm's first title defence to be named on the same card, but the champion will face 29-year-old American Tate to end any chance of an immediate rematch with Rousey.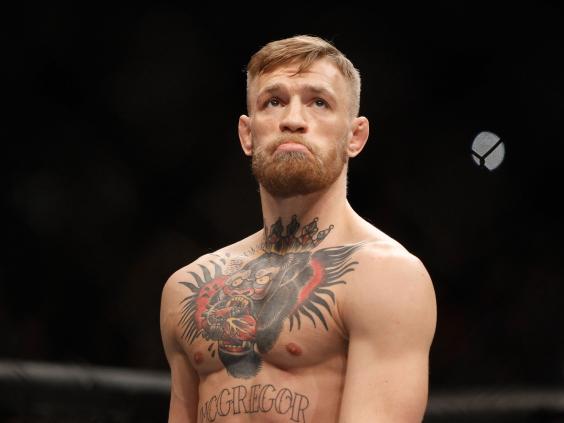 In fact, Rousey will not return to the Octagon anytime soon. The former undefeated champion, who picked up the first loss of her MMA career in the Melbourne showcase in November, is committed to her next film Roadhouse for the first half of 2016. That led initial rumours that Rousey could return to try and win back her belt at UFC 200 in July, but White confirmed that this is not a possibility due to her big screen duties.
"The filming of the movie got pushed back," White said. "She could do both, but the question is, should she do both? She could do both, but why should she? The filming is in a time frame where she'd finish before [UFC] 200, but it would be cutting it too close."
Once Rousey does return to training, she'll need a lot of it. Holm completely outclassed Rousey with a display of clever boxing and accurate counter-attacking, before knocking her opponent out with a roundhouse kick to the neck.
Rousey required plastic surgery on her lip following the bout after taking a barrage of shots to the face, and she admitted weeks afterwards that she was not able to eat due to the injuries she sustained.
However, Rousey will definitely get her rematch if she wants it – providing Holm comes through her match with Tate – after White confirmed that she deserves time away from the sport more than anyone else in the company.
"The way I look at this one is, Ronda has worked her ass off for us for the last three years," White said. "She's been fighting, promoting and building the sport. If anyone deserves the time off, it's her. The night [of UFC 193] Holly said she'd do the rematch and that Ronda deserved it and everything else. So we were holding it for her if she wanted to do it.
"What that woman has done is above and beyond what anyone has done. I mean, it's just unbelievable what she's done in the last three years. Anything we needed, she didn't say no to anything; said no to nothing. She even took over responsibilities somebody else was supposed to have. So when she tells me she wants more time, you know what? She's got it."
Reuse content