Two long-time contenders in the welterweight division will meet on Saturday night, as Goiania, Brazil, prepares itself for UFC Fight Night: Condit v Alves. It's quite amazing that these two have never crossed paths before. Two of the best strikers in the division, Condit a rangey counter-fighter and Alves, a stocky and powerful aggressor. For any fan that enjoys a competitive kickboxing match, these two are hardened fighters, with a wealth of experience and this not one to miss.
Former WEC champion, Carlos 'The Natural Born Killer' Condit, will have a substantial five inch height and eight inch reach advantage over his opponent. That, coupled with his sharp-shooting style, will make fighting at distance quite dangerous for Alves. Also known as 'Pitbull', what Thiago Alves will be lacking in stature, he will more than make up for with muscle mass. His leg kicks are a fearsome weapon. Breaking down many men inside the Octagon, often opening up the finish.
Closing the distance so he can search for the chin of his foe will be a priority, but even on the outside, his traditional Muay Thai kicking skills can still damage Condit as he skirts the edge of the arena. In a ground exchange Alves must be on his guard. Condit can be very slick off his back, having defeated thirteen opponents via submission in his pre-UFC career. A win here for either guy will go a long way to staying relevant in a swamped division. Condit, sitting at #4, would likely be one win away from a title shot if he can add Alves to his win column.
For Alves, this will undoubtedly push him back inside the top ten. This, in my opinion, is a match-up between the two most exciting fighters of all the welterweights on the UFC roster. Aside from the champ, Robbie Lawler, who is a personal favourite of mine! The thought of either (or both) of these two facing Lawler at some point in the future, is very exciting. If Condit manages to keep a distance from Pitbull's power and get the victory, it will be good preparation for a future match up with the champion.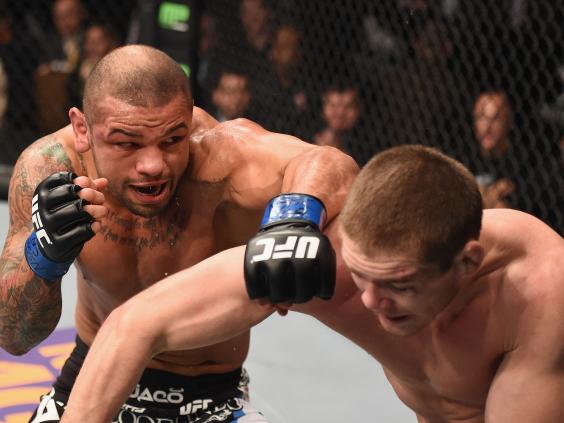 Both athletes will have their martial abilities tested on several levels. I expect this to be worthy of its main event position, it would be a travesty to not make this bout a headliner. Also on the card we have Northern Irelands, 'Stormin' Norman Parke. He will face another Brazilian heavy-hitter in Francisco Trinaldo. A veteran of nine UFC bouts, Trinaldo will definitely be one of Parke's most stern tests to date. His aggressive style will be spurred on by the ever enthusiastic Brazilian fans.
With a professional record of 21-3-1, 'Stormin' Norman has looked great inside the Octagon so far. His only loss being a split decision to the monstrous, Gleison Tibau. A man with an amazing twenty-four fights in the UFC since making his debut in 2006. Never an easy fight, and Parke showed his worth, proving a real challenge for the experienced Tibau. A win here will mean more attention and tougher opponents for the Irishman, but having spoken to him upon the announcement of this fight, that's exactly what he's looking over his next few fights.
Watch UFC Fight Night: Condit vs. Alves live on BT Sport 2 from 1am on the morning of Sunday, May 31 or catch the Early Prelims from midnight, exclusively on UFC Fight Pass.
Reuse content