In a big announcement made earlier this week, former UFC heavyweight champion Junior Dos Santos will face Ben Rothwell in the main event of the UFC Zagreb card coming up on April 10 in Croatia. 
The fight will pit two fighters who are treading two very different paths right now in the UFC's 265lbs division. Rothwell is currently riding a four-fight win streak with victories against Brandon Vera, Alistair Overeem, Matt Mitrione and most recently Josh Barnett. 
Dos Santos, on the other hand, has lost three out of his last five fights and has struggled to gain momentum to propel himself back into the UFC heavyweight title picture since he lost his belt back in 2012. 
Speaking to the Independent, Dos Santos spoke of his appreciation for his opponent and how he was looking to make his fans proud of him once again:
"When I knew that my next opponent would be Ben Rothwell I was very happy," said the Brazilian. 
"Ben Rothwell is coming from some great victories and he's a great opponent for any of the heavyweights. I'm coming from a negative result that I wasn't expecting so it's a very important fight for me to remind people of Junior Dos Santos."
"I feel like I disappointed people, especially those people that believe in me and are always rooting for me. I feel like I have to give them a better me and I feel confident I can do this now."
Dos Santos has almost exclusively fought in America for the past seven years with his last fight in Europe in London at UFC 95 where he defeated Stefan Struve. Dos Santos said he was looking forward to heading back to Europe and had been overwhelmed with the support he has received from the fans in Croatia already. 
"I like to fight here in Europe. My last fight with Stefan Struve was great but very short," he recalled.
"The European fans are always really receptive and they treat me very well and It's happening here in Zagreb again. I'm always overwhelmed with how people know me and how people like me here." 
"It feels good that they still believe in me and they are there to support me. It's given me extra motivation to put on a great show for them on April 10th."
The Brazilian believes that the fans loyalty to him is going to be rewarded with a great between him and Rothwell and that when the cage door shuts they aren't going to have seen anything like it before.
"They [the fans] will enjoy it a lot," he said.
"I say it all the time, it's different when two heavyweights, especially when they are the size of Ben Rothwell, face each other in the Octagon." 
"Even the leather, right in the back seat of the arena they will be able to hear the sounds of the punches. It's going to be very interesting for them that's for sure."
The UFC heavyweight title picture is currently in limbo following last week's cancellation of the both the initially scheduled title fight between Fabricio Werdum and Cain Velasquez and then the rebooked title fight between Stipe Miocic and Werdum. Despite the congestion at the top, Dos Santos' remains focused on getting his own name back in the title hunt:
"My main goal is to fight for the title again," he revealed.
"It doesn't matter who the champion is. The only reason I was trying to fight Werdum previously was because he had the title and he has what I want which is the belt."
"I think now Werdum is going to fight Miocic and that fight will be very good."
In his last fight with Alistair Overeem, Dos Santos lost via TKO in the second round and was criticised by some within the industry for being past his best. Speaking about the fight, Dos Santos admitted he made mistakes but was far from finished.
"Yeh man that was hard. I'm learning, I'm still learning about the things I did and the so many mistakes in that fight," he admitted.
"It was kinda strange. it's been two tough years. In December 2014 I was injured, a torn meniscus, torn ligaments, it was very hard for me and I was feeling strange in the fight.
"I'm not taking anything away from Overeem he did great and had a great gameplan and strategy but I wasn't feeling the normal Junior Dos Santos so I want to bring back the normal Junior Dos Santos so that I can win my fights and make my fans proud of me."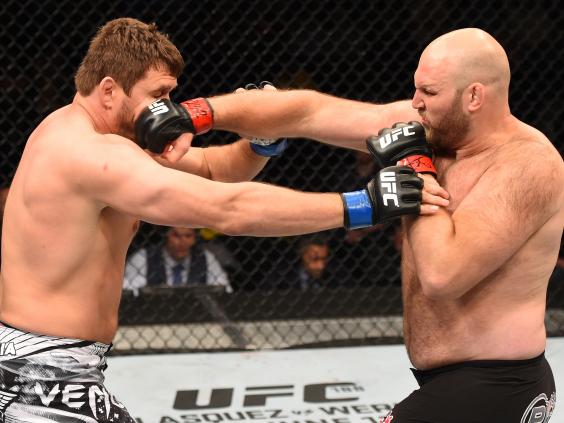 Whilst Dos Santos is obviously motivated by his title ambitions, the Brazilian also places a lot of value in the loyalty of his fans and he reiterated how important pleasing them was for him.
"Man I have so many, many loyal fans you know. They are always there to support me, even when I have the negative results they are still there supporting me and I feel so blessed being here in Zagreb.
"The people come and talk to me and wish me good luck and tell me they are sure I'm going to get my title back. It feels so good when they say that and it gives me extra motivation."   
Dos Santos will prepare for his fight in Florida at American Top Team who he joined just before his last fight with Alistair Overeem. The former heavyweight champion is hoping that the extra time with the team will benefit his preparation for his showdown with Rothwell in April: 
"I'm enjoying it a lot with ATT it's going very well," he said.
"ATT is a big gym, they have a great structure there and so it's great you know to get the support you need, It's great being there.
"My last fight was the first training camp I did there so I wasn't very close to everybody. Now I'm doing better and feeling better right now so I think the result will be different and I will be able to be victorious."
The Brazilian is adamant that a win again Rothwell will put him back in the number one contender spot and total confidence that he will achieve exactly that on April 10. 
"Yes I think it will do [make him number one contender].
"Like I said Ben Rothwell is in a great point of his career right now and he could be one of the guys to fight for the title. So if I win, NO, when I win, I'm going to get back to the top of the rankings and wait for a title shot."
"Right now I'm not worried about that though. I was just want to get some good fights and as many as possible. This year if everything runs good for me I want to do three fights. This one in April, the next in August and then one in December.
"That will be good for me you know. I need this run of fights to feel well and feel like I am giving my best," ended Dos Santos. 
Tickets go on sale for UFC Zagreb this week. For further ticket information visit http://uk.ufc.com/zagreb to book your place at this exciting event on April 10. 
Reuse content