Welterweight Nick Diaz has been given a "lifetime ban" from the UFC after a third positive test for marijuana resulted in a five-year suspension that is almost certain to end his time in the Octagon.
32-year-old Diaz tested positive for marijuana metabolites following his fight with Anderson Silva at UFC 183 on 31 January, despite passing two other drug tests on fight night. The fight has already been ruled a no contest after Silva tested positive for anabolic steroids and was handed a one-year ban and fined $380,000.
The Nevada State Athletic Commission met on Monday to discuss the failed test – the third marijuana-related offence of Diaz's career – where a lifetime ban was discussed.
But despite not administering a lifetime suspension, NSAC commissioner Skip Avansino did recognise that a five-year ban would essentially be the same as "a lifetime [ban] for [Diaz]." The Commission voted unanimously to ban the Stockton, California fighter for five years, meaning he would not be eligible to make a return until 2020. Diaz was also fined $165,000.
The controversy comes in that Diaz's two other samples on fight night passed drug tests analysed by the Sports Medicine Research and Testin Laboratory (SMRTL) which is acknowledged and accredited by the World Anti-Doping Agency (Wada).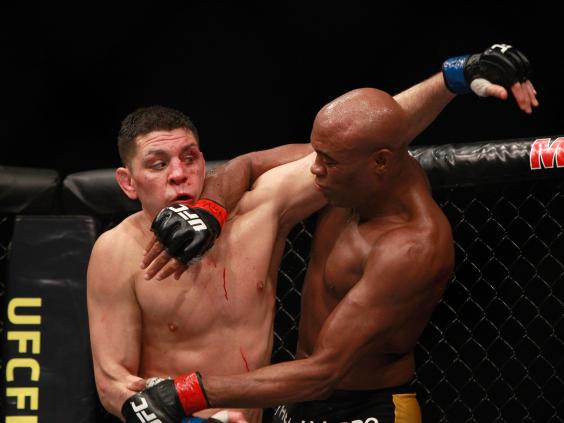 However, the third failed test – which was administered in-between the two clean tests – was analysed by a different agency in Quest Diagnostics, and it's here where Diaz's team feel aggrieved that the results were "scientifically unreliable" given that SMRTL's results were reached using Wada's higher standard of drug testing protocols.
Diaz was in attendance before the commission but elected not to answer any questions, and Commissioner Pat Lundvall had to force Diaz to verbally plead the fifth in his stance of silence during a series of around 30 questions.
However, Diaz – who holds a 26-9 record – was more than willing to speak to the media immediately after he learned of his ban, and he labelled the Commission a "bunch of dorks".
"I'm pretty pissed," said Diaz. "I got into this sport for this exact reason, being stuck in a room with people like that.
"I wanted to tell them what I think. I wanted to tell each and every one of them they're a bunch of dorks. Everybody who sees them or knows who they are should tell them that. I would if it weren't for my experts advising me to keep my mouth shut. I wanted to get up and say, 'Look. You guys are way the f*** out of line.'"
Diaz's attorney, Lucas Middlebrook, has revealed that he will appeal the ban after a decision was made in what he claimed to be a "kangaroo court".
"I think it was a completely arbitrary and capricious decision," Middlebrook said. "You heard my opening statement. Based on the facts, if they were to make such a decision, it would be ripe for judicial review. This was a kangaroo court, and you heard the commission: Their decision wasn't based on fact. It wasn't based on evidence.
"One commissioner said, 'Your attorneys were very persuasive, but you don't respect us. So here's a five-year ban.' "
Middlebrook's argument is based on Diaz's failed test containing five times the legal limit of marijuana metabolites, whereas the other two tests were well below the allowable level. Given the difference between the failed test and the two clean tests, Middlebrook argues that Quest's result cannot be judged to be reliable.
It's also added that a box marked "observed" was not filled in by the collector, meaning Diaz may have been unsupervised when he provided it, while Diaz's name was included on the sample when all tests are meant to be anonymous to remove any bias and prevent tampering.
However, the NSAC stood by both their decision and Quest's testing techniques despite Diaz being a registered medical-marijuana user.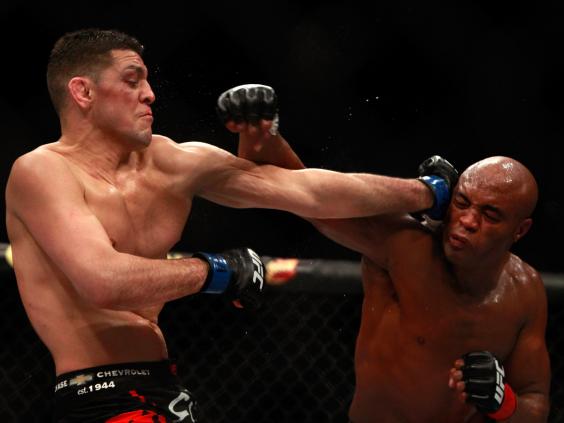 NSAC chairman Francisco Aguilar said: "We do have a positive test, through a method we've used over time."
He added: "This is not just a marijuana issue. This is an issue of marijuana, a lack of being forthright, a lack of cooperation to make the sport better, a disregard for rules. It hurts other athletes just as much.
"I don't have an ego on this commission. Maybe some think I do, but I don't. We have to do our job as regulators. This is not solely a case of marijuana."
Diaz has been suspended twice in the past for failed drug tests. In 2007, he was suspended by the NSAC for six months for testing positive for Tetrahydrocannabinol (THC), while in 2012 he was banned for a year for testing positive for marijuana metabolites following a defeat to Carlos Condit.
Reuse content