One of the most exciting match-ups of the year is upon us. At UFC 192, Alexander 'The Mauler' Gustafsson will face current light-heavyweight king, Daniel 'DC' Cormier. This has been an unexpected second chance for the top Swedish challenger, who is coming off the most disappointing defeat of his career.  But the current champion will know how he feels as Cormier found himself in a similar position only a few months ago. For those of you who have not kept up with the events leading up to this fight, let me summarize, because I think it makes the whole build up fascinating.
At UFC 165, on September 21st, 2013, Gustafsson fought then champion, Jon Jones. It was a tightly contested match which was won by Jones in a controversial unanimous decision. Many thought that 'The Mauler' outpointed Jones, landing many clean shots, as well as being the first person to take the champion down. On that night his impressive performance shocked many people and his stock rose considerably.
Early the following year Daniel Cormier made his light-heavyweight debut, smashing bitter rival Patrick Cummings in just over a minute. The following month Gustafsson stopped British wrecking ball, Jimi Manuwa, to get back in the win column. It was announced that a rematch would take place between Gustafsson and Jones. In the meantime Cormier racked up another impressive win over Dan Henderson. 
After Gustafsson suffered an injury in training, Cormier, riding a fifteen fight win streak, steps in to face Jones for the title. In a face off at a promotional event the two got into a scuffle and immediately the bout drew widespread attention. The back and forth chat made for a fun build-up, and the fight was no disappointment. A strong start for an aggressive Cormier turned into a slugfest which is where the champion slowly began to take over. The reach and height seemed too much for Cormier, who tried and failed to put Jones on his back.
In the background a new face was rising. Anthony 'Rumble' Johnson had looked positively terrifying since stepping up to light-heavyweight. He was matched up with Gustafsson at the beginning of January, at a record breaking event in the Swedish fighter's home town of Stockholm. 'Rumble' spoiled the party though, demolishing the Swede in the first round, and derailing Gustafsson's and everyone else hopes of the Jones rematch. Shortly after the Stockholm event, Jones got involved in some unfortunate legal issues and was stripped of his belt.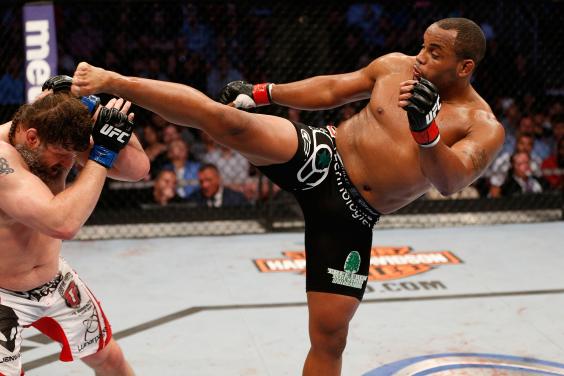 As Johnson had just beaten Alex, who was the number one contender at the time, and Cormier had recently battled the former champion over five rounds, a match between Cormier and Johnson was scheduled to determine a new champion in the absence of Jones. Cormier's fighting style is the Kryptonite of 'Rumble' who, although a super-athlete, sometimes struggles with a grinding constant pace due to his natural explosiveness. He succumbed to Cormier's choke in the third round and 'DC' was strapped with the gold.
So, back to this weekend... Despite his loss to Johnson, Gustafsson is still the clear top contender. A match with Cormier is the most logical fight to make, and should he win, a rematch with 'Rumble' Johnson will be the next port of call. We could see these three fighting each other a number of times and the results could well be different every time. If I can be so brave though, looking at the tools they all have, I think Gustafsson is the better martial artist out of all three. 'Rumble' has scary power, but unless he lands a clean punch, he is always in danger of being out-worked.
We know that Cormier has the best wrestling credentials in the division, but there is no getting around the fact that he is considerably shorter than the rest of the light heavyweights. If he can't close distance on Gus, he will be in a one-sided jousting match until the final bell saves him from more punishment. With an eight inch reach and six inch height advantage, Gustafsson is the much bigger man. If he can keep the Olympic wrestler at a distance, it will be a huge advantage.
I think the fight with 'Rumble' was a great learning experience, and if he can get the belt off Cormier, I believe he will keep it. At least until he gets that Jones rematch we are all hoping for. When I spoke to Alex a few weeks back he seemed very clear on what his goals are. The bout with Cormier will be career defining, and should he walk away with the world title he will be the first Swedish UFC champion. But for Alex, holding the belt represents one thing; his position as number one contender for if and when Jones finally returns to competition.  
As I said, it's a fascinating back story and one that makes this main event in the always exciting light-heavyweight division one not to be missed. All the action from UFC 192 will be live on BT Sport 1 from 1am on Sunday morning.
Reuse content