Britain's Michael Bisping defends his middleweight championship against American Dan Henderson at this weekend's UFC 204 in Manchester where he will look to gain revenge for his brutal knockout defeat at UFC 100.
The fight sees the two veteran MMA fighters collide more than seven years after their initial encounter, which Henderson claimed with a devastating overhand right and sickening follow-up elbow in the second round.
This time around, Bisping has promised to knock Henderson out, and he has the added incentive against the 46-year-old in that he will be making the first defence of the middleweight championship in front of his home fans.
Bisping, known as 'The Count', won the title for the first time in his career when he knocked out Luke Rockhold at UFC 199 in June on the same night that Henderson took apart Hector Lombard on the undercard. The two have plenty of history against one another, but Bisping has insisted that he will "pick Henderson up and take him for a beer" – after he knocks him out.
The event sees the UFC return to the United Kingdom for the first time since Bisping defeated Anderson Silva in London last February, with Belfast also set to host another UFC event next month when Dong Hyun Kim and Gunnar Nelson clash in a welterweight encounter.
What time does it start?
The UFC 204 starts on Saturday 08 October with the early prelims at 23:00 BST, the preliminary card at 01:00 BST and main card at 03:00 BST.
Why is it on so late?
With the main event set to begin around 05:00 on Sunday morning, the prospect of an all-night affair is a rare sight in the United Kingdom. The UFC have tailored the start times to cater for its large American audience.
UFC 202: Conor McGregor vs Nate Diaz in pictures
UFC 202: Conor McGregor vs Nate Diaz in pictures
1/16 Conor McGregor vs Nate Diaz

Diaz leaves the arena sporting nasty facial injuries after his defeat.

Getty Images

2/16 Conor McGregor vs Nate Diaz

McGregor's attempt to run down the clock in the fifth nearly cost him dear.

Getty Images

3/16 Conor McGregor vs Nate Diaz

Diaz suffered a battering in the fourth round that left him bloodied and dazed.

Getty Images

4/16 Conor McGregor vs Nate Diaz

McGregor began to fight back again in the ofurth with a lot of success.

Getty Images

5/16 Conor McGregor vs Nate Diaz

The fight was anyone's as they headed into the championship rounds.

Getty Images

6/16 Conor McGregor vs Nate Diaz

Diaz took rounds two and three as he fought back after a poor start.

Getty Images

7/16 Conor McGregor vs Nate Diaz

Diaz started to attack McGregor once he sensed he was fading.

Getty Images

8/16 Conor McGregor vs Nate Diaz

Mcgregor looked his usual taunting self despite remaining focused on the task at hand.

9/16 Conor McGregor vs Nate Diaz

Diaz makes his way out to the Octagon.

Getty Images

10/16 Anthony Johnson vs Glover Teixeira

Mike Migliotta tends to Glover Teixeira.

Getty Images

11/16 Anthony Johnson vs Glover Teixeira

Johnson celebrates his victory over Teixeira.

Getty Images

12/16 Donald Cerrone vs Rict Story

Cerrone reeled of a brutal victory over Story in the second round.

Getty Images

13/16 Mike Parry vs Hyun Gyu Lim

Mike Parry was brutal in knocking Lim down three times.

Getty Images

14/16 Tim Means vs Sabah Homasi

Tim Means delivered a brutal TKO victory over Sabah Homasi

Getty

15/16 UFC 202

Mike Tyson talks with rapper Flavor Flav at ringside

Getty

16/16 Cody Garbrandt vs Takeya Mizugaki

Cody Garbrandt continued his incredible rise with a 48-second knockout of Takeya Mizugaki

Getty
What channel is it on?
The UFC 204 main card will be shown live on BT Sport 2 as well as the preliminary card. Coverage begins at 01:00 BST.
What happened the last time Bisping and Henderson fought?
Well, see for yourself…
Odds...
Bisping to win: 2/5
Henderson to win: 41/20
(Odds provided by 888 Sport)
What they said...
Michael Bisping: "I don't lie in bed thinking about getting revenge on Dan Henderson. My career has surpassed Dan Henderson and now I'm the champion of the (expletive) world. I have to win this fight – of course I'm the champion and I want to keep the belt, but if I lose to Dan Henderson that'll be worse than losing it to anybody else – I don't want to lose to Dan Henderson twice.
"I always dreamed of being here. If I'm honest, I kind of thought it wouldn't happen, but here we are, I am the champion and my first defense is in Manchester. It really is what childhood dreams are made of. I'm a happy man, I get to represent my country on the world's stage, I get to rematch a legend of the sport, I get payback on a guy that viciously knocked me out, I get to get paid. There's a lot on the line here. That's why I've trained accordingly and I get to represent myself, my family and Great Britain. Hopefully I put on a hell of a show."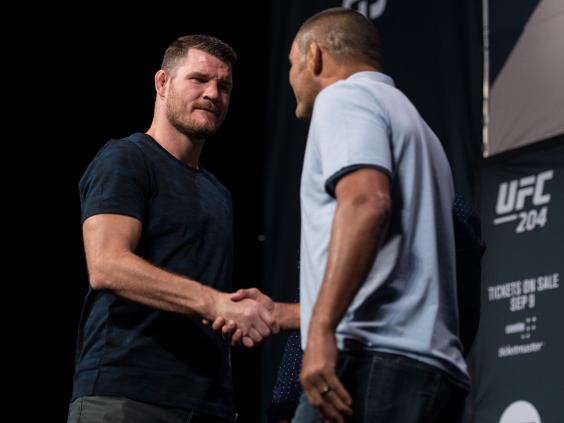 Dan Henderson: "The last fight, I had in my mind that it could be my last fight. But given the opportunity at a title I had to say yes. I'm looking forward to the opportunity.
"(UFC 100) that's been the one that fans want to talk to the most about. They thank me for that. It's kind of fun for me, but it's one of those things that's just is what it is. I did a good job that night and people like to see him lose. It probably helps that he ran his mouth so much that people wanted to see that happen.
"I didn't have to think (twice) about (taking the rematch). Obviously if they are going to give me a title shot, something I thought I was a little further away from than that, but I think just because the fans were asking for this fight and Bisping was asking for it also that made it happened. I didn't expect it, I didn't ask for it – and I didn't hesitate either to say yes."
Reuse content